The Winter Fancy Food Show 2022 was held February 6-8 at the Las Vegas Convention Center. Thousands of food & beverage purveyors and buyers were in attendance alongside some familiar faces, including celebrity cookbook author Chrissy Teigen and John Legend, who has a Vegas residency starting just two months after the food show.
With literally tens of thousands of food and beverage products to sample, it is logistically impossible for any individual to taste every single one. Thankfully, the Specialty Food Association does the legwork of evaluating the vast number of edible products each year and presenting the best of the best with the sofi™ awards, which you can view here: https://www.specialtyfood.com/awards/sofi/winners/.
Due to the vast array of inherently unique food & beverages at the show, it is not easy categorizing all the products presented. However, most of the thousands of foods and beverages we came across at the show fell into at least one of these categories:
artisinal foods & beverages
authentic global foods (e.g. biltong, bizcocho Dominicano and Sardinian pastas)
bold & spicy flavors/seasonings (e.g. apple cider vinegar, curry, ghost pepper, scorpion pepper, habanero and jerk flavors)
boozy snacks (e.g. Guinness chips and whiskey-infused cookies)
comfort sweets (e.g. cookie dough, cotton candy, ice cream and gourmet chocolates)
East Asian flavors (e.g. matcha latte oatmeal and yuzu flavored sodas)
eco-friendly products (e.g. edible spoons and non-plastic drink containers)
gut-healthy food & beverages (e.g. prebiotics & probiotics)
keto/paleo (high fat/protein & low carb) food alternatives
naturally sweetened snacks (e.g. coconut sugar, monkfruit, honey and maple syrup)
non-potato chips (e.g. avocado, lentil, mushroom, salmon skin and snake fruit chips)
plant-based/vegetarian/vegan food alternatives
specialty waters
wellness drinks (e.g. adaptogenic & nootropic drinks)
zero-proof drinks (e.g. zero-proof beer and spirits)
Our team sampled hundreds of products ourselves, limited solely by the capacity of our canvas bags and stomachs. Although we tasted tons of incredible products, we narrowed it all down to several noteworthy ones that stood out in terms of uniqueness, quality, flavor and most importantly—enjoyability. Here are the fancy food show highlights from our casual and non-scientific, yet fairly thorough 3-day experience.
Albanese Ultimate – gummy bears with real fruit and vegetables
Bonneval – French mineral water
Bravado Spice Co. – hot sauces
Off Beat Butters by Clean Simple Eats – flavored almond and cashew butters
Honey Mama's – cocoa truffle bars
Mrs. Renfro's – spicy salsas
Mush Garden – mushroom chips / Roam Adventure Snacks – mushroom crisps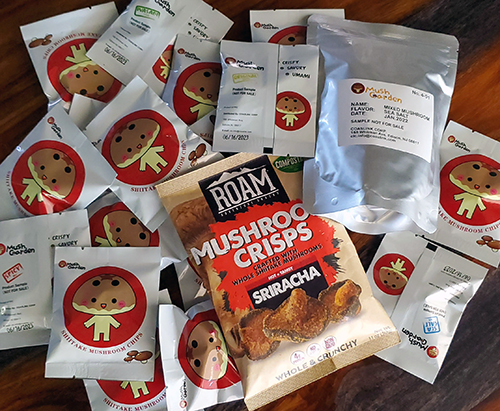 Rich Nuts – sprouted nuts
Taika – canned coffee
Truffettes de France – cocoa dusted truffles/cocoa keto bites
Yishi – Asian-inspired superfood oatmeal
The Fancy Food Show is a biannual B2B event hosted by the Specialty Food Association…