Looking for the Black Friday sales and happen to be a foodie (or food lover)? Well, if you've come in search of tasty deals, you've come to the right spot.
Even before you've gobbled up your turkey and guzzled down your pumpkin spice martini, you can prep yourself to take advantage of all the incredible deals (up to 80% off) on food-related gifts for your kitchen, dining room, travels…and tastebuds!
Browse through all the food-related Black Friday discounts below that will most certainly bring joy to you and any and all food lovers in your life.
Note: Deals are subject to change can vary based on pre-Black Friday, Black Friday and Cyber Monday deals.
The Instant Pot (commonly mispronounced as "instapot") has been a very popular all-in-one cooking tool for the past several years. This is one of the latest iterations that's great for the kitchen…and the wallet.
seller's description:
10-IN-1 FUNCTIONALITY: Pressure cook, slow cook, sous vide, sauté pan, sterilizer, yogurt maker, food warmer, cake baker and steamer.
CUSTOMIZABLE COOKING PROGRAMS: The included 28 program settings are perfect for a selection of essential meals.
CONVENIENT FAVORITES: 5 programmable settings for your own special recipes.
FAST OR SLOW: Pressure cook to save time and retain more flavor, or slow cook for traditional recipes.
11+ PROVEN SAFETY FEATURES: Overheat Protection, safe locking lid, upgraded gentle steam release switch with diffusing cover to reduce noise and prevent splashing on the counter, and more.
PERFECT FOR LARGER FAMILIES: Cook for up to 8 people – perfect for larger families, or meal prepping and batch cooking for singles and smaller families.
GENTLE STEAM RELEASE: The diffusing cover reduces noise and prevents countertop splash.
INCLUDED ACCESSORIES: An extra sealing ring and stainless-steel steamer rack with handles. Compatible with optional QuickCool Tray (sold separately) that allows 50% faster steam release.
DISCOVER AMAZING RECIPES: Download our free Instant Pot app (iOS and Android) so you can discover new favorites and prepare delicious meals.
Buy this Instant Pot on Amazon
seller's description:
Simply attach the Sifter + Scale* Attachment to the power hub of any KitchenAid Stand Mixer. Then experience hands-free sifting as the sifter gradually incorporates ingredients into the mixer bowl. *Battery operated scale.
Automatic Sifter (hands-free sifting) gives more consistent mixing and fluffy baked goods*, and saves time during the process. *Compared to unsifted ingredients.
Easy-to-use Digital Scale measures ingredients by weight for a greater level of precision, which is a critical part of successful baking. Can also be used separately on your countertop with the included scale plate.
Generous Capacity Hopper holds up to 4 cups of dry ingredients at a time.
Convenient Storage to keep all parts in one place for quick access with the included storage case.
Easy to clean – All parts except scale and sifter housing are dishwasher-safe.
Model KSMSFTA includes (1) Digital Scale, (1) Ingredient Hopper, (1) Removable Sifter, (1) Sifter Housing, (1) Swivel Chute, (1) Scale Accessory Plate
Buy this KitchenAid attachment on Amazon
For the caffeine-addict in your life. This espresso maker is a must for anyone who loves a jolt of caffeine or enjoys sipping on lattes, cappuccinos, mochas and more.
seller's description:
HISTORY OF ESPRESSO: Espresso is a specialty coffee brewed by forcing small amounts of nearly boiling water under pressure through finely-ground coffee beans. Espresso is generally more highly concentrated than coffee brewed by other methods, often featuring a rich flavor and a creamy foam on top.
EXCEPTIONAL DESIGN: The Primula 6-Cup Aluminum Espresso Maker features a modern, stylish design with a high-quality aluminum body. The handle is made from a heat resistant plastic that not only provides you with a firm and reliable grip, but also allows your hand to stay cool during use. Its efficient layout forces pressurized water through coffee grounds, and deposits a rich, full bodied espresso blend into the serving chamber.
ESPRESSO IS VERSATILE: Espresso is one of the most popular ways to consume coffee, and this espresso maker can be used to make popular and delicious coffee recipes like cappuccinos, lattes, americanos, macchiatos and mochas. Espresso can also be enjoyed as a shot for those who enjoy fuller flavored coffee.
EASY TO USE INSTRUCTIONS: Unscrew the top and remove the filter funnel from the base. Fill the base with fresh water up to the level of the safety valve and insert the filter funnel. Fill the filter funnel with finely ground coffee (do not press down), and screw the top firmly to the base.
USE & CARE: Easy to clean and easy to use. Place the espresso maker on low to medium heat, and within 3-5 minutes, delicious espresso will fill the serving chamber. Serve immediately.
Buy this espresso maker on Amazon
Perfect for your on-the-go foodie friend who would appreciate having their meals neatly stored and insulated at the right temperature.
seller's description:
EXTRA CAPACITY – This lunch box mainly has three layers, and each stainless steel container has a lid, which adds three spaces for storing dry food.
LEAKPROOF – Each layer of ArderLive portable stainless steel lunch box is made of stackable container(stainless steel&pp5) + plastic lid + silicone seal ring.
FREEDOM TO COMBINE – According to your preference, combined into different layers of lunch boxes to facilitate the storage of different amounts of food.
KEEP WARM-The stainless steel bento lunch box usually can keep food warm or cold for 1-2 hours, with the insulated lunch bag can keep for 2-3 hours.
PORTABLE STYLE – Lunch bag and stainless steel spoon comes with the pack for ease of use & carry.Suitable for outdoor, travel, picnic, business, schools, gym.
Buy this stackable bento box on Amazon
A great addition or upgrade to any food lover's kitchen, this griddler makes perfect paninis and pretty much any grilled food in no time.
seller's description:
Six cooking options in one: contact grill, Panini press, full griddle, full grill, half grill/half griddle, top melt
Removable, reversible and nonstick grill/griddle plates
Dual zone temperature control
Adjustable top cover with 6 presets to top melt and lock for storage. LWH:14.65 x 16.22 x 8.11 inches . UC Cubic Feet: 2.07 UC LWH : 10.87 x 19.25 x 17.13 (all dimensions are in inches)MC Quantity: 2, MC Cubic Feet: 3.31 , MC LWH: 19.25 x 17.38 x 17.13(all dimensions are in inches )
Sear function – can sear at 500 Degree Fahrenheit for up to two minutes at a time
A great healthy alternative to deep frying, air frying is a necessity for any foodie's kitchen.
seller's description:
The COSORI Smart WiFi has arrived on the Kitchen scene! The first air fryer can now be controlled and monitored with your mobile devices. With the Smart feature, WiFi COSORI is taking your meal preparation to new levels of convenience
Amazon Alexa & Google Assistant-Enabled: Remotely control your fryer through the VeSync app or voice commands with Amazon Alexa or Google Assistant. Enjoy adjusting and monitoring the cooking progress of your meals remotely
Practical Design: The special improved ergonomic angled display provides better viewing, without bending over. Slimmer footprint fits on your countertop and saves your space. Product Dimension: 11.8*11.8*12.6 in; Basket Dimension: 9*9*3.75 in
Easy to Use: Cook your favorites using 11 built-in, one-touch presets: Steak, Poultry, Seafood, Shrimp, Bacon, Frozen Foods, French Fries, Vegetables, Root Vegetables, Bread, Desserts, and a Preheat option. Uses preset manually, or pick a recipe in the app and the settings will automatically adjust
Know a foodie who loves to have outdoor picnics or bring meals on the go? This insulated lunch box backpack is made for them.
seller's description:
INSULATED&LEAKPROOF COOLER FUNTION:Matein Lunch Backpack not only keeps the food warm but also keeps cold drinks for about 2-4 hours. The high quality insulation layer of lunch box compartment keeps the food fresh and warm, which makes it easy to clean and store food. Travel backpack cooler bag is suitable for school,office,picnic,beach,trip,travel,outdoor&indoor. Dimension of the cooler compartment: 10.7 x 5.7 x 7 inch
STORAGE CAPACITY&ORGANIZED POCKETS:One main spacious packing compartment roomy for tech electronics accessories, daily necessities, pen pockets, notebooks, books and more. make your items organized and easier to find.Durable zipper ensure smooth use, durable, extended the use of lunch bags.It provides independent space for your laptop, mobile phone, lunch box, clothes, water bottle, umbrella, wallet, pens, keys.
TOTE DESIGN&LAPTOP COMPARTMENT:Travel laptop backpack of one separate laptop compartment hold 15.6 Inch laptop as well as 15 Inch,14 Inch and 13 Inch Macbook/Laptop.The design of full opening is convenient to store items, the items inside are clear at a glance, you don't have to worry about not finding what you want.
CONVENIENT USB PORT:USB charging part makes it easy to charge your phone while you're walking, very convenient and practical.
Buy this insulated lunch backpack on Amazon
Have a tea aficionado in your life? Make sure they get this beautifully designed glass teapot from you.
seller's description:
EXCEPTIONAL QUALITY AND DESIGN – Made of heat-resistant borosilicate glass with a durable protective holder and comfortable grip handle. High-quality glass allows for crystal clear viewing so you can easily brew to your desired strength
PREMIUM FILTRATION SYSTEM – The fine mesh stainless steel filter is perfect for loose leaf teas, keeping sediment out of your cup while developing full flavor brews. The filter is also removeable to accommodate blooming or flowering teas
SAFETY FIRST – Features a drip-free pour spout for safe and easy pouring. Non-slip silicone base prevents accidental slips
EASY TO USE – Simply add tea or tea bags. Slowly pour in hot water and allow to brew to desired strength. Serve and enjoy!
For anyone who loves freshly-squeezed orange juice, lemonade or any fresh fruit juice…no matter where they are in the world.
PREMIUM MATERIAL:Lemon Squeezer Citrus Juicer Manual Space Saving Kitchen Tools is made of food grade ABS material, BPA-Free ! safe and odorless, It ensures you to get the best original flavor.
EFFICIENT DESIGN: Using spiral extrusion, the amount of juice is increased by 18% compared to the ordinary extrusion method.You can use it to squeeze oranges, lemon, grapefruit, watermelon, grape, pomegranate, pineapple and other fruits to extract enough fresh fruit juice for your family every day.
EASY TO USE: Citrus juicer has two methods of use,you just need switch the middle grey concave filter up and down, put the fruit in the filter and rotate this orange juicer, and then press down and rotate, and you will get the juice.
Multifunctional:Manual juicer conveniently helps you add juice into your delicious food exactly, perfect for fresh juice marinades, flavoring dishes, creating tasty mixed drinks and craft cocktails, and more.
CONVENIENT STORAGE:Closed combination, will not pollute the internal structure by external dust, clean and healthy.The hand juicer suit design, Fully consider saving space. You can put the hand press juicer in the drawer and travel bag. Perfect for indoor and outdoor use, like camping, picnic, etc.
Buy this hand-held juicer on Amazon
Few things are more romantic that surprising your significant other with breakfast in bed…and this is the ideal table to serve it.
Made of durable natural bamboo and known to be stronger and more beautiful than regular wood
Ideal for serving breakfast, dinner, wine, laptop desk, hospital serving tray, or use for an elegant decoration display
Foldable legs and two hollowed out handles for easy carrying. Surrounding tray lips prevent items from falling over
Hand wash with mild soap warm water, for extended life of tray use bamboo oil occasionally
Tray measures approximately 20″ L x 12″ W x 2.5″ H when folded, 9″ H when standing
Buy this breakfast-in-bed serving tray on Amazon
We can't forget our own philanthropic book, written with the input of some of the fittest food lovers in the world. Be your fittest self while enjoying what you eat…and helping fight world hunger too!
seller's description:
What do Tony Hawk (legendary skateboarder), Andre Rush ("strongest chef in the world") and Caroline Labouchere (international model of mature age) have in common? They are all unbelievably fit and they all LOVE food. How could it be possible to love food & enjoy eating while remaining perfectly fit?
Kristina V. Reynolds explores the lifestyles and habits of some of the fittest food lovers (celebrities, sports legends and fitness experts) in the world through 1-on-1 interviews where they discuss their eating and fitness journeys. She also examines her own firsthand experiences as a fit food lover while providing insights from certified nutrition and fitness professionals. Discover the many different ways that these role models of diverse backgrounds have figured out how to sustainably eat what they want and remain the fittest versions of themselves…and how you can too.
**A portion of the author's proceeds will go to select charities committed to fighting hunger worldwide.**
Buy The Fittest Food Lovers on Amazon
Keep in mind that these deals come and go quickly, so if you've missed them, you can find more of the biggest Black Friday foodie deals and more here!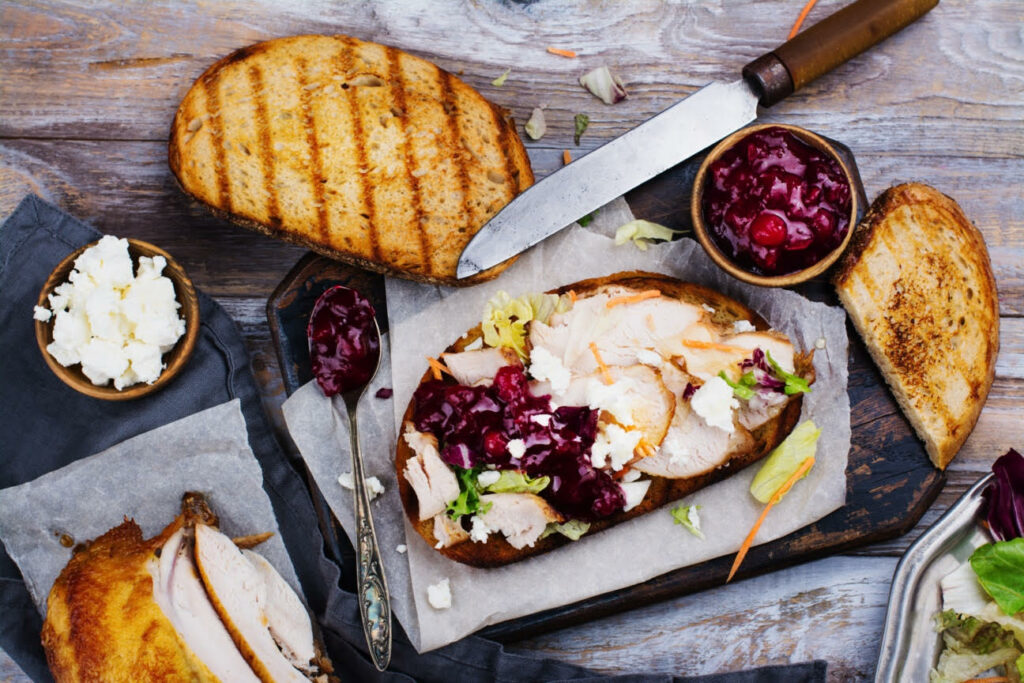 A turkey cranberry sandwich (a.k.a. Pilgrim sandwich or Puritan sandwich) is a traditional type of…
Celebrating Thanksgiving with family or friends? Whether you're hosting or attending a Thanksgiving dinner, it's…