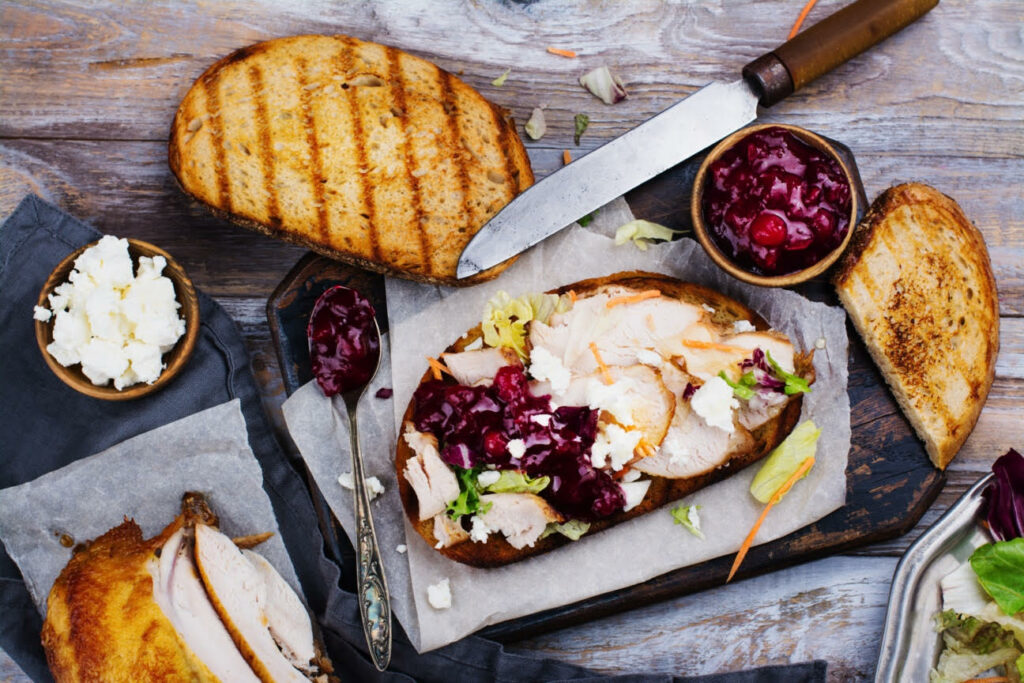 A turkey cranberry sandwich (a.k.a. Pilgrim sandwich or Puritan sandwich) is a traditional type of American sandwich. The core elements of this sandwich consist of roasted turkey slices, cranberry and stuffing. As you may have guessed, these sandwiches were an inevitability as a simple way to enjoy Thanksgiving leftovers.
Thanksgiving is an annual holiday celebrated in the United States (and over a dozen other countries) on the last Thursday of November. Although the traditions vary by country, the primary purpose of this holiday is to give thanks for the year's harvest while spending time with loved ones. Thanksgiving has become synonymous with family and friends indulging in large feasts consisting of a cooked whole turkey, stuffing, cranberry sauce, mashed potatoes, gravy, and many other accompanying dishes. With a literal cornucopia of food, it's quite common that guests are unable to eat everything, leaving leftovers aplenty.
The easiest way to repurpose your leftovers is to stick them between two pieces of bread and turn them into a sandwich. But there are other ways to fix up your uneaten Thanksgiving food.
Variations
Although the main elements of this sandwich include turkey, cranberry sauce and stuffing, the Thanksgiving leftover sandwich can be modified in seemingly infinite ways. Here are some variations to change things up.
turkey cranberry wrap – replace bread with a tortilla
turkey cranberry bowl – serve in a bowl over rice
turkey cranberry salad – serve over a bed of leafy greens with your favorite dressing
turkey cranberry empanada – fold into dough and bake
turkey cranberry soup – cut turkey into small pieces and add all ingredients to heated chicken broth
Additionally, you can add and/or modify any of these individual Thanksgiving dishes and sides to customize your sandwich. Here are some modifications you can try out.
turkey: roasted, fried, baked, grilled, etc.
cranberry sauce: canned, whole, homemade, etc.
stuffing: traditional bread stuffing, corn stuffing, dried fruit and nut stuffing, bacon stuffing, etc.
potatoes: mashed, garlic mashed, home fries, etc.
gravy: light, dark, spicy, etc.
corn: cut off the cob, buttered, canned, elote style, etc.
brussels sprouts: roasted, fried, steamed, etc.
Where to find turkey cranberry sandwiches
Craving the flavors of a Thanksgiving dinner but don't want to spend the time or money on cooking a full feast? Simply go out and grab (or stay in and order) a turkey cranberry sandwich! Use the interactive map below to find a sandwich shop or restaurant that serves these Thanksgiving-flavored turkey sandwiches near you!
How to make a turkey cranberry sandwich
Pretty much anyone already knows how to make a turkey sandwich. However, it takes a bit more know-how to make a delicious turkey cranberry sandwich. Click on the recipe below to find out the necessary elements and how to dress up your sandwich to fit your tastes.
Turkey Cranberry Sandwich: Thanksgiving leftovers perfected
Ingredients
2 slices bread (sourdough, white, wheat, dutch crunch, focaccia, brioche, ciabatta, multigrain, rye, bolillo, etc.)
2-4 slices roasted turkey (or any sliced turkey)
1-2 tablespoons cranberry sauce (canned, whole, etc.)
2 tablespoons stuffing
1/2 teaspoon mayonnaise (or ranch, horseradish, etc.
1/4 cup lettuce (or arugula, cabbage, kale, spinach, etc.)
1-2 slices cheese (American, swiss, provolone, cream cheese, etc.)
salt and pepper (to taste)
Instructions
Toast both slices of bread or place in panini maker after completion (optional)
On one slice of bread, layer the turkey, cranberry sauce, stuffing, lettuce, cheese, salt and pepper (as desired).
On the other slice of bread, spread mayonnaise and/or other desired condiments. Place on assembled ingredients (spread side down) to complete your sandwich
Slice in half and enjoy!
Looking for Black Friday sales and happen to be a foodie (or food lover)? Well,…
Celebrating Thanksgiving with family or friends? Whether you're hosting or attending a Thanksgiving dinner, it's…