When it comes to Halloween, we often think of spooky costumes, haunted houses, and a treasure trove of candy. But there's a secret culinary side to this bewitching holiday that often goes overlooked. Halloween-themed food isn't just about candy corn and mini chocolate bars; it's an opportunity for culinary creativity to shine. In this gourmet's guide to Halloween-themed food, we'll explore how to transform your Halloween soirée into a feast fit for ghouls and goblins, without any biases or preconceived notions.
Pumpkins: The Unofficial Mascot
The pumpkin is to Halloween what Santa is to Christmas – an icon. But let's not limit its potential to just jack-o'-lanterns. Pumpkin soup, roasted pumpkin seeds, and creamy pumpkin risotto are just a few ways to elevate this humble gourd to gourmet heights. For an extra dash of magic, try carving mini pumpkins and using them as serving bowls for your dishes.
More pumpkin dishes to consider
pumpkin soup with a drizzle of creepy cream
roasted pumpkin seeds with spooky spice rub
creamy pumpkin risotto with sage and parmesan
mini pumpkin stuffed with savory sausage and herbs
Frighteningly Good Appetizers
Kick off your Halloween feast with spine-tingling appetizers that will have your guests reaching for seconds. Deviled eggs can transform into "Eyeball Delights" with the help of black olive pupils. Mummy-inspired hot dogs wrapped in flaky puff pastry are a hit with both kids and adults. And don't forget the "Witch's Brew" – a bubbling cauldron of savory soup that'll have your guests spellbound.
More ideas for Halloween appetizers
deviled eggs with black olive pupil "eyeballs"
mummy hot dogs wrapped in flaky puff pastry
"witch's brew" cauldron soup with crusty bread
spooky guacamole with tortilla chip tombstones
Haunted Main Courses
Now, it's time for the pièce de résistance. A Halloween-themed main course should be as memorable as your costume. Try serving "Vampire Steak" – succulent beef seared to perfection and adorned with garlic cloves for that extra bite. If you prefer a vegetarian option, "Graveyard Risotto" made with wild mushrooms and truffle oil will send shivers down your spine.
More ideas for Halloween dishes
"vampire steak" with garlic clove fangs
"graveyard risotto" with wild mushrooms and truffle oil
stuffed bell peppers shaped like jack-o'-lanterns
spiced pumpkin and black bean enchiladas
Spooktacular Sides
The key to a harmonious Halloween meal is in the sides. "Zombie Finger Fries," made from crispy carrot sticks, are as fun to eat as they are to look at. Pair them with "Cemetery Salad" – a vibrant mix of greens and edible flowers that adds a pop of color to your table. And don't forget the "Bewitched Breadsticks" – twisted dough strips brushed with garlic butter.
More ideas for Halloween sides
"zombie finger fries" (carrot sticks)
"cemetery salad" with mixed greens and edible flowers
"bewitched breadsticks" with garlic butter
roasted purple potatoes with rosemary "bat wings"
Desserts to Die For
Halloween-themed desserts are where your creativity can truly shine. "Ghostly Meringue Pops" are a sweet, airy delight, while "Spiderweb Cheesecake" is a creamy masterpiece that'll have your guests tangled in its web. And, of course, no Halloween dessert spread is complete without "Witch's Brew Cupcakes," topped with vibrant green frosting and adorned with miniature witch hats.
More ideas for Halloween desserts
"ghostly meringue pops" with chocolate eyes
"spiderweb cheesecake" with raspberry coulis
"witch's brew cupcakes" with miniature witch hats
Halloween sugar cookies decorated as mummies and monsters
Ghoulish Drinks
To wash down your delicious Halloween-themed feast, whip up some chilling concoctions. "Blood Orange Punch" is a tangy, crimson libation that's both kid-friendly and adult-approved. For the grown-ups, serve "Witch's Brew Cocktails" – a blend of dark rum, blackberries, and a hint of absinthe for a truly bewitching experience.
More ideas for Halloween drinks
"blood orange punch" with floating lychee eyeballs
"witch's brew cocktails" with blackberry garnish
apple cider "potion" with cinnamon stick stirrers
green "slime" smoothies for the little monsters
Setting the Scene
Presentation is everything, and a Halloween-themed meal should look as good as it tastes. Use black and orange tableware, cobweb table runners, and flickering candles to set the mood. Consider incorporating eerie sound effects or a spooky playlist to enhance the atmosphere.
More Halloween dinner theme ideas
black and orange tableware: plates, napkins, and tablecloths
cobweb table runner for an eerie touch
flickering LED candles in black candleholders
spooky sound effects or halloween-themed playlist to create atmosphere
Halloween-themed food isn't just about tricks and treats; it's an opportunity to showcase your culinary prowess in a fun and imaginative way. From appetizers that raise eyebrows to desserts that raise spirits, this gourmet's guide to Halloween-themed food has shown that there are no biases when it comes to creating a memorable and delicious Halloween feast. So, this October 31st, don your apron and let your culinary creativity run wild, because Halloween is about more than just candy – it's a feast for the senses.
Looking for Black Friday sales and happen to be a foodie (or food lover)? Well,…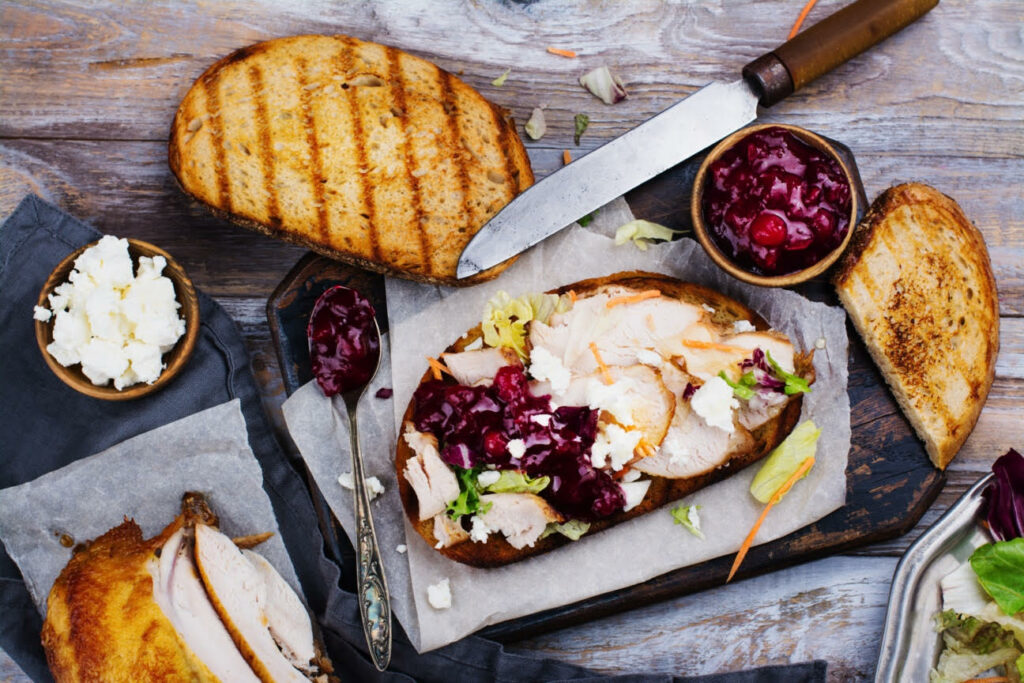 A turkey cranberry sandwich (a.k.a. Pilgrim sandwich or Puritan sandwich) is a traditional type of…
Celebrating Thanksgiving with family or friends? Whether you're hosting or attending a Thanksgiving dinner, it's…