What are butter boards?
Butter boards are the next evolution of charcuterie boards. They are an eye-catching display of softened, spreadable butter with savory and/or sweet toppings served with bread (usually artisanal bread), raw veggies and/or crackers. Besides the quality of the ingredients, the arrangement of the buttery spread and accompanying ingredients is the most important element of this dish making it a feast for the eyes as well as the taste buds.
History
As a relatively recent food phenomenon, the first written account of butter boards was by Joshua McFadden in 2017. In his cookbook, Six Seasons: A New Way With Vegetables, McFadden describes how to assemble a butter board using a cutting board as the base and spreading layers of butter, seasoning and herbs.
However, it wasn't until 2022 that it went viral on TikTok by @justine_snacks.
Since then, the availability of artisanal butter and various flavors of butter in supermarkets and grocery stores has skyrocketed.
Types of Butter for Butter Boards
There is a wide variety of butter you can use for these boards, from flavored artisanal butter to various types of name-brand butter. You may be familiar with the rich and bold European butter by Kerrygold, or the light yellow hues of Challenge Butter and Land O'Lakes Butter.
flavors
Popular flavors of artisanal butter include
garlic and herb butter
pesto butter
rosemary butter
sundried tomato butter
cinnamon sugar
brands
Quality brands of gourmet flavored butter include
Dream Butters
Epicurean Butter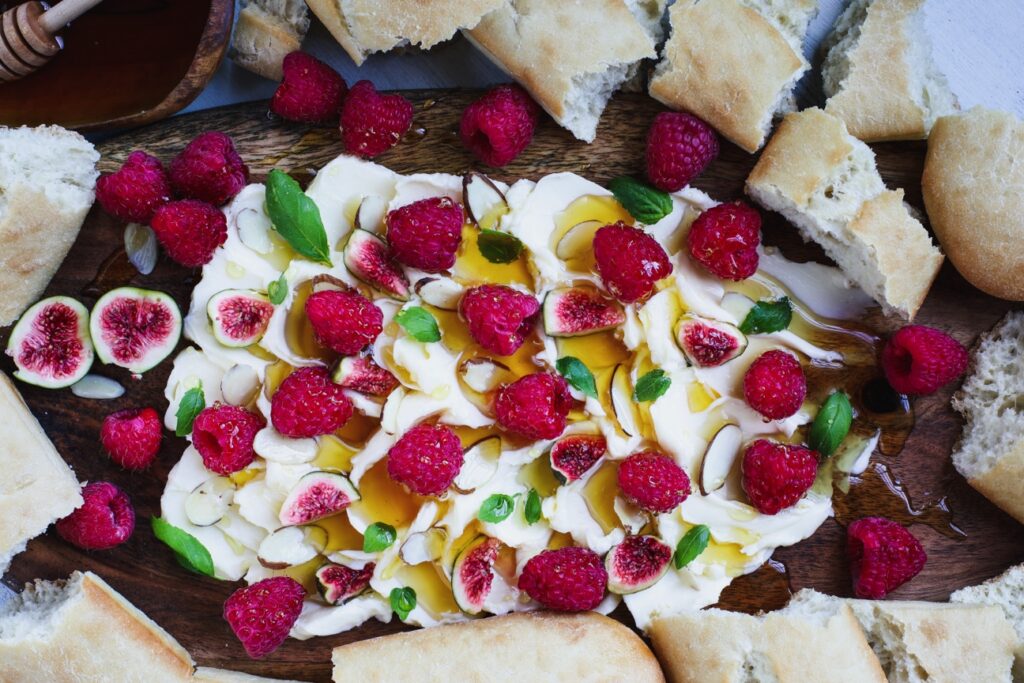 a sweet fig & honey butter board
Butter Board Materials
Wood Boards: Wood is the most traditional material and is used by many people. today They are usually made from hardwood, such as maple, and are often carved or etched with decorative designs. Wood boards are durable and long lasting.
Marble Boards: Marble boards are becoming increasingly popular due to their timeless design. They are made from polished marble, which is naturally cool to the touch, making it ideal for keeping butter fresh. Marble boards are also easy to clean, but depending on the quality and thickness, may be susceptible to cracking.
Ceramic Boards: Ceramic boards are another alternative to the traditional wooden board. They are made from high-quality ceramic and often feature beautiful designs and patterns. Ceramic boards are generally dishwasher safe, but like marble boards, can be suceptible to cracking depending on the quality.
Glass Boards: Glass boards are a unique and stylish option for those who want a more contemporary look. They are made from high-quality tempered glass, which is durable and resistant to heat and scratches. They are also easy to clean making it great for using with butter.
How can I make a butter board?
Here is a simple customizable recipe to make and enjoy your own butter board at home.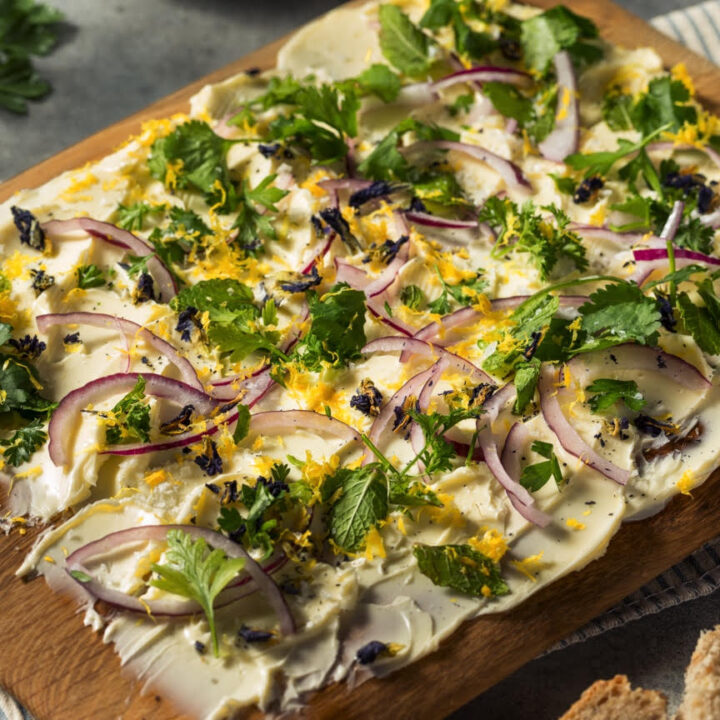 butter board
A simple, yet gourmet version of bread & butter with options for savory or sweet.
Ingredients
savory butter board
savory flavored butter (e.g. truffle, pesto, garlic, etc.)
chopped fresh herbs (e.g. basil, rosemary, thyme, dill, mint, etc.)
chopped onions (e.g. red, green, yellow or white)
lemon zest (optional)
sliced/cubed bread (e.g. French baguette, sourdough, etc.)
vegetables for dipping (e.g. carrots, broccoli, cauliflower, celery, radish, etc.)
sweet butter board
plain or sweet flavored butter (e.g. salted, cinnamon sugar, etc.)
small fresh fruits (e.g. raspberries, blueberries, tangerine slices, sliced figs, etc.)
dried fruits (e.g. cranberries, apricots, pineapples, etc.)
honey (to drizzle)
sliced/cubed bread (e.g. French baguette, sourdough, etc.)
seeded crackers
Instructions
Decide whether you want to make a savory butter board, sweet butter board, or both. Gather the ingredients accordingly.
Make sure your butter is softened for easy spreading by setting it on the kitchen counter for about 15-20 minutes or until around 60°F. (Note: to soften butter faster, cut it into small cubes)
With a butter knife or spoon, spread a fairly even layer of butter on the entire board.
Evenly sprinkle the herbs and onions, or fruits on the butter.
Optional - add lemon zest and/or lightly drizzled honey.
Serve with side plates of bread, vegetables and/or crackers.
Enjoy!
Notes
The measurements depend on the size of your board. Use however much you need to cover your board.
Also, feel free to pick and choose whatever ingredients best suit your tastebuds. Even mix up the ingredients from the savory and sweet options if you like.
Charcuterie Board-related posts
What are butter boards? Butter boards are the next evolution of charcuterie boards. They are…