Want to expand your culinary horizons into German cuisine? If so, then we've got some German food terms to familiarize yourself with. However, it helps to know a bit about the country and culture before jumping in.
Germany (Deutschland) is a country located in north-central Europe. It shares a border with nine other European countries including Austria, Belgium, Denmark, France, The Netherlands, Poland and Switzerland. Like many other countries, Germany shares numerous traditions with its neighbors. The influences of Austrian and Swiss cuisines are especially noticeable in German cuisine.
German cuisine
German cuisine is very well-known for its meats and beer to the point that when non-Germans think of German cuisine, images of bratwurst and beer-filled das boots often come to mind. Pork is the most consumed meat in Germany while beef comes in at a close second. Germany has a rich history of beer thanks to the Baravrian "Purity Law" of 1516 requiring that beer only be made from hops, barley and water. Numerous varieties of beer were created from the law including Alt, Pilsner and Weizenbier (wheat beer).
Besides red meat and beer, freshwater fish (in regional areas) and vegetables are also German staples. Alaska pollock, trout, cod and carp are popular in coastal regions. Vegetables like asparagus, broccoli, cauliflower, carrots, and peas are often cooked as side dishes.
While noontime lunch has traditionally been the largest meal of the day (with breakfast and dinner consisting of breads, cheeses and cold cuts), work schedules have made dinner a larger family meal.
German food terms
Expand your international dining vocabulary with these basic food-related words translated from English to German.
meat – fleisch
pork – schweinefleisch
beef – rindfleisch
poultry – geflügel
turkey – truthahn
duck – ente
chicken – hähnchen
seafood – meeresfrüchte
fish – fisch
shrimp – garnele
oyster – auster
shellfish – schaltier
meatless/no meat – kein fleisch
vegetables – gemüse
fruits – früchte
eggs – eier
tofu – tofu
nuts – nüsse
vegetarian – vegetarier
vegan – vegan
drinks – getränke
water – wasser
alcohol – alkohol
beer – bier
wine – wein
other eating/dining-related terms
yes – ja
no – nein
good – gut
yummy – lecker
eat – essen
cook – koch
I'm hungry – Ich hab hunger
I'm full – Ich bin voll
more – mehr
less – weniger
only – nur
please – bitte
thank you – dankeschön
baked – gebacken
fried – gebraten
grilled – gegrillt
roasted – geröstet
steamed – gedämpft
hot – heiß
warm – warm
cold – kalt
bitter – bitter
salty – salzig
spicy – würzig
sweet – süss
allergic – allergisch
bathroom – badezimmer
German food to try
baumkuchen – German spit cake
flammkuchen – thin German pizza
spätzle – German egg noodles
schnitzel – fried meat (usually pork or veal)
Interested in learning about other cuisines around the world? Discover food terms from other countries here.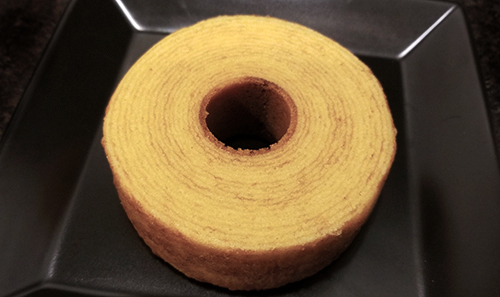 Find where to buy the best German baumkuchen commonly seen in Japan. Price shop and order these layered…