Find where to buy the best German baumkuchen commonly seen in Japan. Price shop and order these layered cakes for sale online or near you. Also, learn how to make this layered cake by following an easy recipe provided.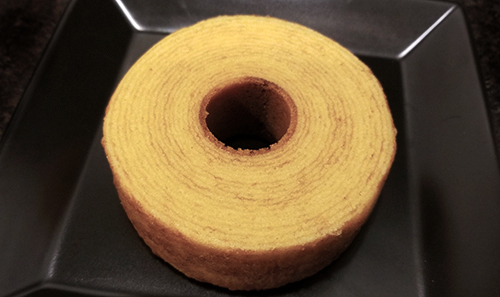 What is baumkuchen?
Baumkuchen (pronounced: BAUM-coo-hen, with a throat-clearing sound for the "h") is a traditional type of German spit cake that was popularized in Japan. It is known as "Germany's 'king of cakes,'" "German layered cake," and "layered butter cake."  The literal translation is "tree cake" and it's also called "tree ring cake" since it strongly resembles the rings of a tree.
Where did it come from?
The origin of baumkuchen is deeply rooted within European history. It's believed that it evolved from the traditional Hungarian chimney cake. Back in 1561, a chef who worked in Hungary published Ein neues Kochbuch,a cookbook with a recipe for the layered cake. It also existed in ancient Greece. Roman conquerors later brought it over to Germany where it officially became "baumkuchen."
In 1919, a German named Karl Joseph Wilhelm Juchheim was confined in Japan during World War I. He first introduced the German spit cake in Hiroshima and its popularity led him to create a chain of Juchheim bakeries throughout Japan. The Juchheim brand is still prevalent today.
This tightly spiraled cake made of 15-20 individually spit-baked layers is still a very popular dessert in Japan…possibly due to its concentric circle-like perfection and the fact that it pairs perfectly with tea. (Side note: Snack time or tea time is common in Japan. It is known as "oyatsu" or "kanshoku" and is typically eaten between 2-4pm.) Here are some different styles of baumkuchen sold at Japanese food halls in Tokyo.
This is the labor and time-intensive process to make these cakes layer by layer:
Where can I get it?
Other than flying to Japan or Europe, you can find baumkuchen like these at many Japanese supermarkets like Marukai, Mitsuwa and Nijiya: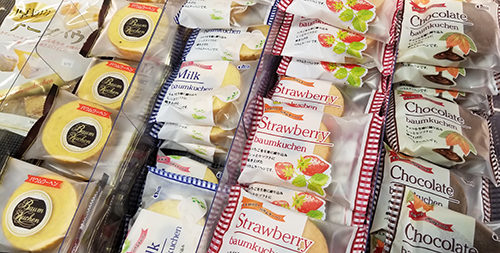 You can also find and buy it online on Amazon and other retailers of baked goods. But if you want to enjoy a freshly-made baumkuchen in the US, here are a couple specialty dessert places that you can check out.
Atlanta, GA / Denver, CO / New York, NY / Los Angeles, CA / Palo Alto, CA:
Paris Baguette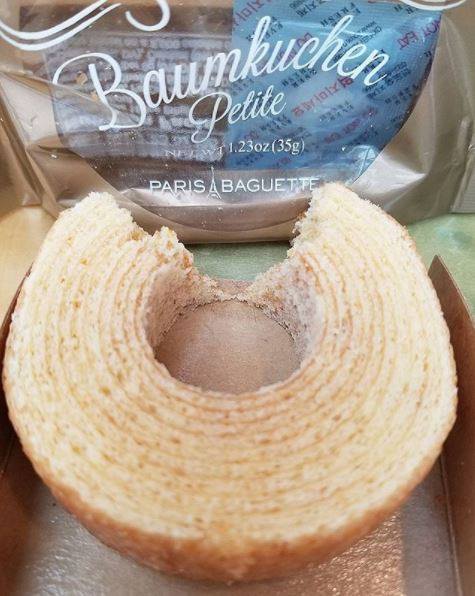 Los Angeles, CA / New York, NY / San Francisco, CA:
Minamoto Kitchoan
Looking for more places that serve baumkuchen?  Check out this interactive map for more locations.
How can I make baumkuchen? 
It can seem fairly daunting to make baumkuchen at home.  However, if you're up for it and have plenty of time & patience, here's a doable method to create these eye-catching German spit cakes.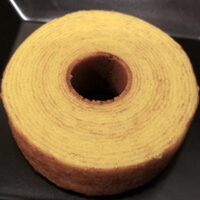 baumkuchen
German spit cake (a.k.a. tree cake)
Ingredients
6 eggs (separate yolks and whites)
1 cup butter (whipped)
4 drops almond extract
1 cup sugar
1 cup flour
1/2 cup cornstarch
1 teaspoon baking powder
melted chocolate or powdered sugar (as preferred)
Instructions
First, grease up the spit and wrap with parchment paper.
Mix the egg yolks, butter, sugar and almond extract until fully incorporated.
Slowly mix in the flour, cornstarch and baking powder.
Whip the egg whites until soft peaks are formed. Then slowly mix into the batter until even.
Brush the batter onto the parchment paper-wrapped spit in a thin layer.
Turn the broiler on and heat the spit for 3-4 mins or until golden brown.
Remove from heat and brush another thin layer of batter. Heat for another 2-4 mins. Repeat for 15-20 layers.
Coat entire surface area with chocolate or powdered sugar.
Rotate spit and cut into even slices. Serve and enjoy!
Aburi sushi is a type of nigiri (i.e. sushi that consists of a small ball…