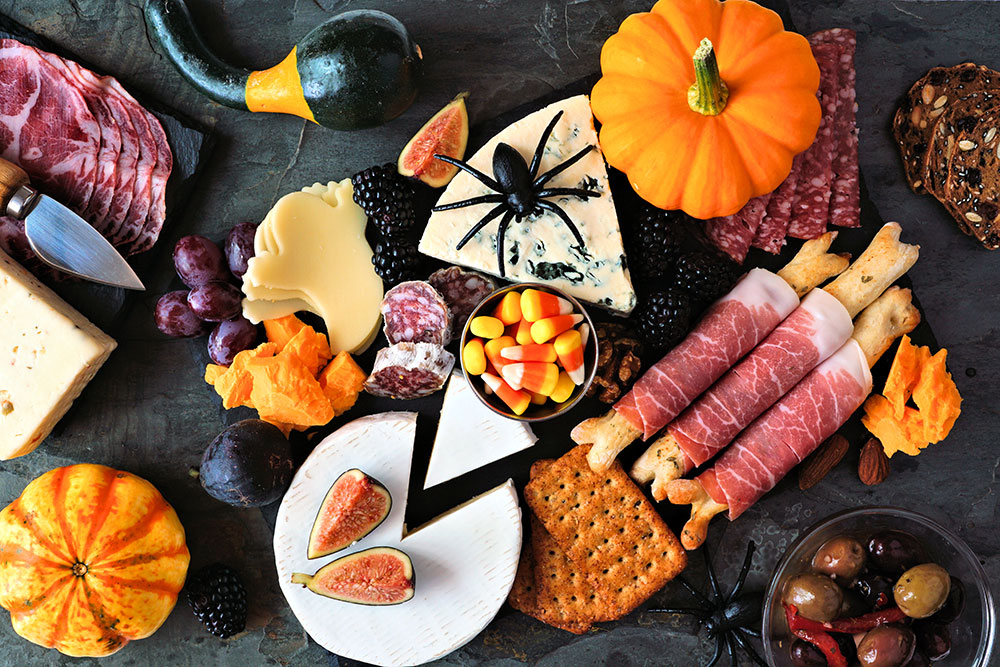 Trick or Treat? Treat…of course. Whether you're hosting a Halloween party or staying in giving out candies to the neighborhood kids, you'll want to make sure you enjoy the best treats by making your own Halloween charcuterie board.
What is a Halloween charcuterie board?
It's a food board that is centered around the theme of Halloween, a U.S. holiday celebrated annually on October 31 by wearing costumes (supposedly to ward off ghosts). Whether or not your food board is technically a charcuterie board, the most important thing is that it includes a bunch of delicious treats and celebrates the Halloween spirit.
What goes on a Halloween charcuterie board?
As with any charcuterie board, you have full freedom to choose what you want to put on your food board. Of course, it's always best to know your audience (if you have guests) and accommodate any dietary needs. Besides that, these are some suggestions of what you could include. Feel free to mix and match these (or any other snacks you can think of) as you please.
savory
sliced meats: prosciutto, pepperoni, salami, etc.
artisanal cheeses: brie, gouda, gorganzola, havarti, manchengo, etc.
bread & crackers: sliced baguette, sourdough, hard pretzels, etc.
seasonal & year-round veggies: carrots, broccoli, cauliflower, pickles, etc.
nuts: almonds, pecans, walnuts, etc.
dips & spreads: ranch dressing, pate, jam, etc.
sweet
candies: candy corn, lollipops, gummy candy, chocolates, chocolate-covered snacks, etc.
baked goods: bite-sized cookies, cupcakes, donut holes, angel food cake, etc.
seasonal & year-round fruits: persimmons, grapes, pomegranates, etc.
jams & jellies: strawberry jam, grape jelly, marmalade, etc.
Halloween-themed snacks
If you're looking for a little more inspiration, here are some ideas for spooky snacks that you can put together to add to take your Halloween charcuterie board to the next level.
witches' fingers: Craft eerie "witches' fingers" by shaping mozzarella sticks or string cheese into finger-like shapes and adding almond slivers as spooky fingernails; these can be served with a side of marinara sauce for dipping.
bat and ghost-shaped crackers: Use cookie cutters to fashion bat and ghost shapes from black and white crackers, lending a playful Halloween twist to your charcuterie board.
sausage mummies: Wrap cocktail sausages in strips of crescent roll dough to create adorable "sausage mummies"; bake them until they turn golden brown and serve with mustard or ketchup for a delightful, thematic snack.
caramelized onion dip: A luscious caramelized onion dip offers a sweet and savory dimension to your charcuterie board, pairing perfectly with an assortment of chips and vegetables.
witch's brew guacamole: Craft a zesty guacamole dip and embellish it with a spider web design using sour cream or yogurt; top it off with a plastic spider for an eerie touch.
roasted pumpkin seeds: Roast pumpkin seeds with an array of spices like paprika, garlic powder, and cayenne to create a crunchy, Halloween-inspired snack.
deviled eggs: Transform hard-boiled eggs into "deviled spider eggs" by piping a spicy filling into the shape of a spider on top; use sliced olives to form the spider bodies and legs.
candy corn veggie platter: Artfully arrange orange and yellow bell pepper strips to resemble candy corn, with a central dip, creating both a visually appealing and nutritious treat.
cauldron queso dip: Present a creamy queso dip in a cauldron-shaped dish and serve it with black tortilla chips for a touch of witchy charm; to enhance the theme, add green food coloring to the queso.
wormy pasta salad: Whip up a pasta salad using bowtie pasta and add a playful and slightly creepy garnish by placing gummy worm candies throughout.
ghostly deviled potatoes: Fashion mini stuffed potatoes and use a dollop of sour cream or cream cheese to craft ghostly faces on top, adding a whimsical touch.
cheese-stuffed eyeballs: Form meatballs stuffed with cubes of cheese and top each one with a sliced olive to create the illusion of "eyeballs"; these can be served alongside a side of marinara sauce.
graveyard hummus: Smoothly spread hummus on a platter and transform it into a spooky "graveyard" scene by placing tombstone-shaped crackers or cookies throughout.
pumpkin-shaped cheese ball: Shape a cheese ball into the likeness of a pumpkin, complete with a pepper stem, and serve it with an assortment of crackers for a charming and flavorful centerpiece.
mummy hot dogs: Envelop hot dogs in crescent roll dough strips to make "mummy dogs"; leave a space for the eyes, bake them until they're golden brown, and add mustard or ketchup for the eyes.
decor
Besides the food, the decor is a big part of what makes your food display a Halloween charcuterie board.
colors, patterns and textures
These are traditional colors used for Halloween parties which you can incorporate into your board:
orange – represents autumn/fall, pumpkins and early sunsets
black – represents early nights, darkness, death and the unknown
green – represents Frankenstein, witches, goblins and other green-colored Halloween monsters and creatures
purple – represents clairvoyance, witches and mystical creatures
red – represents blood, vampires and devils
white – represents ghosts and skeletons
Hungry for more charcuterie platters? Find out everything you must know about food boards here!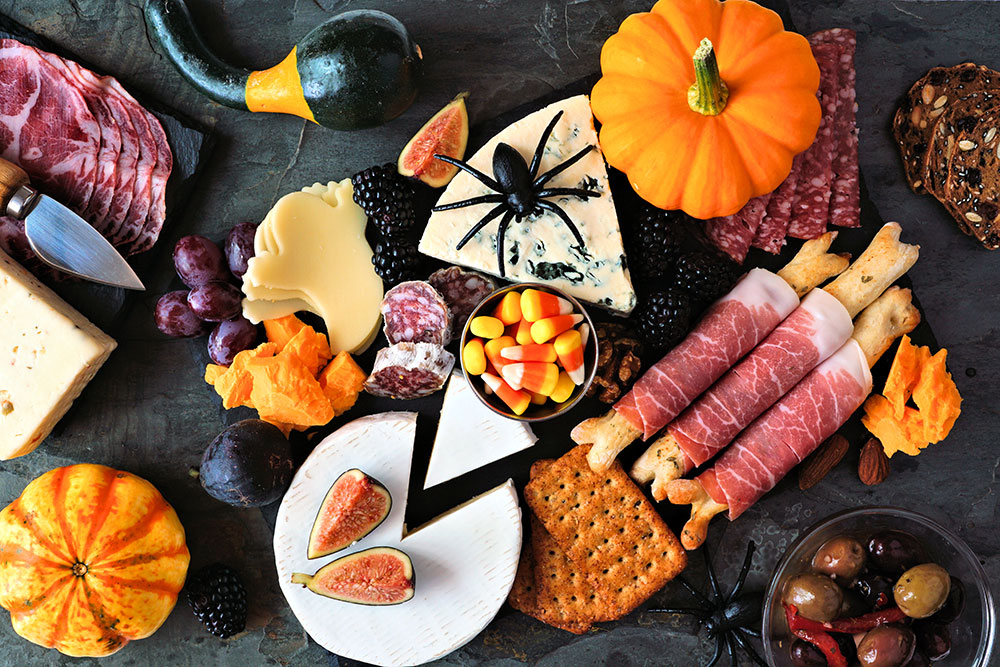 Trick or Treat? Treat…of course. Whether you're hosting a Halloween party or staying in giving…