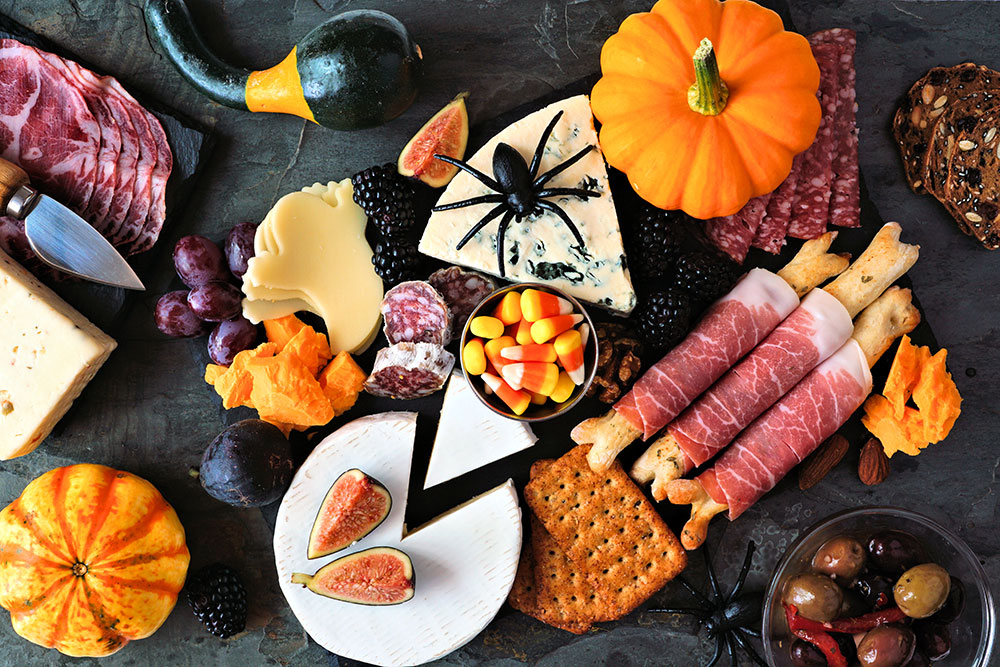 Trick or Treat? Treat…of course. Whether you're hosting a Halloween party or staying in giving out candies to the neighborhood kids, you'll want to make sure you enjoy the best treats by making your own Halloween charcuterie board.
What is a Halloween charcuterie board?
It's a food board that is centered around the theme of Halloween, a U.S. holiday celebrated annually on October 31 by wearing costumes (supposedly to ward off ghosts). Whether or not your food board is technically a charcuterie board, the most important thing is that it includes a bunch of delicious treats and celebrates the Halloween spirit.
What goes on a Halloween charcuterie board?
As with any charcuterie board, you have full freedom to choose what you want to put on your food board. Of course, it's always best to know your audience (if you have guests) and accommodate any dietary needs. Besides that, these are some suggestions of what you could include. Feel free to mix and match these (or any other snacks you can think of) as you please.
savory
sliced meats: prosciutto, pepperoni, salami, etc.
artisanal cheeses: brie, gouda, gorganzola, havarti, manchengo, etc.
bread & crackers: sliced baguette, sourdough, hard pretzels, etc.
seasonal & year-round veggies: carrots, broccoli, cauliflower, pickles, etc.
nuts: almonds, pecans, walnuts, etc.
dips & spreads: ranch dressing, pate, jam, etc.
sweet
candies: candy corn, lollipops, gummy candy, chocolates, chocolate-covered snacks, etc.
baked goods: bite-sized cookies, cupcakes, donut holes, angel food cake, etc.
seasonal & year-round fruits: persimmons, grapes, pomegranates, etc.
jams & jellies: strawberry jam, grape jelly, marmalade, etc.
decor
Besides the food, the decor is a big part of what makes your food display a Halloween charcuterie board.
colors, patterns and textures
These are traditional colors used for Halloween parties which you can incorporate into your board:
orange – represents autumn/fall, pumpkins and early sunsets
black – represents early nights, darkness, death and the unknown
green – represents Frankenstein, witches, goblins and other green-colored Halloween monsters and creatures
purple – represents clairvoyance, witches and mystical creatures
red – represents blood, vampires and devils
white – represents ghosts and skeletons
Hungry for more charcuterie platters? Find out everything you must know about food boards here!
Your dad is one of a kind. One of the best ways to show your…