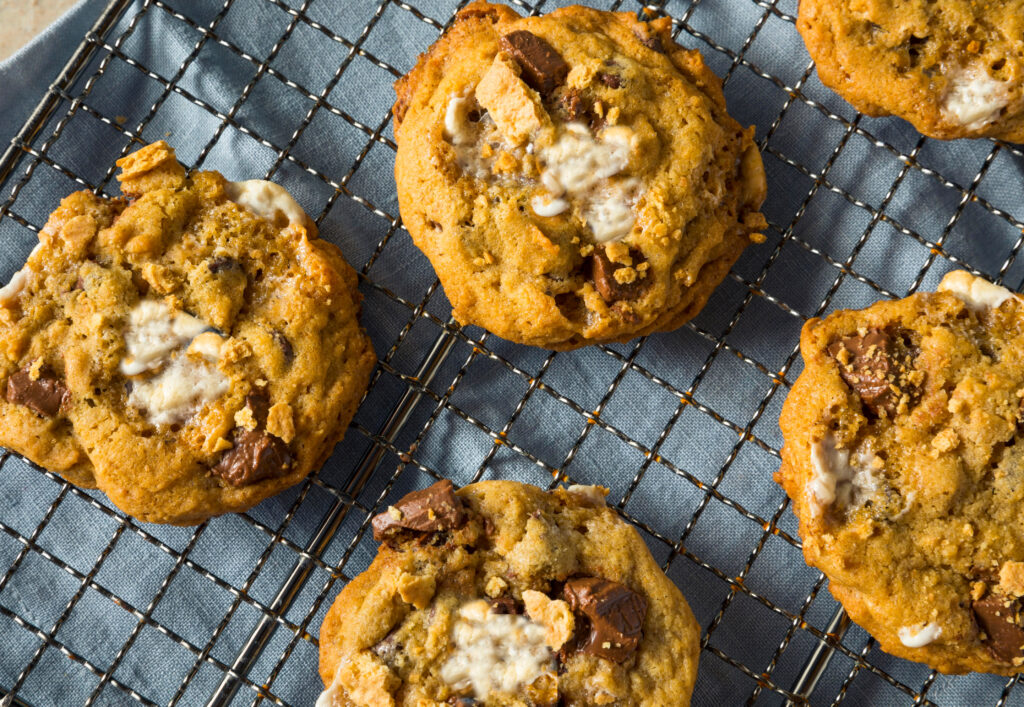 With comfort foods still going strong, s'mores cookies bring the essence of a crackling campfire and the joy of gooey marshmallows, rich chocolate, and crunchy graham crackers into a delightful baked treat. With their perfect blend of sweet and savory flavors, these cookies are a modern twist on the beloved s'mores tradition.
History of s'mores cookies
Although s'mores cookies have been enjoyed for nearly a century, social media (particularly TikTok) reinvigorated the popularity of this snack in the summer of 2023 due to an updated recipe (see below) reflecting its nostalgic simplicity and marshmallow-y goodness.
The origins of the s'mores cookie can be traced back to the late 1920s when the recipe for the classic American campfire treat, s'mores, was first published in a Girl Scouts handbook. The name itself is derived from the phrase "some more" – an undeniable testament to the addictive nature of this delectable dessert. Traditionally, s'mores were made by sandwiching a roasted marshmallow and a piece of chocolate between two graham crackers, resulting in a melt-in-your-mouth delight.
Not long after the first recorded s'mores were made, the genius minds in the culinary world transformed this campfire favorite into a cookie form. The concept of combining graham cracker crumbs, marshmallows, and chocolate into a soft, chewy cookie would become a crowd-pleaser over the decades to come.
Texture & flavor
S'mores cookies are a harmonious marriage of familiar flavors that immediately transport you back to cozy nights spent around a campfire. These delightful cookies are characterized by a tender and chewy texture, with the perfect balance of sweetness from the marshmallows and the rich, indulgent notes of chocolate. The graham cracker crumbs provide a subtle crunch and a touch of warmth reminiscent of campfire-grilled s'mores.
Each bite of a s'mores cookie is a perfect blend of flavors. The toasted marshmallows create a sweet and slightly caramelized layer that is complemented by the luscious chocolate chunks or chips, which melt into gooey pockets of decadence. The graham cracker crumbs, embedded within the dough, add a subtle nutty undertone, tying all the elements together.
Variations
Double Chocolate S'mores Cookies: For the ultimate chocolate lovers, adding cocoa powder to the cookie dough and using chocolate chunks or chocolate chips elevates the richness and intensity of the chocolate flavor. The result is an indulgent cookie that will satisfy the most discerning chocoholics.
Peanut Butter S'mores Cookies: Combine the classic combination of peanut butter and chocolate with the s'mores cookie for a heavenly twist. Incorporate creamy peanut butter into the dough and sprinkle a few chopped peanuts on top for a delightful crunch.
Salted Caramel S'mores Cookies: Elevate the flavor profile by drizzling each cookie with a luscious salted caramel sauce. The contrasting saltiness of the caramel perfectly balances the sweetness of the marshmallows and chocolate.
S'mores Cookie Bars: If you prefer a simpler and more rustic approach, transform the cookie dough into a pan and bake it as bars. This variation allows for easy serving and is perfect for picnics, potlucks, or sharing with friends and family.
S'mores Cookie Ice Cream Sandwiches: Put a scoop of your favorite vanilla or chocolate ice cream between two freshly baked s'mores cookies for a satisfying summer treat!
How to make s'mores cookies
Here is an updated simplified recipe for this traditional cookie that makes use of pre-made cookie dough and full-sized s'mores (for that full-blown s'mores gooeyness)…and is practically fool-proof.
s'mores cookies (easy)
Additional Time:
1 minute
Super simple ooey gooey s'mores-infused cookies.
Ingredients
1 pack of cookie dough (chocolate chip, peanut butter, oatmeal, etc.)
4 graham cracker squares
1 chocolate bar (cut to fit on each graham cracker)
4 marshmallows
1 stick unsalted butter (to butter baking sheet)
Instructions
Preheat your oven to 350°F (175°C).
Butter your baking sheet.
Evenly space out the graham crackers on the buttered baking sheet.
Place one piece of chocolate on each graham cracker.
Place one marshmallow on each piece of chocolate to create a s'more.
Using a tablespoon or a cookie scoop, create 4 scoops of cookie dough and flatten them out to completely cover each s'more. They should look like mounds with the s'mores hidden underneath.
Bake the cookies in the preheated oven for 12 to 15 minutes, or until they are lightly golden around the edges.
Remove the baking sheet from the oven and let the cookies cool on the sheet for a minute.
Enjoy!
Notes
These cookies are best enjoyed with a glass of cold milk or hot cocoa.
S'mores cookies offer a delightful twist on the classic campfire treat, capturing the essence of cozy nights and childhood memories. These cookies are the epitome of indulgence, combining the sweet, melty marshmallows and chocolate with the comforting crunch of graham crackers. From the traditional rendition to the inventive variations, s'mores cookies continue to captivate taste buds with their nostalgic charm and irresistible flavors. So, gather your ingredients, preheat the oven, and let the aroma of these delectable cookies transport you to a world of pure delight. Enjoy every bite of this modern twist on a timeless favorite!
More dessert posts
S'mores ice cream takes you on a tantalizing journey into the realm of frozen desserts,…