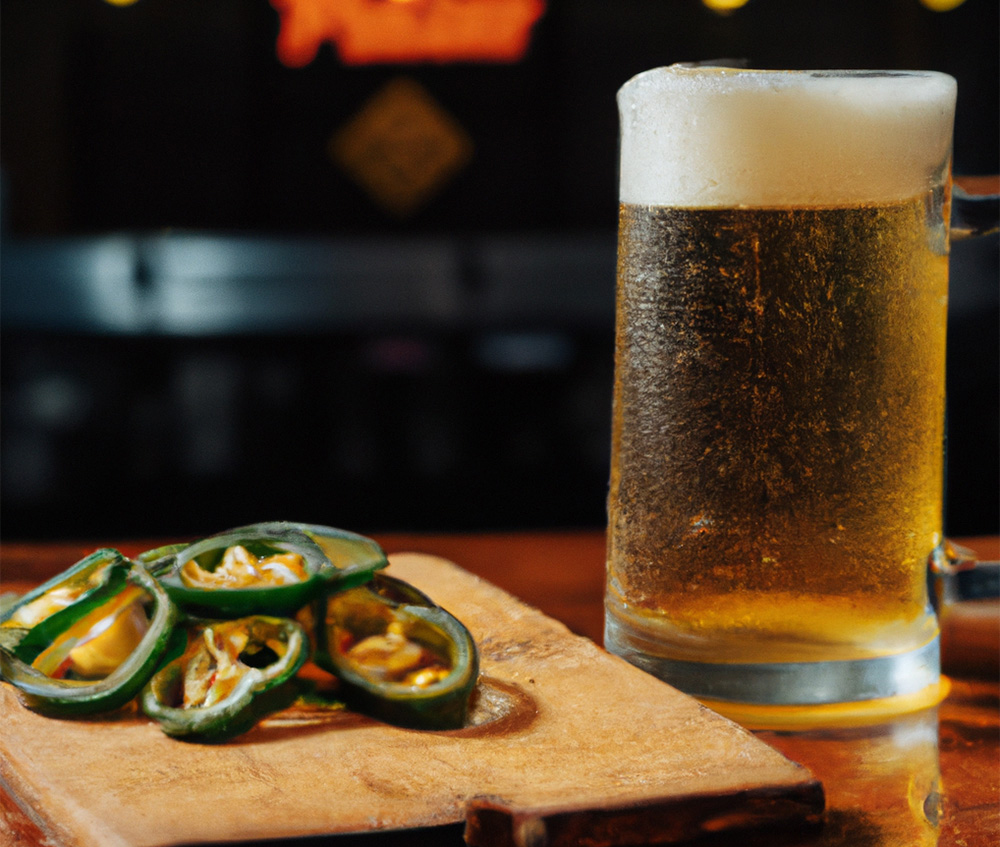 If you're a beer drinker who enjoys hot peppers, you may want to try jalapeño beer. Like, jalapeño wine, it can still hold the flavor of the original beverage while adding a dimension of spiciness. However, because it is made by different breweries in a multitude of ways from using fresh peppers to ground seeds, the flavors can vary quite a bit. So if you're curious, it's advised to taste various types and find out what fits your spice tolerance and flavor preferences. Just because you may dislike the taste of one, doesn't necessarily mean you won't love the next.
Jalapeño beer has been around for decades, mostly made by beer connoisseurs in their home breweries. In the early 2010s, it grew in popularity along with America's desire for spicy foods and could be found in many breweries that specialize in craft beer. But because it is a psychological hurdle to drink a cool beverage that might "burn" your mouth (depending on how much you can handle), it quickly became more of a novelty drink found regionally in the U.S.
However, as the jalapeño becomes less and less threatening as more extreme hot peppers hit the market (e.g. Carolina Reamer, Trinidad Moruga Scorpion, etc.), it's quite possible that jalapeño beers become as widely accepted as the Bloody Mary.
What brands make jalapeño beer?
There are dozens of breweries that make beer with jalapeño. Some of the most popular include
Spicy Nachos – Evil Twin Brewing
Ghost Face Killah – Twisted Pine Brewing
American Presidential Stout – Arizona Wilderness Brewing Co.
Jalapeño Common – Darkness Brewing
Jalapeño Pale Ale – Birdsong Brewing Co.
What are other types of spicy beer?
Besides jalapeño, there are many other types of spicy beer you can enjoy. Here are several highly-rated spicy beers to try:
Voodoo Grande Negro Voodoo Papi – Voodoo Brewing Co.
Habanero Sculpin IPA – Ballast Point Brewing
Hunahpu's Imperial Stout – Cigar City
Prairie Bomb! – Krebs Brewing
Sweet Heat – Burnside Brewing
Fate El Ultima Mexican Hot Chocolate Stout – Fate Brewing Co.
Viva Habanera – Night Shift Brewing
Triple Day of the Dead – Garage Project
Where can I find jalapeño beer?
If you're looking to simply try spicy beer (not necessarily made with jalapeños), you're likely to find them in cities known for their breweries like San Diego, CA; Portland, OR; or Asheville, NC. For breweries that specifically make jalapeño beer, check out this interactive map.
More spicy posts
What is Truffle Hot Sauce? Truffle hot sauce is a fusion of fiery pepper sauce…