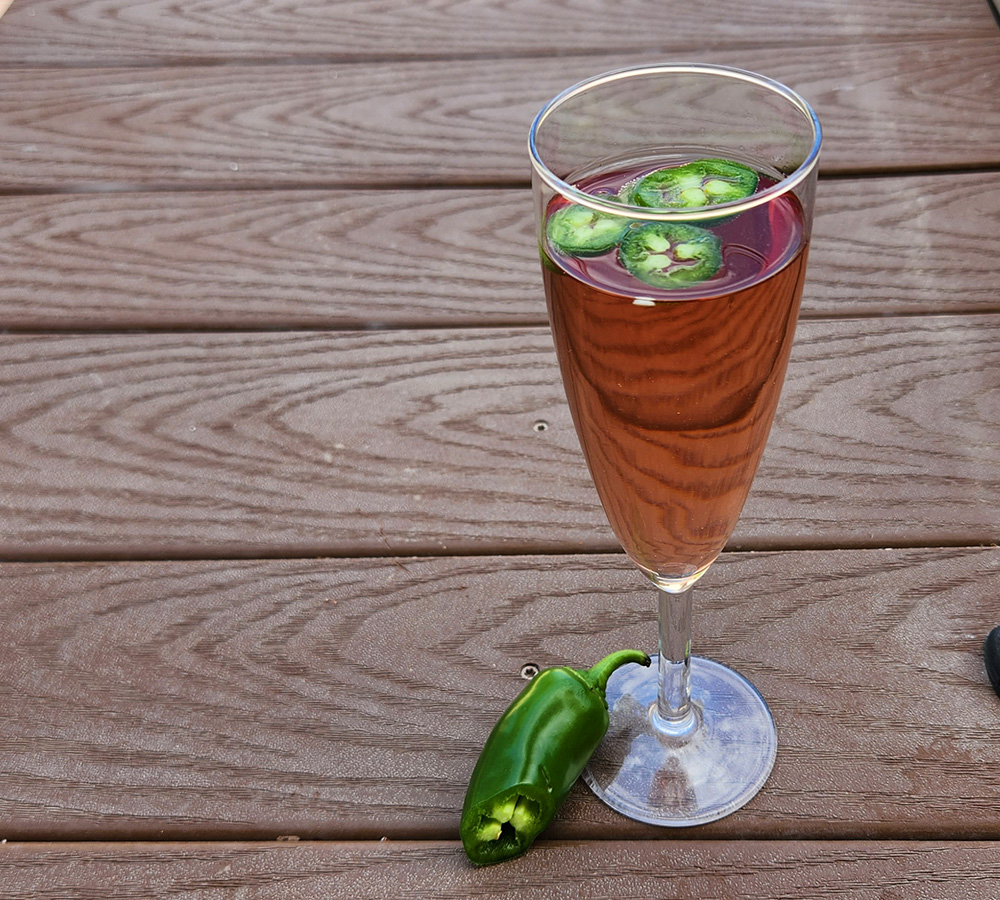 The mighty jalapeño has evolved beyond dishes into drinks. Jalapeño wine, beer and cocktails (and mocktails) have made their way into bars and restaurants for their alluring, fiery flavor.
The growing public desire for spicy flavors over the past few decades (especially in the US) has led to jalapeños becoming a relatively common ingredient. With the advent of hotter and hotter peppers—like the Carolina Reaper at 2.2 million SHU (Scoville heat units) and Moruga Scorpion at just over 2 million SHU—jalapeños have become an "entry-level" hot pepper at 2,000-8,000 SHU. Because it's perceived as relatively approachable, jalapeño peppers have become one of the most popular ingredients for spicy foods and drinks.
You may wonder, "How spicy are jalapeño-infused drinks?" Well, the frustratingly honest answer is "it depends." If you've eaten this small green pepper, you know that there is quite a range of heat. It's usually not too bad, but if eaten fully raw with seeds, it can make grown men cry. So generally speaking, they tend to have a bit of a kick without knocking you out since the seeds are often removed and the spiciness is usually balanced with sweet (e.g. hot honey), salty or bitter flavors.
However, this depends on the ingredients used, if extra jalapeño slices or seeds were added and your tolerance for spicy flavors. Also, anything with milk or a creamy ingredient will reduce the spiciness. If you're sensitive to spice, but still curious about the taste, let your bartender or waiter know ahead of time so they can tone down the strength for you.
jalapeño wine (red wine and rosé)
Prior to the year 2000, jalapeños and wine were primarily paired only in a hot pan with a number of other ingredients to make a meal. Since the turn of the century, this pairing has evolved from an experimental concoction to a bonafide drink (and even an actual brand). Jalapeño rosé became a drink trend in the summer of 2022 due to its refreshing "serve chilled" nature.
What does jalapeño wine taste like?
When you add jalapeños to wine, it can add to the complexity of the flavor. The right balance of peppers to wine should add a hint of spice, not completely eliminate the flavor of the wine nor cause unbearable pain.
What types of wine go best with jalapeños?
Jalapeños tend to pair best with heavier-bodied and/or sweeter wines like cabernet sauvignons, malbecs and sweet rosés since they need complementary flavors. If a wine is too light or too dry, the hot pepper can overpower the flavor. Additionally, if you're infusing spicy peppers in your own wine, make sure not to steep it too long. The last thing you want is a glass full of your favorite wine that has degraded into jalapeño juice.
Considering making your own jalapeno rosé? Go for it! Check out our simple recipe below!
jalapeño rosé
A light refreshing beverage with a kick!
Ingredients
1 bottle rosé (chilled - can be non-alcoholic)
1 raw jalapeño
Instructions
Slice jalapeño crosswise into 1/4 inch thick slices.
Remove seeds to reduce spiciness. (optional)
Pour chilled rosé into a glass.
Add 3-5 slices of jalapeños depending on desired spice level.
Allow to sit for about 1 minute in fridge/shade. (optional)
Enjoy!
Notes
The spiciness level will increase with: 1. more jalapeño slices, 2. less rosé, 3. more seeds, 4. more time spent soaking jalapeños in rosé — so please adjust to your tastes.
Also, you may want to test this recipe with a cheaper rosé first to figure out your tolerance level for spiciness. 🙂
Recommended Products
Glutto earns a tiny commission from qualifying Amazon purchases.
More spicy posts
What is Truffle Hot Sauce? Truffle hot sauce is a fusion of fiery pepper sauce…