S'mores ice cream takes you on a tantalizing journey into the realm of frozen desserts, where the nostalgic charm of a campfire favorite collides with the lusciousness of ice cream. This confection flawlessly melds the classic trio of toasted marshmallows, melted chocolate, and graham crackers with the smooth, chilly embrace of frozen perfection. Indulge in the rich flavors, creamy textures, and delightful interplay of hot and cold that make it an irresistible treat.
The Origin of S'mores Ice Cream
S'mores have long been cherished as a beloved fireside indulgence, with their origins dating back to the early 20th century. However, the birth of s'mores ice cream as we know it today emerged from the creative minds of culinary innovators who sought to reimagine this iconic treat. By capturing the essence of s'mores and infusing it into a frozen delight, they introduced a whole new level of enjoyment to the traditional campfire classic.
Popular Brands
Many brands have offered their own versions of s'mores ice cream. Here are some of the most popular that you may find in a store near you:
Ben & Jerry's "Gimme S'more": This well-known company has occasionally featured a s'mores flavor with a delectable combination of toasted marshmallows, graham cracker swirls, and fudge flakes.
Häagen-Dazs "Light S'mores": Häagen-Dazs once offered this flavor with 50% less fat.
Baskin-Robbins "OREO® S'mores": This chain has been known to introduce s'mores flavor during the summer months, incorporating toasted marshmallow, chocolate chunks, and graham cracker pieces.
Blue Bunny "Stuffed Puffed S'mores": This frozen dairy dessert features graham-flavored marshmallow, along with graham cracker and fudge swirls, and chocolate-flavored chips.
Halo Top "Smore's": This dessert is packed with marshmallow, graham cracker, and chocolate while containing only 320 calories per pint.
McConnell's Fine Ice Creams "Smore's": This artisanal ice cream brand has introduced a creamy chocolate base with toasted marshmallow swirls and graham cracker chunks.
Keep in mind that flavors and offerings change, so it's always a good idea to visit the brand's official website or inquire with local retailers to confirm the availability of s'mores ice cream in your area.
Also check with local ice cream shops, gourmet creameries, and specialty grocery stores, as some smaller, regional ice cream producers may also offer their version of this flavor.
Variations
The beauty of s'mores ice cream lies in its versatility, allowing for a myriad of delightful variations. Here are a few exciting twists that showcase the endless possibilities of this beloved treat:
S'mores Ice Cream Sandwiches: Take the velvety chocolate ice cream and sandwich it between two layers of graham cracker cookies for a handheld delight. The juxtaposition of the cool ice cream and the warmth of the cookies creates a delightful contrast that will have you craving more.
S'mores Ice Cream Cake: Layer chocolate ice cream, marshmallow swirls, and crushed graham crackers in a decadent ice cream cake. With each slice, you'll relish the marriage of flavors and textures, from the creamy ice cream to the satisfying crunch of the graham cracker.
S'mores Ice Cream Sundae: Transform a scoop of s'mores ice cream into a sensational sundae by topping it with a drizzle of melted chocolate, whipped cream, and additional graham cracker crumbs. The combination of hot fudge and cool ice cream will delight your taste buds and leave you craving more.
The Allure of Hot and Cold
S'mores ice cream is a delightful celebration of contrasts. With each spoonful, you experience the chilly embrace of the frozen chocolate ice cream. But the nostalgia and warmth of the toasty marshmallow and the comforting flavors of graham cracker transport you back to cozy campfire memories. It's a combination of temperatures that offers a multisensory experience, both refreshing and reminiscent.
How do I make s'mores ice cream?
If you're interested in making this ice cream yourself, here is an easy-to-follow recipe:
s'mores ice cream
the fusion of two familiar treats
Ingredients
2 scoops vanilla or chocolate ice cream
1-2 graham crackers
1-2 teaspoons mini marshmallows
optional toppings: chocolate syrup/melted chocolate, chocolate chips, caramel sauce, chopped nuts, small hard pretzels, a maraschino cherry, etc.
Instructions
Take the ice cream out of the freezer and let it soften at room temperature for about 10-15 minutes until it becomes easily scoopable.
While the ice cream is softening, prepare the graham crackers. Break them into small pieces or crush them into crumbs using a food processor or by placing them in a sealed plastic bag and crushing them with a rolling pin.
In a bowl, mix the graham cracker pieces or crumbs with the mini marshmallows. (Optional: heat mini marshmallows for 5-10 seconds in the microwave)
Once the ice cream has softened, scoop it into a separate bowl. Add the graham cracker and marshmallow mixture to the ice cream.
Gently fold the mixture together, ensuring that the graham cracker pieces and marshmallows are evenly distributed throughout the ice cream.
Optional: drizzle the s'mores ice cream with chocolate sauce, melted chocolate and/or other desired toppings.
Enjoy!
Notes
Of course, you can also skip this entire recipe and get pre-made s'mores ice cream...
Recommended Products
Glutto earns a tiny commission from qualifying Amazon purchases.
S'mores ice cream is a masterpiece that combines the time-honored flavors of a fireside favorite with the coolness of a frozen delight. With its rich chocolate base, tantalizing marshmallow swirls, and satisfying graham cracker crunch, this frozen symphony delivers a harmonious blend of hot and cold sensations.
More dessert posts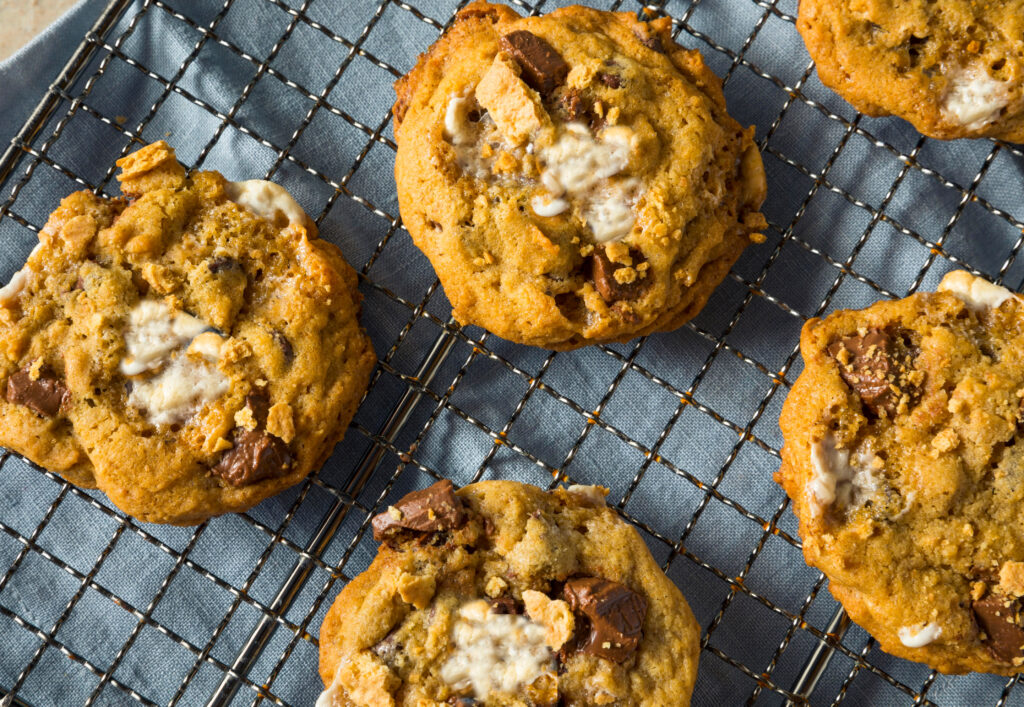 With comfort foods still going strong, s'mores cookies bring the essence of a crackling campfire…