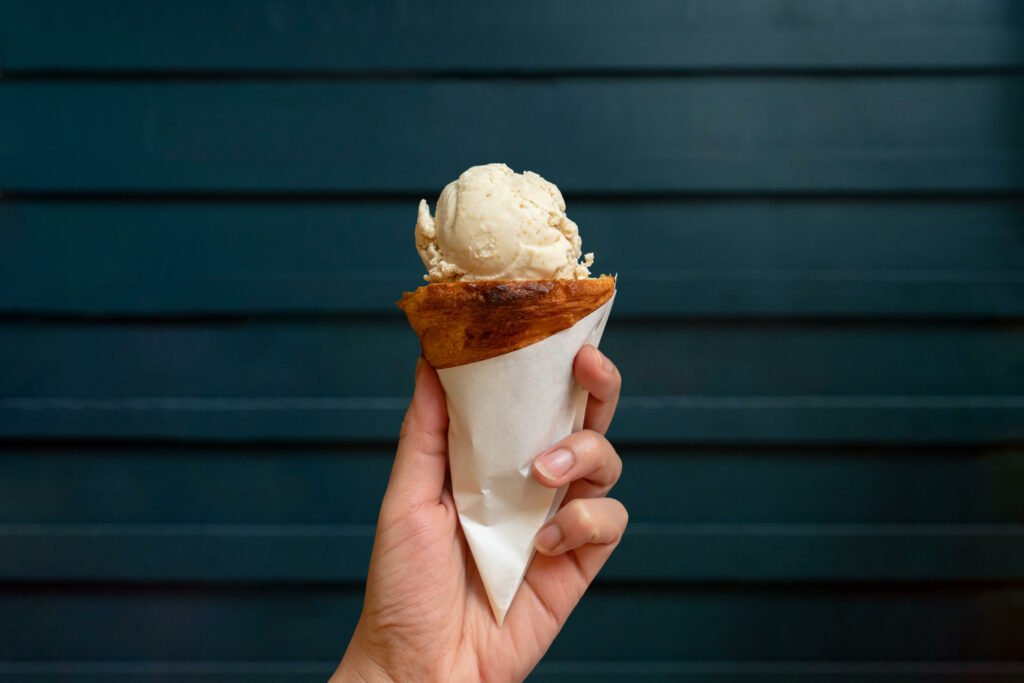 The ice crone (a.k.a. crone, croissant cone, ice cream croissant, croissant ice cream cone, or soft-serve croissant) is an innovative dessert that merges the elegance of a familiar French pastry with the indulgence of a childhood frozen treat.
Origin of croissant ice cream cones
The "crone" was originally patented in the U.K. back in 2016 by Dum Dum Donuterrie as food artisans sought to push the boundaries of dessert innovation. Inspired by the traditional croissant and ice cream cone, the concept of combining the two resulted in the birth of this cone-shaped pastry—although this early version closely resembled the donut cone.
In 2022, DiGiorno turned its croissant crust into a "Crust Cones" for National Ice Cream Day.
In June 2023 ice crones became a viral sensation thanks to British Patagonia in London, U.K. Although this is a recent revival, they are quickly spreading throughout Europe and worldwide.
Flavors
The ice cream croissant offers a wide range of flavor possibilities. While the croissant itself keeps its usual buttery flavor, any ice cream flavor can be used. Although the most popular are classic ice cream options like vanilla and chocolate, more unique choices such as salted caramel or lavender-infused ice cream can be paired with the buttery croissant to create a harmonious blend of tastes.
Also, various toppings can be added. Chopped pistachios and pralines to chocolate syrup and sprinkles can be added for additional facets of flavor.
Textures
The crone stands out not only in flavor but also in texture and temperature. The outer layer of the croissant cone provides a satisfying crunch, while the interior remains soft and buttery. Also, either scooped or soft-serve ice cream can be used.
The contrast between the flaky exterior and creamy interior, along with the frozen ice cream, intensifies the sensory experience.
Where to find croissant ice cream cones
Although croissant cones have exploded internationally from Europe to New Zealand, they have yet to become widely available in the U.S. However, they do exist and here are some of the first places to offer this treat stateside.
How to make croissant ice cream cones
The simplest method to make an ice crone would be to simply buy a croissant at your local boulangerie, cut it down the middle so you have two horn-shaped "cones" and press a scoop of your favorite ice cream into each one.
However, fully crafting an ice crone requires the skill of a baker and the precision of an ice cream connoisseur. The process involves making a flaky croissant dough, which is shaped into a cone and baked until golden and crispy. The resulting pastry cone serves as a delightful vessel for holding the ice cream. If you'd like to try this at home, here is a non-intimidating recipe that anyone can follow.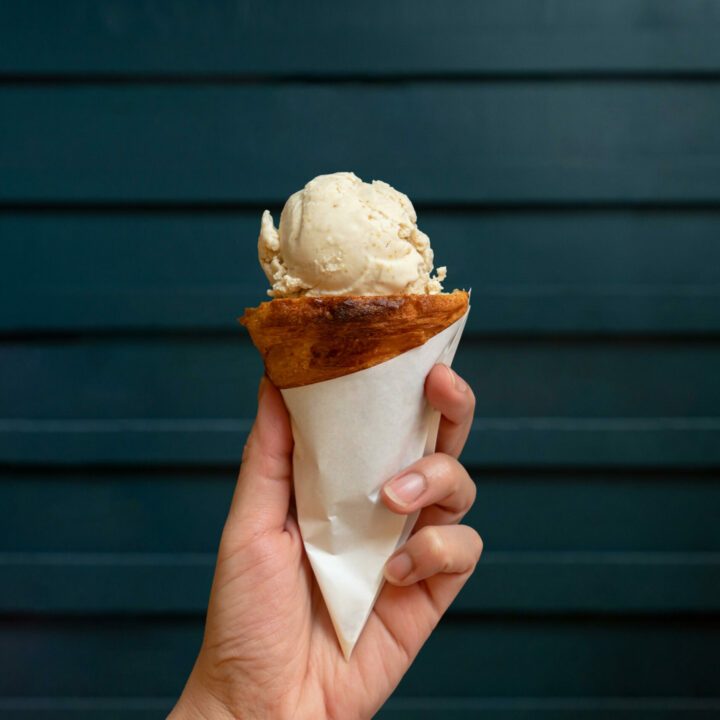 ice crone
a croissant ice cream cone
Ingredients
1 sheet of pre-made croissant dough
ice cream (your choice)
optional: toppings or sauces (e.g., sprinkles, chocolate sauce, crushed nuts)
Instructions
preheat your oven according to the croissant dough package instructions
roll out the croissant dough sheet on a clean and lightly floured surface; optional: use a rolling pin to flatten evenly
cut the dough into long triangles around 6-8 inches in length
starting from the wider end of each triangle, gently roll the dough around the oven-safe cone mold toward the tip, shaping it into a cone; pinch the tip to secure it and prevent any leaks
place the croissant cones onto a baking sheet, leaving enough space between them to allow for expansion
bake the croissant cones in the preheated oven according to the croissant dough package instructions or until golden brown and flaky
once baked, remove the croissant cones from the oven and allow them to cool completely on a wire rack
once the croissant cones have cooled, scoop the desired amount of ice cream into each cone
optional: add toppings such as sprinkles, crushed nuts, or drizzle chocolate sauce over the ice cream
serve immediately and enjoy
Notes
Serve promptly to prevent the cones from becoming too soft. If you prefer to prepare them in advance, you can store the baked croissant cones in an airtight container and fill them with ice cream just before serving.
Also, if you don't have an oven-safe cone mold, you can shape foil into cones to help the croissant hold its shape.
The croissant ice cream cone invites the enjoyment of a sensory treat. It allows for the experience of savoring melting ice cream inside a delicate pastry shell. It fuses common culinary concepts, combining the sophistication of a croissant with the beloved ice cream cone. By offering a variety of flavors and a unique texture experience, this dessert captivates the taste buds and provides a sweet moment of indulgence.
More croissant posts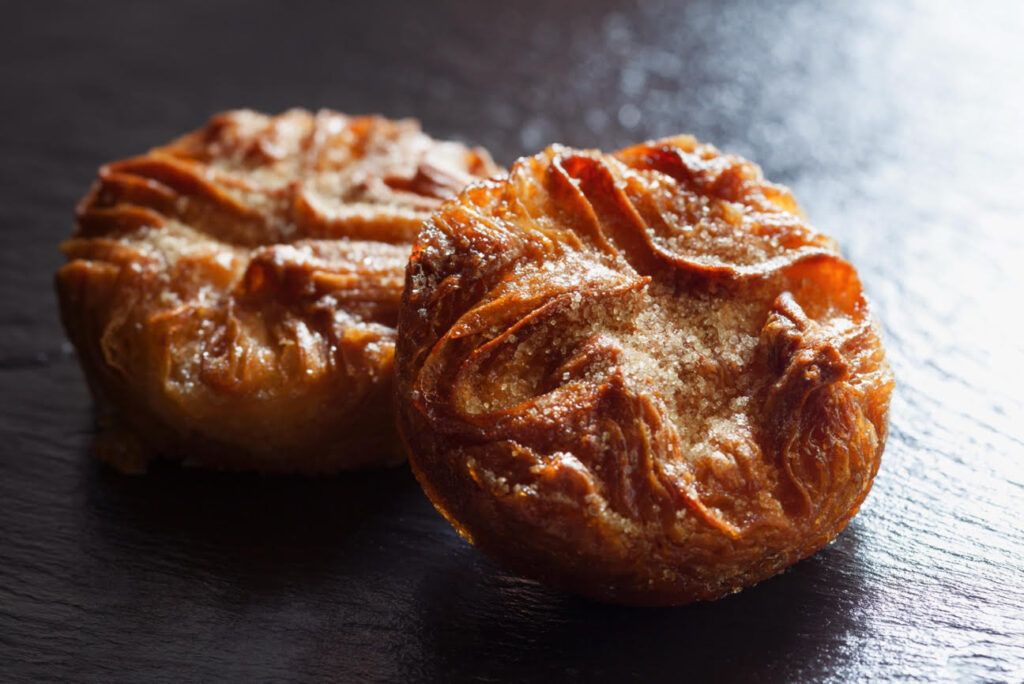 If you're a fan of flaky, buttery pastries, then you absolutely need to try the…