Interested in exploring South African cuisine? Then you'll want to learn some basic South African food terms. Although many people in South Africa speak English, the most popular language spoken by South Africans is Zulu.
South Africa is a country located on the southern tip of the continent of Africa. It is bordered by Namibia, Botswana, Zimbabwe and Eswatiti to the north; the Atlantic Ocean to the southwest and the Indian Ocean to the southeast.
South African cuisine
South African cuisine is full of flavor and spices. It has been heavily influenced over the centuries by explorers from Portugal, Britain and India who brought with them a variety of crops, herbs and spices. Without these explorers, corn and meat curries would not have become staple foods in South Africa.
The large coastal area of South Africa lends itself to plenty of access to seafood. One of the species of fish unique to South Africa is snoek, which is most often enjoyed as fish and chips.
However, meat is central to South African cuisine. Beef, goat, chicken, mutton and other meats are the cornerstone for most South African dishes. At least once a week, many families in South Africa have a braai or shisa nyama—a large meal focused on grilled meats that often includes pap en vleis, grilled meat and maize meal.
South African food terms (Zulu)
Expand your international dining vocabulary with these basic food-related words translated from English to Zulu.
meat – inyama
pork – inyama yengulube
beef – inyama yenkomo
poultry – izinkukhu
turkey – igalikuni
duck – idada
chicken – inyama yenkukhu
seafood – ukudla kwasolwandle
fish – inhlanzi
shrimp – imfanzi
oyster – ukhwathu
shellfish – izimbaza
meatless/no meat – engenanyama
vegetables – imifino
fruits – izithelo
eggs – amaqanda
tofu – tofu
nuts – ikinati
vegetarian – imifino
vegan – vegan
drinks – iziphuzo
water – amanzi
alcohol – utshwala
beer – ubhiya
wine – iwayini
other eating/dining-related terms
yes – yebo
no – cha
good – kuhle
yummy – okumnandi
eat – udle
cook – pheka
I'm hungry – ngilambile
I'm full – ngiyisilima
more – okuningi
less – ngaphansi
only – kuphela
please – ngiyacela
thank you – ngiyabonga
baked – kubhakwe
fried – okuthosiwe
grilled – eyosiwe
roasted – yosiwe
steamed – kushubile
hot – kushisa
warm – kufudumele
cold – kubanda
bitter – okumunyu
salty – usawoti
spicy – okubabayo
sweet – mnandi
allergic – iguliswa
bathroom – indlu yangasese
Watch this video to hear how letters and words sound in Zulu.
South African food to try
biltong – thin slices of cured air-dried meat
droewors -thin slices of air-dried sausage
bobotie – spiced ground beef with herbs and dried fruit covered with a custard crust
boerewors – lamb or pork sausage shaped into a coil
pap en vlais – grilled meat with corn meal
bunny chow – bread bowl filled with curry and meat or vegetables
potjiekos – a small pot of meat and vegetable stew
Interested in learning about other cuisines around the world? Discover food terms from other countries here.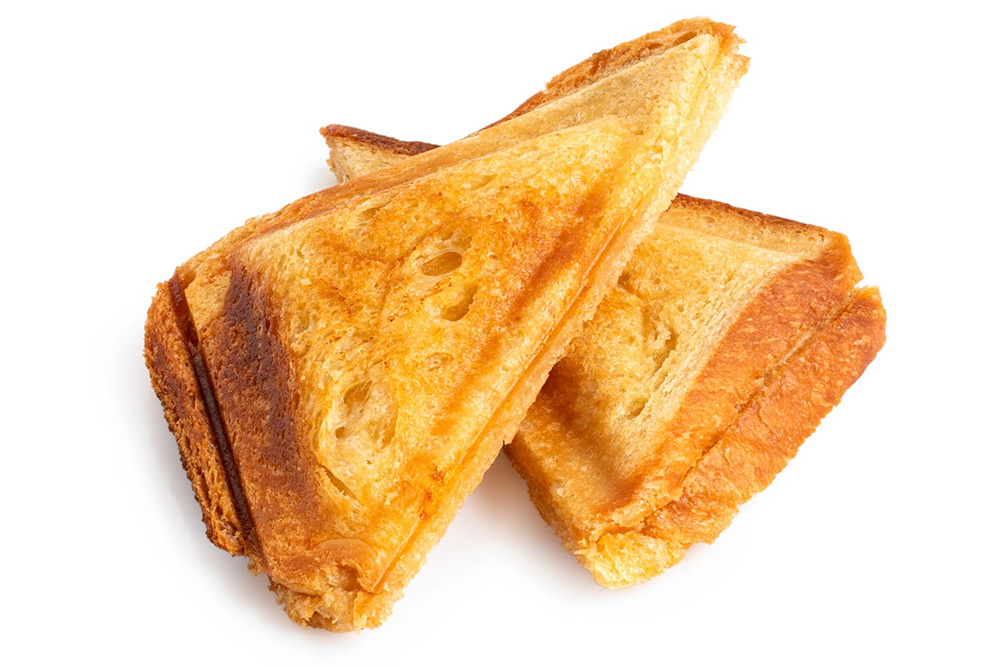 The jaffle is a type of sandwich that is enclosed with toasted bread. Texturewise, they…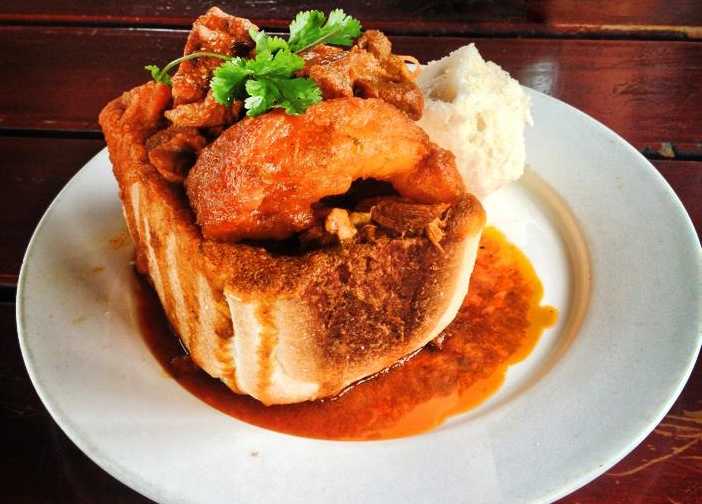 Where Can I Get it? | How Can I Make It? What is bunny chow? Bunny…