The 4th of July is also known as the Fourth of July or Independence Day. More specifically, on July 4, 1776, the Declaration of Independence was passed by the Continental Congress and the original 13 colonies proclaimed their separation from Great Britain.
Over the decades, it has become better known as a holiday to get together with friends and have a summer party—usually a BBQ. If you're hosting a 4th of July party and you're looking to add a bit of variety to the traditional barbecue (or don't have a barbecue), you may want to make a 4th of July charcuterie board.
What is a 4th of July charcuterie board?
A 4th of July charcuterie board is a food board that focuses on the theme of the American pride through creative displays of the American flag.
It's also a great way to feed your hungry guests immediately rather than force them to wait for their food cooked off the grill.
What goes on a 4th of July charcuterie board?
food
You can be completely creative with what types of foods you place on your charcuterie board. If you have guests with particular dietary restrictions, you can include an assortment of bites that they can enjoy. In addition, you can add a touch of creativity by including foods that represent the colors of the American flag.
These are some suggestions for what you could include:
sliced red meats: prosciutto, pepperoni, salami, etc.
artisanal white cheeses: brie, gouda, gorgonzola, havarti, manchengo, etc.
breads & crackers: sliced sourdough, seeded crackers, etc.
red and blue fruits: strawberries, raspberries, watermelon, blueberries, etc.
red and white veggies: red bell peppers, tomatoes, beets, red onions, cauliflower, white corn, etc.
nuts: almonds, pecans, walnuts, etc.
dips & spreads: ranch dressing, jelly, etc.
decor
Besides the food itself, the decor is a big part of what makes your food display a 4th of July charcuterie board. These items are great for adorning and framing your board.
colors and patterns
Because the Fourth of July is a holiday exclusively celebrated by the United States, the colors involves are the colors of the US flag: red, white and blue.
red – represents hardiness and valor
white – represents purity and innocence
blue – represents justice, perseverance and vigilance
white stars – represents the 50 states
red and white stripes – represents the original 13 colonies
4th of July Charcuterie Board
A 4th of July-themed charcuterie board covered in red, white and blue!
Ingredients
red ingredients (pick 2 or more)
strawberries
cherries
red grapes
prosciutto
salami
pepperoni
red candies (red vines, red gummies, red jelly beans red M&Ms, etc.)
white ingredients (pick 2 or more)
white chocolate
yogurt covered raisins, pretzels, etc.
breadsticks
Saltine crackers
white cheddar Cheez-It
white candies (white gummies, white jelly beans, white M&Ms, etc.)
blue ingredients (pick 2 or more)
blueberries
black grapes
blackberries
blue candies (jordan almonds, gummies, M&Ms, blue jelly beans, etc.)
Instructions
Organize all ingredients into groups of red, white and blue (or mix them up as you like) on a charcuterie board.
Enjoy!
Notes
Feel free to add other thematic accents like US flag toothpicks or napkins.
Hungry for more charcuterie platters? Find out everything you must know about food boards here!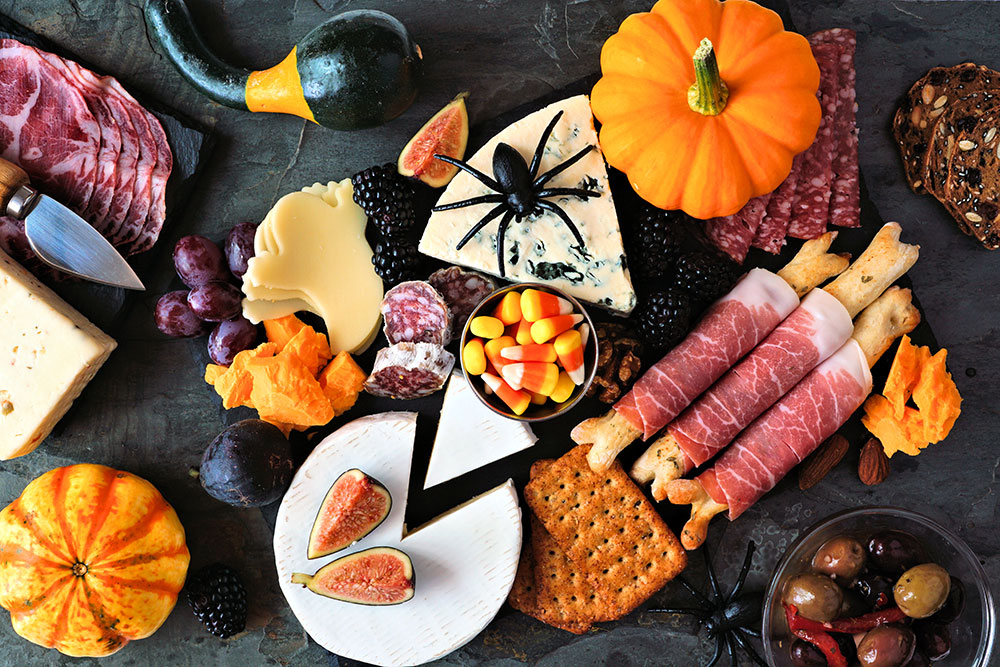 Trick or Treat? Treat…of course. Whether you're hosting a Halloween party or staying in giving…