What is burrata?
Burrata is a soft Italian cheese produced from buffalo's milk or cow's milk. Rather than having one uniform consistency throughout, like other cheeses, it is a ball of cheese made up of a soft mozzarella casing filled with creamy stracciatella.
This artisanal cheese originated from Andria (in the Italian region of Puglia) in the early 20th century. Over the decades, production was limited to the region. In the late 1980s, it was first introduced to California by Mimmo Bruno of Di Stefano Cheese and was later produced by local cheesemakers in-state. However, it didn't gain popularity until the late '00s due to the increased exposure of international food in the media and the internet.
What is the difference between burrata and mozzarella?
Fresh mozzarella cheese has a firm yet stretchy texture and is produced using cow's or water buffalo's milk. It can maintain its shape when sliced.
On the other hand, burrata cheese is essentially fresh mozzarella that has been shaped into a thin pouch, which is later filled with soft, stringy curd and cream known as stracciatella.
How to eat it
Burrata is traditionally eaten a few different ways.
You can simply eat it with a knife and fork. You can also eat it with bread by drizzling a bit of olive oil on the cheese and scooping it up with a piece of crusty bread. For more flavor, you can add it to a tasty pesto bruschetta.
plain – just eat it with a fork and knife
with bread – drizzle a bit of olive oil on the cheese and scoop it up with a piece of crusty bread
as a topping (crumbled or whole) – add it to bruschetta, pizza, pasta, salads or any other savory dish that could use a touch of creamy cheese
How to use it
Burrata is quite versatile. Besides being eaten alone, it can be added whole to main dishes, broken up into small pieces as a topping, or sliced and added as a cheesy layer. Here is a list of different dishes and foods it can be added to:
crostini
flatbread
pasta
pizza
roasted veggies & spices
salads
sandwiches
soups
Substitutes
Because burrata is made with mozzarella filled with stracciatella and cream, there is no one cheese that can duplicate both textures at the same time. However, fresh mozzarella or bocconcini (small mozzarella balls) are great flavor replacements.
Where to buy burrata
You can buy burrata online, at many specialty cheese shops or in the cheese section of your local supermarket. You can also order it at certain Italian restaurants. View this map to find a restaurant near you.
How to make burrata
Making burrata from scratch generally takes more effort than making solid cheese since you are essentially making two cheeses, mozzarella and stracciatella. This process requires specific ingredients and temperatures to achieve the proper consistencies and textures, which can take up to 2 days.
The easiest way to make burrata is to buy some pre-made ingredients and to follow this recipe.
burrata (the easy way)
An easier alternative to making burrata at home.
Ingredients
casing
2 8-ounce balls of fresh mozzarella
olive oil (to drizzle when done)
stracciatella
1 lb mozzarella curds
1 cup heavy cream
2 tablespoons sea salt
Instructions
Place a medium pot of water on high heat to 180°F.
In a bowl, mix the curds with the salt until fully incorporated.
Place the salted curds in the hot water for 1-2 minutes or until soft and stretchy.
Meanwhile, with a small spoon, make a small hole and hollow out the fresh mozzarella balls. (Feel free to use the excess mozzarella to make more mozzarella balls.)
Remove the curds from the hot water (keep heated) and replace with the hollowed mozzarella balls for 1 minute or until softened.
While the mozzarella balls are softening, mix the curds in a bowl with the heavy cream.
Drain the mozzarella balls. With a spoon, stuff the creamy curds into the hollowed mozzarella balls and twist the opening to seal.
Refrigerate until set (up to 24 hours). Drizzle with a bit of olive oil and enjoy!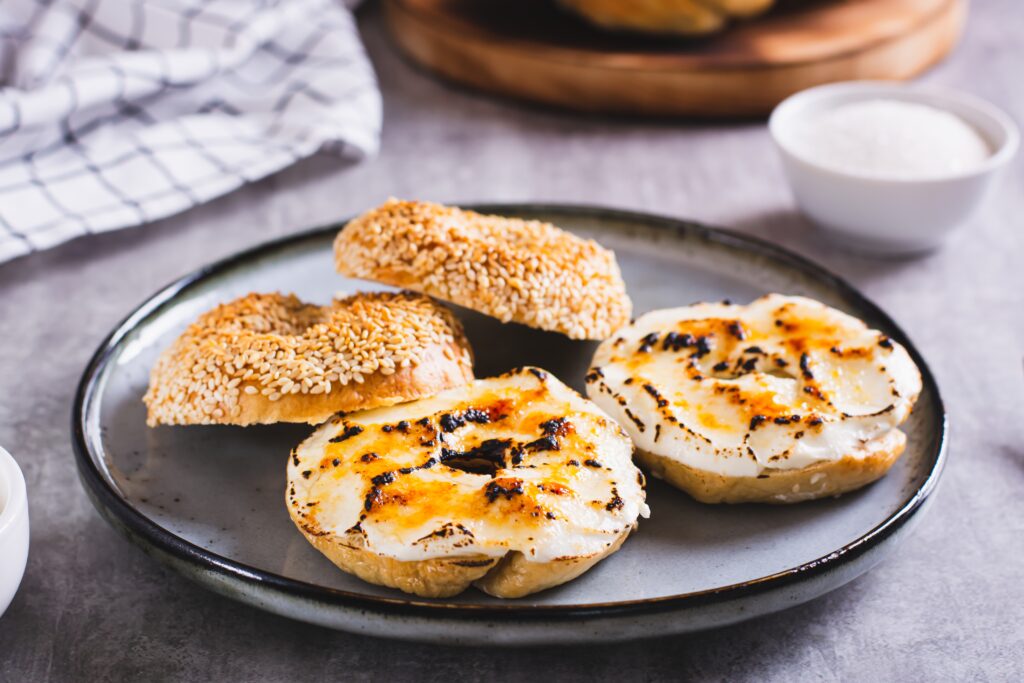 The creme bruleegle (a.k.a. creme brulee bagel) has entered the captivating world of food innovation….