What are they? | Where can I find them?
What exactly are celebrity-owned restaurants?
Celebrity-owned restaurants are restaurants (or any type of food or drink establishment) that are either partially or wholly owned by a famous person. These celebrities are most often some form of entertainer, athlete or food personality with a special love for food. Many times they partner up with family members or friends in the restaurant business.
Celebrities who own restaurants sometimes use their fame and public recognition to help bring additional attention to the restaurant. Other times, celebrities may simply want to invest in the restaurant and not want to get involved with the marketing.
In either case, the celebrity-owned restaurants that perform well do so because of the quality of their food, not just the name(s) behind it. (Remember Planet Hollywood? Although it was backed by a handful of celebrities, it has gone bankrupt multiple times.) Usually, having a big name associated with a restaurant helps with the initial marketing of the restaurant to create extra buzz, but in the end, returning patrons expect to be "wowed" by the full experience…especially the food.
Here's a quick and dirty list of celebrities who currently own or have owned restaurants in the past:
entertainers/personalities

Mel B – Serafina Sunset
Dierks Bentley – Whiskey Row
Jessica Biel – Au Fudge
Jon Bon Jovi – Soul Kitchen
Zach Braff – Mermaid Oyster Bar
Jimmy Buffet – Margaritaville
Ty Burrell – The Eating Establishment
Sandra Bullock – Walton's Fancy & Staple
Francis Ford Coppola – Cafe Zoetrope, Rustic
Olivia Culpo – Back 40
Robert De Niro – Loncanda Verde, Nobu
Gavin DeGraw – The National Underground
Drake – Pick 6ix
Gloria Estefan – Bongos Cuban Cafe, Estefan Kitchen, Larios on the Beach
Joey Fatone – Fat One's Hot Dogs and Italian Ice
Chip and Joanna Gaines – Magnolia Table
Florida Georgia Line – FGL House
Lady Gaga (technically her parents) – Joanne Trattoria
Richard Gere – Bedford Post Inn
Ryan Gosling – Tagine
Sammy Hagar – Cabo Wabo Cantina
Armie Hammer – Bird Bakery
Hugh Jackman – Laughing Man Coffee Shop
Jonathan Jackson – Jack and Jameson's Smokehouse
Scarlett Johansson – Yummy Pop
Toby Keith – I Love This Bar and Grill
Drew & Nick Lachey – Lachey's Bar
Ralph Lauren – Polo Bar
Eva Longoria – Beso
Ludacris – Chicken + Beer
Anthony Mackie – Nobar
Moby – Little Pine
NAS – Sweetchick
Chris Noth – The Cutting Room
Piper Perabo – Jack's Wife Frieda, Employees Only
Pharrell – Swan, Bar Bevy
Robert Redford – Zoom
Norman Reedus – Nic and Normans
Susan Sarandon – SPiN
T.I. – Scales 925
Dylan Sprouse – All-wise
Quentin Tarantino – Do Hwa
Justin Timberlake – Southern Hospitality
Channing Tatum – Saints & Sinners
Danny Trejo – Trejo's Cantina, Trejo's Tacos
Lisa Vanderpump – Pump, Sur, Villa Blanca
Donnie & Mark Whalberg – Whalburgers
Oprah Winfrey – True Food Kitchen
Jay-Z – 40/40 Club
athletes

Drew Brees – Walk-On's Bistreaux & Bar
Mike Ditka – Ditka's
Kevin Durant – Pieology
John Elway – Elway's
Brett Favre – Brett Favre's Steakhouse
Walt Frazier – Clyde Frazier's Wine & Dine
Wayne Gretzky – Wayne Gretzky's
Tony Hawk – The Flower Shop, MARKET Restaurant & Bar
Lebron James – Blaze Pizza
Michael Jordan – 1000 North, Michael Jordan's Steakhouse
Greg Norman – Greg Norman Australian Grill
Shaquille O'Neal – Five Guys, Big Chicken, Shaquille's
Arnold Palmer – Arnold Palmer's Restaurant
Nate Robinson – Nate's Wings & Waffles
Aaron Rodgers – Hom Wood Fired Grill
Hines Ward – Table 86
cooks/chefs/food personalities

Richard Blais – Juniper & Ivy, The Crack Shack
Daniel Boulud – Daniel
David Chang – Momofuku
Roy Choi – Kogi BBQ
Tom Collichio – Craftstead, Heritage Steak
Ayesha Curry – International Smoke
Todd English – Olives
Guy Fieri – Guy Fieri's El Burro Borracho
Bobby Flay – Mesa Grill
Jean Georges – Jean Georges, Jean Georges Steakhouse
Stephanie Izard – Girl & the Goat
Thomas Keller – French Laundry, Per Se
Giada de Laurentiis – Giada
Emeril Legasse – Delmonico Steakhouse, Emeril's Fish House, NOLA, Lagasse's Stadium, Rodos
Brian Malarkey – Herb & Wood, Herb & Eatery, Green Acre Nautilus, Farmer & the Seahorse
Nobu Matsuhisa – Nobu
Michael Mina – Bardot Brasserie, International Smoke, Margeaux, Michael Mina
Masaharu Morimoto – Morimoto
Jamie Oliver – Barbecoa, Jamie's Italian, Fifteen, Jamie Oliver's Diner
Wolfgang Puck – CUT, Spago
Gordon Ramsay – Hell's Kitchen, Gordon Ramsay Fish & Chips
Joël Robuchon – Joël Robuchon, L'Atelier de Joël Robuchon
Guy Savoy – Savoy
Dale Talde – Talde
Brian and Michael Voltaggio – Estuary
Sam "The Cooking Guy" Zien – Not Not Tacos
(Disclaimer: This is far from a complete list. Some of these celebrities may own dozens of restaurants that deserve their own articles…especially the chefs. Also, restaurants are constantly opening and closing and ownership can change. If you plan to visit any of these, make sure to look them up first to see if they are still up and running.)
Where can I find them?
You can find celebrity-owned restaurants across the globe and especially in the celebrities' hometowns. However, they are most highly concentrated in major cities like Los Angeles and New York. Here is a short list of some of the best restaurants worth visiting that just happen to be owned by some very well-known people.
Daniel Boulud – New York, NY:

Daniel
Jean Georges – Las Vegas, NV:
Jean Georges Steakhouse
Chip and Joanna Gaines – Waco, TX: Magnolia Table
Pharrell Williams – Miami, Fl: Swan
Ty Burrell – Park City, UT: The Eating Establishment
Sandra Bullock – Austin, TX:
Walton's Fancy & Staple
Robert DeNiro & Nobu Matsuhisa –
New York, NY (global locations): Nobu
Francis Ford Coppola – San Francisco, CA: Cafe Zoetrope
Moby – Los Angeles, CA:

Little Pine
Norman Reedus – Atlanta, GA (Senoia):
Nic & Norman's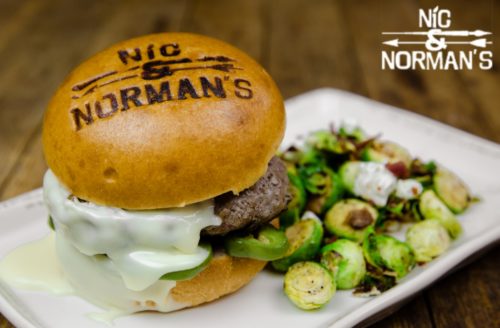 The Winter Fancy Food Show 2022 was held February 6-8 at the Las Vegas Convention…