Looking for a new and exciting way to dine? If so, experiential dining is calling your name—so you absolutely need to learn more about the following immersive dining experiences.
What is experiential dining?
Experiential dining is a meal combined with an out-of-the-ordinary experience. This can be a fully immersive dining experience, which is an eating event that engages your senses beyond the norm. By incorporating themes, performances, and even special effects and technology; it creates a fully-immersive atmosphere that transports you to another world. They can also be semi-immersive with unique elements integrated into parts of the meal.
Immersive dining experiences provide some of the most remarkable food experiences around the world. They are often found in tourist cities around the globe where people seek entertainment. These aren't your run-of-the-mill meals; they are events that transform dining into a full-blown adventure.
Types of fully immersive dining experiences
Immersive dining experiences have become increasingly popular in the 21st century, offering diners an opportunity to interact with food in a more unique and deeply engaging way. Here are some of the different types of immersive dining experiences that you might encounter. (Keep in mind that some restaurants may fall into more than one category.)
themed restaurants
These restaurants offer year-round immersive dining experiences that transport diners to a different world, such as a medieval castle, a pirate ship, or a space station.
A popular theme is a 1920s speakeasy. Upon entering the hidden space, you'll be transported back in time. The jazz music, the themed decor, and the performers in period costumes all added to the experience. The menu is often filled with dishes from that era, such as oysters Rockefeller and deviled eggs, and the cocktails were inspired by classic Prohibition-era concoctions.
themed restaurant experience: Tonga Room & Hurricane Bar in San Francisco, California
multisensory dining
These dining experiences use technology and special effects (e.g. projectors/projection mapping, surround sound, etc.) to create an immersive, multi-sensory environment to augment and enhance the dining experience.
multisensory dining experiences (wall-to-wall dynamic imagery and sounds):
immersive multi-sensory dining at Gran Cru in Las Vegas
molecular gastronomy
Molecular gastronomy is a science-based method of cooking that presents food in an artistic and unexpected manner. It is a style commonly used in the "best restaurants of the world." While the uninitiated may immediately think of scenes from The Menu, it is a widely enjoyed culinary form of art.
molecular gastronomy experience: Atera in New York, New York
dark dining
Another immersive dining experience that's been making waves is the concept of "dark dining." Envision a dinner experience that transports you to a realm of sensory exploration, where your sight is deliberately shrouded in darkness, and you must rely on your abilities to taste, smell, touch, and hear to navigate this culinary journey.
This concept began in Paris in the late 1990s and aimed to challenge diners' perception of food and dining by removing the reliance on sight and amplifying other senses allowing diners to fully appreciate the flavors and textures of each dish.
dark dining experiences:
immersive theatrical dining
These dining experiences combine food and live performance, creating a complete sensory experience. While this type of dining might make you think of "dinner and a show," it is not simply having a meal while watching a performance. This immersive experience is much more engaging with diners (if they are up for it). Performers will interact with the guests and move about throughout the dining area, rather than just perform on a stage.
immersive theatrical dining experience: Superfrico in Las Vegas, Nevada
destination dining
These are dining experiences that take place in unconventional locations, such as underwater restaurants, cliffside dining, or dining in a hot air balloon. It takes full advantage of what makes its location and surroundings unique.
destination dining experiences:
pop-up events
These are temporary dining experiences that are set up for a limited period, often with a specific theme or concept in mind.
pop-up dining experience:
Types of semi-immersive dining experiences
As you may imagine, some dining experiences are not necessarily fully immersive, yet contain at least one element that is engaging in its own right. In other words, they provide an aspect of dining that is out of the ordinary. These include…
cook your own food / cook-it-yourself /self-cook restaurants
There are many different types of restaurants where you can cook your own meal. These are restaurants where you cook your meat and vegetables in a hot broth or soup:
These, on the other hand, are "grill-it-yourself" restaurants where you cook your food over a heat source:
cook-your-own-food experience: in addition to the chains mentioned above, check out this interactive map for specific locations
restaurants where they cook in front of you
The most common type of restaurant is the teppanyaki-style restaurant where guests are seated around a flat-top grill where a chef performs/cooks meals for everyone.
teppanyaki experience: Benihana in multiple US and international locations
teppanyaki vs. hibachi
Teppanyaki is often confused with hibachi because they are both types of Japanese grilling. However, they are two easily distinguishable types of cooking. Teppanyaki (derived from teppan or "metal plate") uses a flat-top grill which is better for smaller, finely-chopped ingredients while hibachi (translated to "fire bowl") uses a metal grill to cook larger pieces of food over charcoal or wood.
gueridon service a.k.a. tableside service
These experiences involve diners in the preparation or serving of their meal, such as cooking classes or table-side flambe.
gueridon service experience: Hugo's Diner in Las Vegas, NV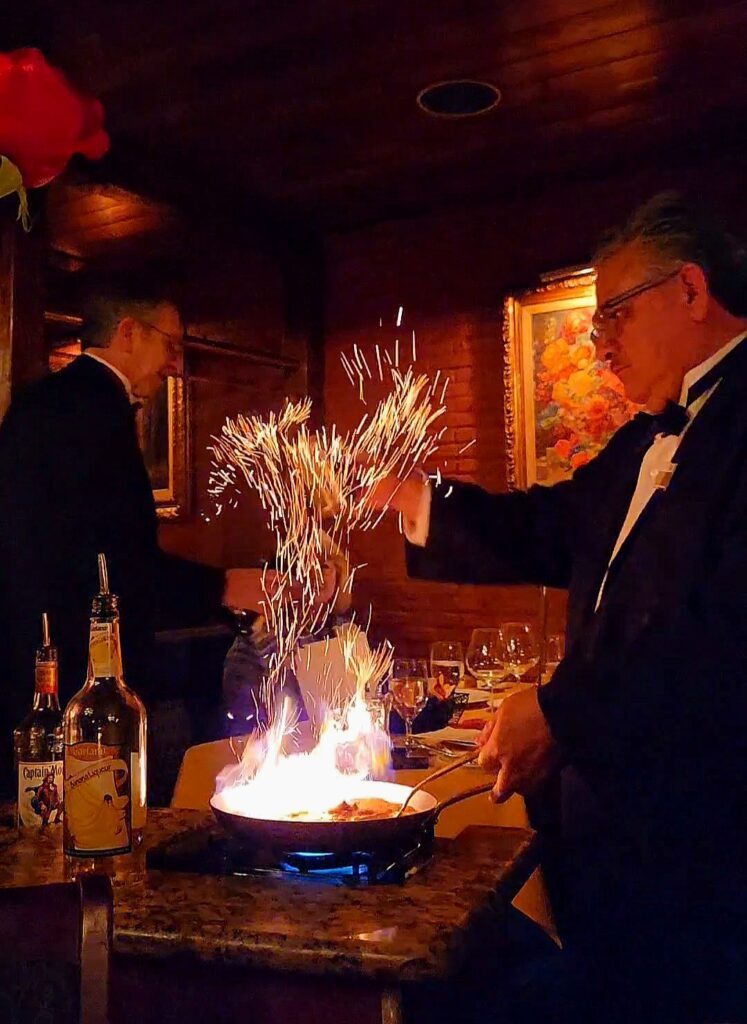 social dining
These dining experiences involve communal tables (like picnic tales) or family-style serving, promoting social interaction and a sense of community. It gives a casual, egalitarian atmosphere making it easy to strike up a conversation with anyone.
social dining experience: Dinner Party in Brooklyn
table projection dining
Table projection dining is a more focused version of multisensory dining that uses the dining table as a screen for the chef's creative expression. As a form of edible art, boundaries between table setting and technology blur allowing the diner to embark on a culinary adventure that's both visually stunning and gastronomically sublime.
table projection experience: Le Petit Chef in multiple global locations
So, you might be wondering if experiential dining is just a passing fad. However, growing interest in novel ways to enjoy food shows they are here to stay. These creative dining experiences provide us with an opportunity to engage with food in a profound and meaningful way. It's not just about filling our bellies, but about engaging our various senses to create a memorable and transformative dining experience. It's a true celebration of culinary artistry that goes beyond the plate and transports us to a realm of unparalleled delight.
Trendy food posts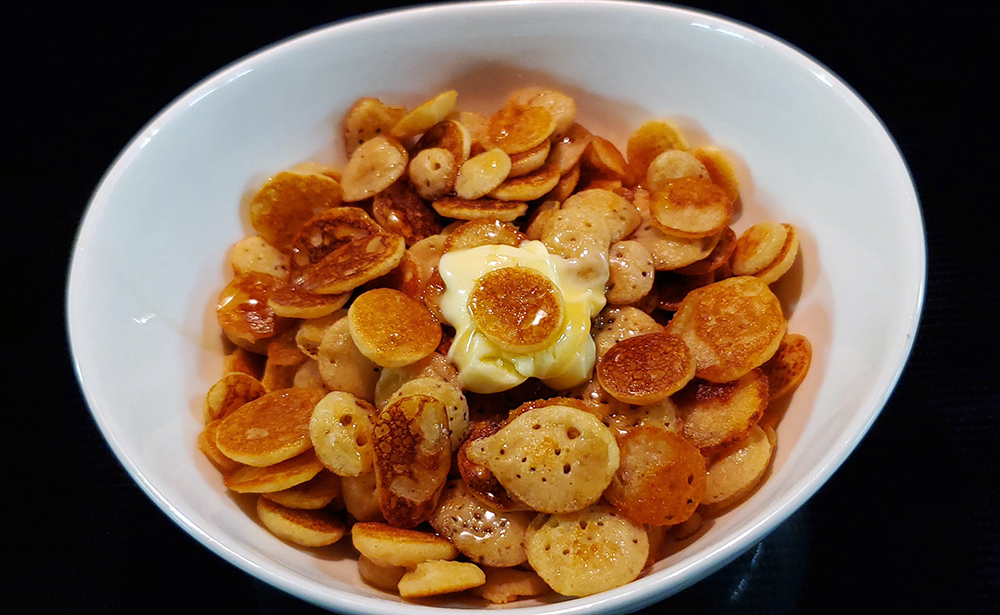 What is it? | How do I make it? What is pancake cereal? Pancake cereal…