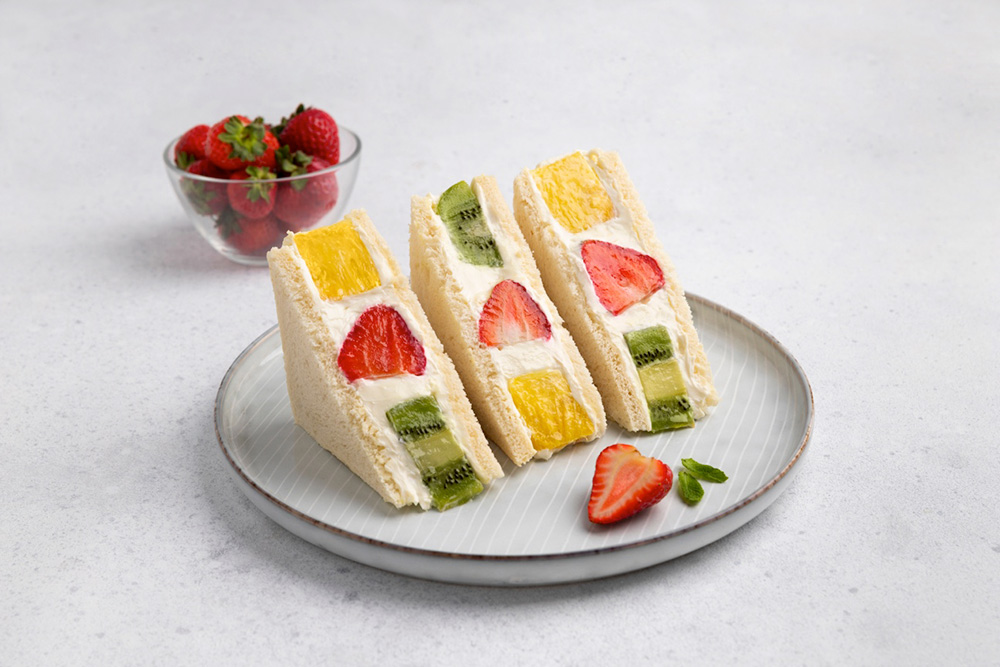 Feel like something light but also want something on the sweet side? The fruit sando (フルーツ" or "furutsu sando") is a great option. It is a Japanese fruit sandwich that is satisfying in its simplicity.
It consists of fluffy shokupan (Japanese milk bread), light whipped cream and freshly ripened seasonal fruits. Like most Japanese desserts, it is not overwhelmingly sweet with most of the flavor coming from the ripeness of the fruits. Along with the quality ingredients, the meticulous preparation and presentation of this sandwich make this dish a feast for the tastebuds and the eyes. The fruits are specifically placed in the center of a thick layer of whipped cream, so when it is sliced in half, it appears as if the fruits are "floating" in the sandwich.
This Japanese fruit sandwich originated in the mid-20th century around the post-war era of Japan. As an island nation with limited farming land, Japan viewed fruits as a luxury item. These fruits were sold as sandwiches to appeal to Westerners, especially during the 1964 Olympic Games in Tokyo.
What fruits are used in a fruit sando?
Technically, any fresh sweet fruits can be used in this type of Japanese sandwich. However, the fruits that are most often used are:
strawberries
kiwis
oranges
mangoes
blueberries
peaches
pineapples
bananas
grapes
Is whipped cream unhealthy?
Whipped cream in your fruit sando can be part of a balanced diet, as long as it's enjoyed in moderation. Because it is made from heavy cream, which is high in calories and saturated fat, it can contribute to weight gain and other health issues if eaten in excess. However, since whipped cream is a less condensed form of heavy cream it has a lower milk fat content. Also, it is usually served in small quantities, so it is not of significant concern.
While they can vary by brand, here are the nutritional facts of your average whipped cream:
Serving Size: 2 tablespoons (about 30 grams)
Calories: Approximately 51 calories
Total Fat: Approximately 5 grams

Saturated Fat: Approximately 3 grams

Cholesterol: Approximately 16 milligrams
Sodium: Approximately 5 milligrams
Carbohydrates: Approximately 0.4 grams

Sugars: Approximately 0.4 grams

Protein: Approximately 0.4 grams
Furthermore, you can substitute regular whipped cream for healthier alternatives—depending on your preferences and personal dietary requirements. Here are some substitutes you may want to consider:
Greek yogurt: Renowned for its luscious thickness, Greek yogurt effortlessly stands in as a wholesome substitute for whipped cream. It's a trove of protein, probiotics, and calcium, lending both creaminess and nutrition. For extra oomph, consider a drizzle of honey or the earthy sweetness of maple syrup.
coconut whipped cream: Coconut whipped cream derives its velvety texture from the solidified component of chilled coconut milk or coconut cream. This dairy-free alternative luxuriates naturally with the infusion of vanilla extract, and sweetness can be achieved through powdered sugar or the alluring depth of maple syrup.
silken tofu whipped cream: This variation of silken tofu is a smooth, creamy confection. Enhanced with the subtleties of agave nectar or stevia, it boasts not only creaminess but also a protein-rich, low-saturated-fat profile.
cashew cream: Soaked and blended cashews yields a rich and velvety topping. Elevate its allure with dates, maple syrup, or other natural sweeteners, bringing forth a dessert-like decadence.
low-fat whipped cream: On the market, discerning brands offer low-fat whipped cream alternatives, prudently curbing calories and saturated fat. These commendable choices often incorporate skim milk or non-dairy milk, striking a balance between indulgence and health-consciousness.
homemade whipped cream with less sugar: Homemade whipped cream can be rendered with a judicious touch of sweetness. Employ real heavy cream and wield the whisk yourself, tailoring the sweetness to your exact preference. Add a mere dusting of powdered sugar or sugar substitutes like erythritol.
cottage cheese or ricotta cheese: Blending cottage cheese or ricotta cheese into a silky, high-protein topping, epitomizes both creamy texture and nutritional merit. The sweetness can be harmoniously achieved with the mellowness of honey or the vibrant notes of fruit puree.
nut butter mousse: Nut butters like almond or peanut, when mixed with a modest amount of milk or non-dairy milk, conjure a creamy, nutty fluff. To heighten its allure, a mere drizzle of honey or the rich embrace of maple syrup suffices, creating a topping of captivating complexity.
Where can I get a fruit sando?
You can get fruit sandos at select specialty Japanese supermarkets, bakeries and sandwich shops. Check out the interactive map below for places that serve these fruit sandwiches near you. Just make sure to double-check the locations since they may only be offered seasonally. Additionally, here are links to find tamago, wagyu and other katsu sandos.
How can I make a fruit sando?
It's quite easy to make a fruit sando yourself. So if you can't find a supermarket or sando shop that carries them, try your hand at this simplified recipe.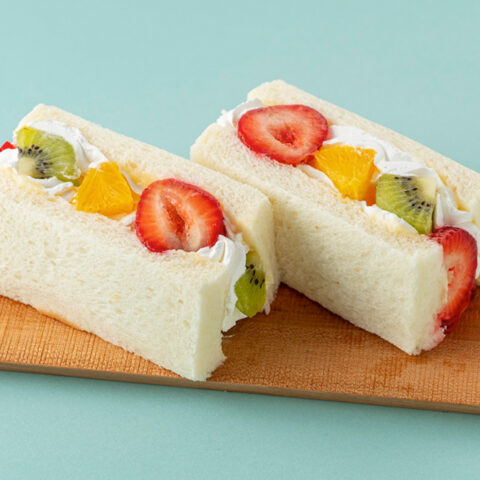 fruit sando
Additional Time:
30 minutes
A traditional Japanese fruit sandwich
Ingredients
2 slices shokupan - Japanese milk bread (or your favorite soft bread)
1/2 cup whipped cream (either dairy or non-dairy)
1 tablespoon sugar/preferred sugar alternative (or adjust amount to taste)
1 cup fresh ripe fruit sliced (e.g. strawberries, oranges, mangoes, kiwis, grapes, etc.)
Instructions
Spread whipped cream to about 1/2 inch thick on one slice of bread
Arrange fruits on whipped cream to allow for fruits to be cut down the middle of sando (can be placed either horizontal or diagonal)
Fill in gaps with more whipped cream to create a flat surface
Place second slice of bread on top
Wrap sandwich tightly with plastic wrap and with a marker, draw a line where you want to cut the sandwich in half
Chill in fridge for about 30 mins
Remove plastic wrap and cut off crust
Slice down the middle (according to where you drew your line) to reveal fruits and enjoy!
More on Japanese food
Aburi sushi is a type of nigiri (i.e. sushi that consists of a small ball…