If you're looking for a sandwich but you're feeling extra, the wagyu sando is for you. It is a simple traditional Japanese cutlet sandwich served katsu style made with shokupan (Japanese milk bread) and wagyu, one of the highest-quality meats known to man—making this sandwich one of the most expensive in the world.
All authentic wagyu beef comes a certificate of authenticity proving that the meat has been properly raised and prepared in Japan. So, if you want to know that the wagyu you are paying for is authentic, make sure to ask to see the certificate. This prized meat is highly marbled and comes from one of four Japanese cattle breeds.
What types of wagyu are there?
There are four breeds of Japanese wagyu. They are:
Japanese Black (黒毛和種 — Kuroge Washu)
Japanese Brown (褐毛和種 — Akage Washu or Akaushi)
Japanese Polled (無角和種 — Mukaku Washu)
Japanese Shorthorn (日本短角和種 — Nihon Tankaku Washu)
How is wagyu graded?
Wagyu is graded based on "yield" and "grade" with the absolute highest quality labeled as "A5" and the absolute lowest quality labeled as "C1."
Yield (A-C) refers to the weight of the meat versus the weight of the entire animal. Here are the specifics of the yield.
A = over 72% of the animal weight is meat
B = 69%-72% of the animal weight is meat
C = under 69% of the animal weight is meat
The grade (5-1) refers to the BMS (beef marbling score), BCS (beef color standard) and BFS (beef fat standard), firmness and texture. Here are the specifics of the grade:
5 = BFS 1-4; BCS 3-5; firmness is "very good" ; texture is "very fine"
4 = BFS 1-5; BCS 2-6; firmness is "good" ; texture is "fine"
3 = BFS 1-6; BCS 1-6; firmness is "average" ; texture is "average"
2 = BFS 1-7; BCS 1-7; firmness is "below average" ; texture is " below average"
1 = BFS is out of range; BCS is out of range; firmness is "inferior" ; texture is "coarse"
So if you want to try the best quality wagyu sando, make sure that it is made with A5 wagyu.
How much does a wagyu sando cost?
Because authentic wagyu is a prized piece of meat, prices can be quite high for one sandwich. The highest quality of wagyu (see grading section above) can command a price of over $200 (USD) for one sandwich.
Where can I get a wagyu sando?
You can find the wagyu sando at certain high-end Japanese restaurants and sando shops. Explore the interactive map below to view eateries that serve this quality beef sandwich in the US. Additionally, here are links to find tamago, fruit and more katsu sandos.
How can I make a wagyu sando?
You can make a wagyu sando yourself if you like. The biggest hurdle is getting the proper ingredients. Here's an easy recipe to follow if you'd like to try your hand at it.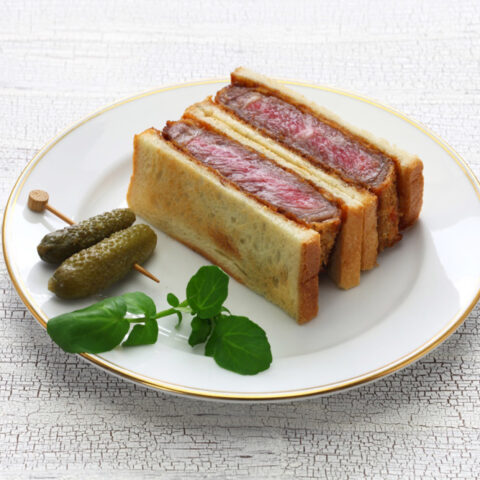 wagyu sando
A very high quality Japnaese beef sandwich
Ingredients
A5 grade wagyu sirloin (1 steak)
2 slices shokupan (lightly toasted)
1 tablespoons katsu sauce
1 tablespoon all-purpose flour
1 cup panko
1 medium egg (fully beaten)
1/2 teaspoon coarse black pepper
salt & pepper (about 1 pinch each or to taste)
vegetable oil (for frying)
Instructions
Heat oil-coated pan to 375°
Warm katsu sauce in a saucepan over medium-low heat
Evenly sprinkle both sides of wagyu with salt and pepper
Then, evenly coat a light layer of flour and shake off any excess
Completely cover coated wagyu in panko flakes
Pan fry panko-covered wagyu for about 30 seconds on each side or until golden brown
Place fried wagyu on paper towel-covered plate to soak excess oil
Assemble sandwich by placing fried wagyu on a slice of bread, covering it with katsu sauce, then placing the other slice of bread on top
Cut off all the crust and slice down the middle
Enjoy!
Notes
Will also need medium-sized pan, sharp knife, paper towel and plate.
More Japanese food posts
Aburi sushi is a type of nigiri (i.e. sushi that consists of a small ball…