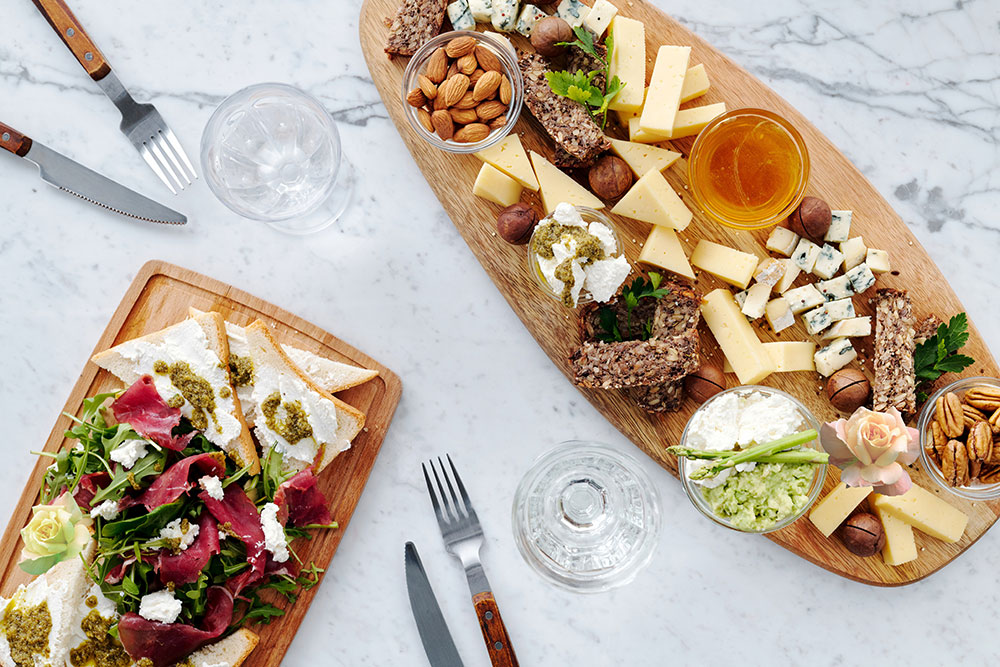 There's no one quite like your mother. Whether you call her mom, mommy, mama, mum, ma or something completely different, she's one-of-a-kind. That's why a great way to celebrate Mother's Day and show that you appreciate her is to represent her uniqueness through a Mother's Day charcuterie board.
What is a Mother's Day charcuterie board?
It's a food board centered around the theme of Mother's Day. A traditional charcuterie board would include meats, cheese and crackers and perhaps a few other accompaniments. But a Mother's Day charcuterie board can be completely customized with your mom's favorite appetizers and snacks.
What goes on a Mother's Day charcuterie board?
This is completely up to you since you (really should) know what your mom's favorite foods are. If you have no idea where to start, here's a list of the traditional components of a charcuterie board and several examples for each. However, it's up to you which specific foods to include based on your mom's tastes.
savory
Remember, these are purely suggestions and can be completely replaced with whatever your mom likes best.
sliced meats: pepperoni, pastrami, ham, bacon, turkey, prosciutto, or meat substitutes
artisanal cheeses: cheddar, swiss, brie, gruyère, harvarti, manchego, or goat cheese
bread & crackers: French baguette, sourdough, Hawaiian rolls, pretzel rolls, or breadsticks
veggies and herbs: carrots, pickles, olives, basil, or rosemary
nuts & seeds: peanuts, almonds, sunflower seeds, ro pomegranate seeds
dips & spreads: onion dip, ranch dressing, or paté
sweet
If your mom has more of a sweet tooth and would prefer a sweet "charcuterie" board instead, here are some suggestions.
candies: chocolates, fun-size candy bars, jelly beans, or gummy candies
baked goods: bite-sized cupcakes, cookies, or cinnamon rolls
fruits: apple slices, red grapes, green grapes, black grapes or dried apricots
jams & jellies: strawberry jam, grape jelly, apricot preserves or marmalade
decor
Beyond the food itself, you can add an extra pop of festiveness by adding additional Mother's Day decorations to frame the charcuterie board. The best thing you could do is personalize it with images or small representations of things your mom likes (music, hobbies, etc.).
symbols that represent you mom's interests or hobbies
colors, patterns and textures
Unlike many other holidays, there's no one color that represents Mother's Day. There are certain color palettes that can be used but don't feel limited to them. Feel free to change up the colors on your food board and decor to whatever you think your mom would like best.
black – represents classiness and luxury
blue – represents intelligence, calmness and responsibility
green – represents nature, luck and tranquility
pink – represents love, kindness and playfulness
red – represents love, energy and courage
yellow – represents optimism, energy and joy
white – represents purity, cleanliness and simplicity
Hungry for more charcuterie platters? Find out everything you must know about food boards here!