Hosting a New Year's Eve party? Looking for some food ideas to feed a group? Rather than fussing over preparing a sit-down dinner, a great alternative meal is to make a New Year's Eve charcuterie board that everyone can enjoy.
What is a New Year's Eve charcuterie board?
It's a food board that is centered around the theme of New Year's Eve. It's a relatively easy way to feed a bunch of hungry guests allowing them to graze while enjoying the party to welcome in the new year!
What goes on a New Year's Eve charcuterie board?
food
As with any charcuterie board, you have the freedom to decide what you'd like to display on your board. The most important thing is to know your guests: what they like to eat, what they don't like to eat, any allergies, etc. If there's no way to know this ahead of time, it's best to provide some variety so that they're something for everyone to enjoy. These are simply suggestions for what you could include:
sliced meats: prosciutto, pepperoni, salami, etc.
artisanal cheeses: brie, gouda, gorganzola, havarti, manchengo, etc.
breads & crackers: sliced baguette, sourdough, seeded crackers, etc.
seasonal & year-round fruits: oranges, tangerines, dried apricots, etc.
seasonal & year-round veggies: carrots, broccoli, cauliflower, pickles, etc.
nuts: almonds, pecans, walnuts, etc.
dips & spreads: ranch dressing, pate, jam, etc.
decor
Besides the food, the decor is a big part of what makes your food display a New Year's Eve charcuterie board.
colors, patterns and textures
These are traditional colors used for New Year's Eve parties which you can incorporate into your board:
black – represents endings & beginnings and luxury
white – represents peace and tranquility
gold – represents prosperity and good fortune
silver – represents the way forward and prestige
glittery/shiny/reflective materials
Hungry for more charcuterie platters? Find out everything you must know about food boards here!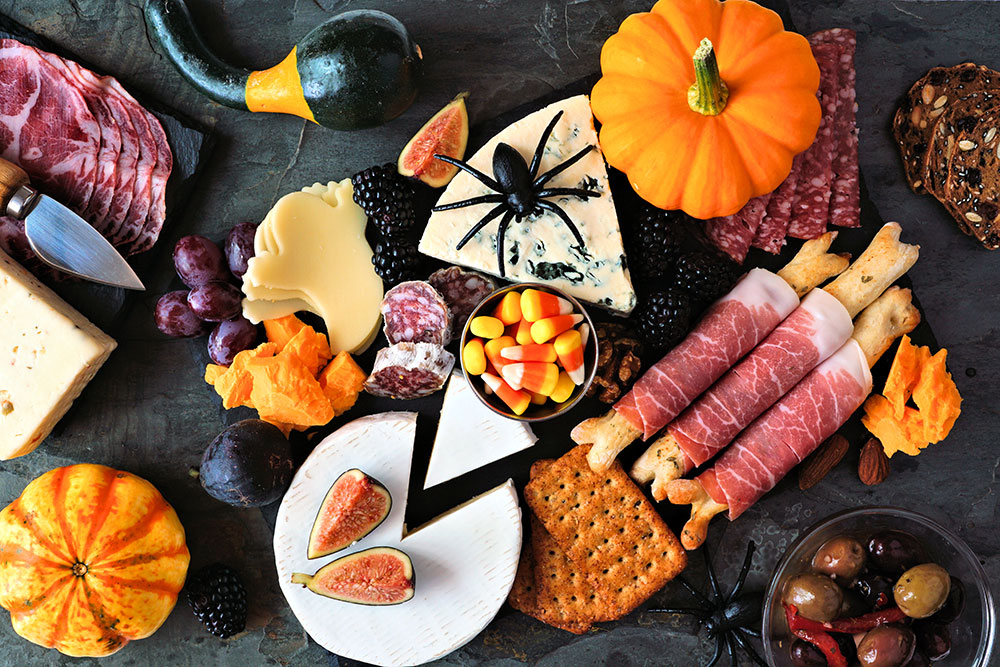 Trick or Treat? Treat…of course. Whether you're hosting a Halloween party or staying in giving…