What Are Good Foods For Camping? | How Can I Make Them?
The fresh air. The birds chirping. Your stomach growling. You're out camping in the wilderness and all you have is a beat-up can of chili that you've been hitting over a rock because you forgot to bring a can opener. Wish you had a gourmet chef to make you a 5-star meal, or at least planned your meals a little better instead? Well, toss that canned chili aside and prepare yourself to taste the great outdoors on another level.
What are good foods for camping?
Because camping is a tradition for many families, camping meals usually default to the same types of meals campers have eaten as kids: franks & beans, hot dogs, hamburgers, s'mores, etc. While there's nothing wrong with those foods, there is an entire world of food out there that tastes amazing when cooked over an open flame. So, don't limit yourself.
The best foods for camping are those that can either be eaten right away, or have a few ingredients and can be made easily. Here's a list of various foods you can cook/grill/heat (in foil, a pot, or a cast iron skillet) over a campfire, then mix & match for an easy "gourmet" meal:
dutch oven cast iron pizza (see link to pizza recipe below)
corn on the cob (see link to elotes recipe below)
halved brussels sprouts
sliced zucchini
asparagus
diced butternut squash
sliced crimini mushrooms (cooked in butter)
sliced bratwursts or chicken sausages (as an upgrade to hot dogs)
corned beef (or any type of shredded meat)
salmon, swordfish, tuna, snapper, mahi mahi, or shrimp
eggs (however you like them; link to egg in a hole recipe below)
diced sweet potatoes
sliced onions, shallots, garlic, leeks, or other alliums
loaf of French or sourdough bread (link to garlic bread below)
cast iron cookies (fill the entire pan with pre-made cookie dough or with multiple small cookie dough balls and cover with foil)
How can I make them?
These foods all pretty much follow the same formula: brush your cooking surface with some butter and olive oil, place your food on the heated surface and keep a close eye on it (while moving it around, or flipping it over) to prevent burning. Once it's cooked to your liking, salt & pepper (or add other seasonings) to taste.
You can also add a bit of sweetness to your meal by lightly brushing some sliced fresh fruit with olive oil (to prevent sticking) and grilling it briefly in indirect heat. This allows the fruits to caramelize for an added depth of flavor. The best fruits for grilling include:
peaches
nectarines
pears
pineapple
figs
apples
bananas (ripe, but firm)
Accompany your fire-cooked meals with some nuts (e.g. pecans, walnuts, pistachios, almonds, etc.), semi-firm or firm cheeses (e.g. Cheddar, Midnight Moon, Manchego, Ewephoria, etc.), plus a glass (or thermos) of wine…and you'll have yourself a truly gourmet meal. If you need more guidance, here are some easy recipes you can follow and enjoy in no time.
When you're cooking a meal while camping, there are some pieces of equipment that will make life easier. Here are some of the most helpful cooking items you can bring on your next camping trip:
Remember: only bring what you know you'll use, cook your food the same day or the day after (buy only enough fresh food for a couple of days and replenish your food inventory regularly), and keep a close eye on your food when cooking over a flame (it can cook faster than you'd expect). Follow these tips and your camping meals will be sure to impress.
The Fancy Food Show is a biannual B2B event hosted by the Specialty Food Association…
The Fancy Food Show is a biannual B2B event hosted by the Specialty Food Association…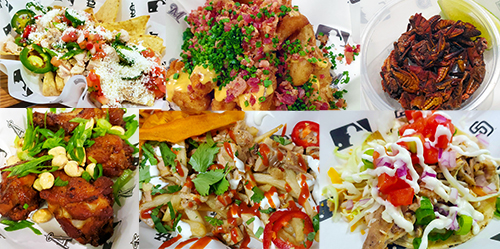 What are they? | Where can I get them? What is MLB food? Baseball is…
What foods are served? | Where are they located? What is a night market? A night market…
What are some interesting fair foods? | Where can I get them? What first comes to…