S'mores donuts will send you on a mouthwatering adventure as you imagine the familiar bonfire aroma of toasty marshmallows, the indulgent embrace of rich chocolate, and the pillowy satisfaction of a perfectly crafted donut. In this delectable fusion, we bring together the nostalgia of outdoor camping and the irresistible allure of donut indulgence. Get ready to embark on a journey where the gooey, chocolatey, and marshmallowy goodness takes center stage. Brace your taste buds as we explore the captivating harmony of flavors and textures that make s'mores donuts a delightful treat.
A Melting Pot of Flavors
S'mores donuts effortlessly blend the signature trio of flavors found in the classic campfire treat: chocolate, marshmallow, and graham cracker. Picture biting into a luscious donut, perfectly glazed with a rich, velvety chocolate coating. As your teeth sink into the fluffy dough, you encounter a delightful surprise—a center filled with ooey-gooey marshmallow cream. The final touch, reminiscent of the beloved graham cracker, is a sprinkling of crumbled graham crumbs on top. Every bite is a harmonious symphony of sweet, chocolaty, and slightly nutty notes that will leave you craving more.
Indulgence Reinvented
S'mores donuts offer a unique twist to the traditional campfire experience. No longer limited to the great outdoors, these decadent treats bring the joy of s'mores to the cozy comfort of a bakery or cafe. Whether you're savoring them as a breakfast indulgence or as an after-dinner delight, these donuts serve as a delightful reminder of childhood camping adventures. They capture the essence of gathering around a crackling fire, toasting marshmallows on sticks, and trading stories under the starlit sky.
Alternative Toppings
Want to mix things up or don't have some of the basic ingredients to make s'mores donuts? Here are some alternative toppings you can use:
Pairing and Presentation
Pairing s'mores donuts with the right beverage can elevate your enjoyment to new heights. Consider accompanying your treat with a steaming cup of freshly brewed coffee or a rich, velvety hot chocolate. The combination of the donut's sweet flavors with the bitter notes of coffee or the creamy warmth of hot chocolate creates a harmonious balance that will make your taste buds sing.
In terms of presentation, s'mores donuts are often adorned with creative touches. Some variations feature chocolate drizzles, while others boast a crown of toasted mini marshmallows. Donut enthusiasts with a flair for DIY may even attempt to recreate the campfire experience by using a kitchen torch to give the marshmallow topping that classic golden-brown hue. Remember, the visual appeal of these donuts is as delightful as their taste, making them irresistible to both the eyes and the palate.
How can I make it?
If you're looking for a s'mores donut recipe, this one allows you the option to make the donuts from scratch or start with chocolate glazed donuts to make things extremely simple. 🙂
s'mores donuts
doughnuts with the reminiscent campfire flavor of s'mores
Ingredients
Donut:
2 ¼ cups all-purpose flour
½ cup granulated sugar
2 ½ teaspoons baking powder
½ teaspoon salt
½ teaspoon ground cinnamon
1 large egg
¾ cup milk
¼ cup unsalted butter, melted
1 teaspoon vanilla extract
Optional: buy chocolate glazed donuts instead of the ingredients in this section
Filling:
Glaze:
1 cup chocolate chips
2 tablespoons unsalted butter
(skip this section if buying chocolate glazed donuts)
Topping:
½ cup graham cracker crumbs or s'mores cereal
Instructions
Preheat your oven to 375°F (190°C). Grease a donut pan with non-stick cooking spray. (If you bought chocolate glazed donuts, skip to step #8.)
In a large mixing bowl, whisk together the flour, sugar, baking powder, salt, and cinnamon until well combined.
In a separate bowl, beat the egg. Add in the milk, melted butter, and vanilla extract. Mix until thoroughly combined.
Gradually pour the wet ingredients into the dry ingredients, stirring until just combined. Be careful not to overmix; a few lumps are okay.
Spoon the batter into a piping bag or a ziplock bag with the corner snipped off. Pipe the batter evenly into the greased donut pan, filling each mold about 2/3 full.
Bake the donuts in the preheated oven for 12-15 minutes, or until a toothpick inserted into a donut comes out clean.
Remove the donuts from the oven and let them cool in the pan for a few minutes. Then transfer them to a wire rack to cool completely.
Once the donuts have cooled, prepare the filling. Fill a piping bag fitted with a small round tip with marshmallow cream. Insert the tip into the side of each donut and gently squeeze in the desired amount of filling.
In a microwave-safe bowl, melt the chocolate chips and butter together in 30-second intervals, stirring in between, until smooth and melted. (Skip this step if you bought chocolate glazed donuts.)
Dip the top of each donut into the melted chocolate glaze, allowing the excess to drip off. Return the glazed donuts to the wire rack. (Skip this step if you bought chocolate glazed donuts. Instead, simply heat them in the microwave for 10-15 seconds or until slightly melted.)
Sprinkle the graham cracker crumbs or s'mores cereal over the chocolate glaze while it's still wet, ensuring they stick to the surface.
Allow the glaze to set for about 15-20 minutes before serving. Enjoy your s'mores donuts!
Notes
These donuts are best served on the same day they are made. Also, feel free to customize these donuts and add your own alternative toppings. (Scroll up this post for ideas!)
Recommended Products
Glutto earns a tiny commission from qualifying Amazon purchases.
S'mores donuts transport us to a world where childhood memories mingle with gourmet indulgence. These delectable treats combine the nostalgia of camping with the refined craftsmanship of donut-making. With their irresistible blend of flavors and textures, s'mores donuts are a culinary adventure worth embarking on.
More dessert posts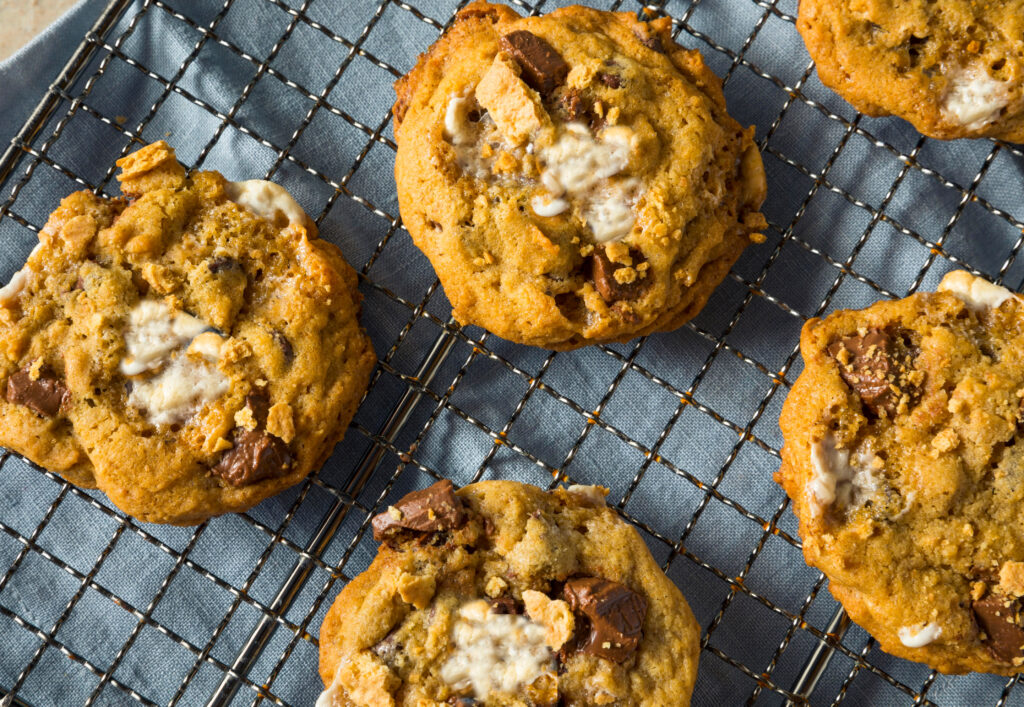 With comfort foods still going strong, s'mores cookies bring the essence of a crackling campfire…