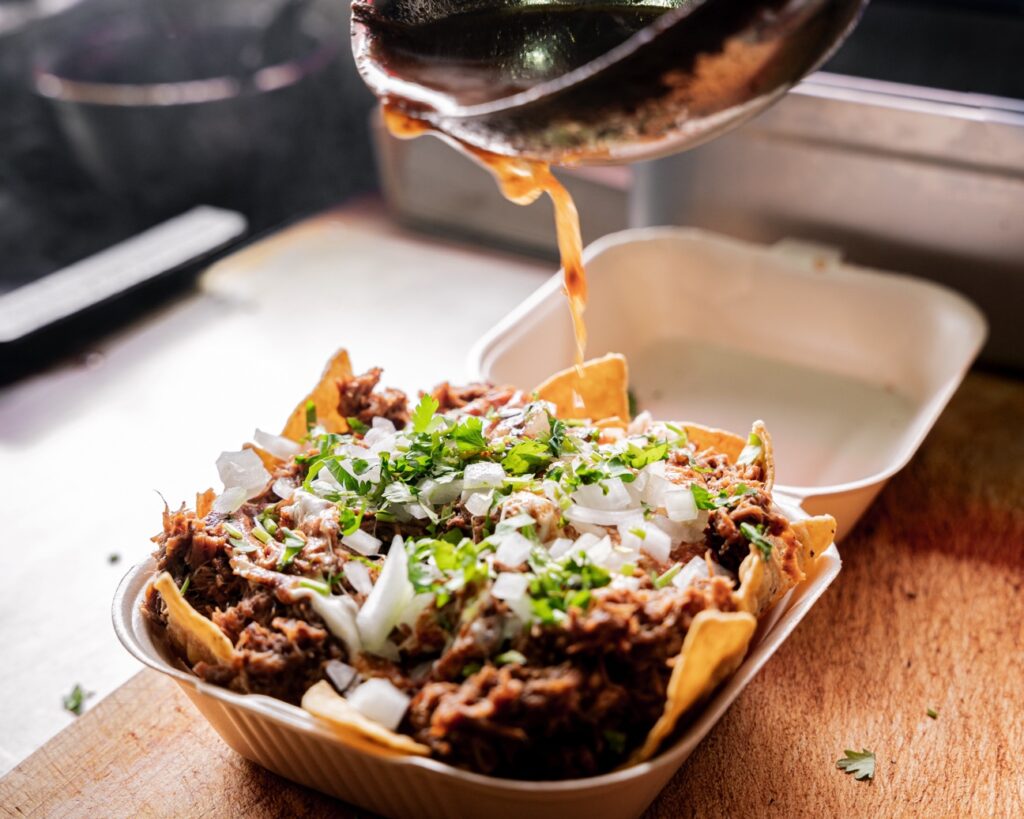 Birria nachos, the tantalizing fusion of traditional Mexican birria and Tex-Mex nachos, have gained widespread popularity among food enthusiasts worldwide.
History
Birria: Hailing from the Mexican state of Jalisco, birria is a slow-cooked meat stew with a long-standing culinary heritage. Typically made with beef or goat, birria boasts a medley of aromatic spices, including cumin, cloves, Mexican oregano, and bay leaves. The slow cooking process allows the meat to become tender and imbibe the rich flavors of the spices and chilies.
Nachos: Originating in the United States, nachos are a beloved Tex-Mex snack. Crispy tortilla chips serve as the foundation, topped with melted cheese, and often accompanied by various garnishes such as diced onions, cilantro, and lime juice.
Key ingredients
Meat: this type of nachos traditionally features tender, slow-cooked shredded beef or goat as the primary protein; the choice of meat greatly impacts the overall flavor profile.
Spices and Chilies: aromatic spices like cumin, cloves, and Mexican oregano are commonly used in birria; dried chilies, such as guajillo, ancho, or pasilla, provide a delightful heat and earthy undertones to the dish
Tortilla Chips: crispy and sturdy tortilla chips form the base of birria nachos, providing a satisfying crunch.
Cheese: generous amounts of melted cheese, often a blend of Monterey Jack and cheddar, lend richness and creaminess to the dish
Garnishes: traditional garnishes include diced onions, fresh cilantro, and a squeeze of lime juice; these add freshness, brightness, and a burst of flavor
Serving birria nachos
Birria nachos can be savored in various ways, making them a versatile dish for different occasions:
Appetizer: serve as a delicious and shareable appetizer, perfect for gatherings, game nights, or other casual get-togethers
Main Course: for a heartier meal, elevate birria nachos to a main course by adding additional toppings like refried beans, guacamole, or sour cream
Accompaniments: serve them alongside a side of consommé, a flavorful broth made from the cooking process; the consommé can be sipped alongside the nachos or used as a dipping sauce, adding depth and intensity to each bite
Adaptations & variations:
While "traditional" birria nachos recipe stand as a crowd favorite, culinary enthusiasts and chefs have explored creative adaptations to cater to diverse preferences:
a. Vegetarian or Vegan variations: swap the meat for vegetarian alternatives such as jackfruit or mushrooms, ensuring that the flavors and textures remain satisfying
b. Specialty Cheeses: Experiment with different cheese combinations to add unique flavors and textures to the dish. Queso fresco or queso blanco can offer a tangy and crumbly alternative to the classic melted cheese.
c. Customized Toppings: add additional toppings like jalapeños, pickled onions, or sliced radishes to provide extra layers of flavor and texture
Where to get birria nachos
You can find (or request) birria nachos at many places that serve birria. Take a look at this interactive map to find exact locations that serve this dish near you!
How to make it
If you're looking to make these nachos exactly to your liking, here is an easy-to-follow customizable recipe. Enjoy!
birria nachos
Nachos topped with juicy, flavorful meat.
Ingredients
birria:
1.5 pounds (680g) beef chuck roast or goat meat, trimmed of excess fat
1 medium onion, roughly chopped
4 cloves of garlic, minced
2 dried guajillo chilies, stemmed and seeded
2 dried ancho chilies, stemmed and seeded
4 cups (960ml) beef broth
1 teaspoon ground cumin
1 teaspoon dried Mexican oregano
1 bay leaf
Salt and pepper to taste
nachos:
Tortilla chips
Shredded cheese (Monterey Jack, cheddar, or a blend)
Diced onions
Chopped fresh cilantro
Lime wedges
Optional: sliced jalapeños, guacamole, sour cream, pickled onions, sliced radishes
Instructions
Preparing the birria:
a. In a large pot or Dutch oven, combine the beef or goat meat, chopped onion, minced garlic, dried guajillo chilies, dried ancho chilies, beef broth, cumin, Mexican oregano, and bay leaf.
b. Season with salt and pepper to taste.
c. Bring the mixture to a boil over medium-high heat. Once boiling, reduce the heat to low, cover the pot, and simmer for 2 to 2.5 hours or until the meat is tender and easily shreds.
Shredding the meat:
a. Remove the cooked meat from the pot and place it on a cutting board or a large plate.
b. Using two forks, shred the meat into bite-sized pieces. Set aside.
Assembling the nachos:
a. Preheat your oven to 400°F (200°C).
b. On a baking sheet or oven-safe dish, spread out a layer of tortilla chips to cover the bottom.
c. Sprinkle a generous amount of shredded meat over the chips.
d. Add a layer of shredded cheese on top of the meat.
e. Repeat the layering process with another layer of chips, meat, and cheese until you've used all the ingredients or reached the desired amount.
f. Place the baking sheet or dish in the preheated oven and bake for 10-12 minutes, or until the cheese is melted and bubbly.
Customizing and serving:
a. Once the nachos are out of the oven, garnish them with diced onions, chopped fresh cilantro, and a squeeze of lime juice.
b. Get creative and customize your nachos by adding optional toppings like sliced jalapeños, guacamole, sour cream, pickled onions, or sliced radishes.
c. Serve the birria nachos immediately while they're still warm and enjoy!
Notes
Feel free to adjust the spice level, experiment with different cheeses, or add other toppings of your choice to create your ideal birria nachos!
Recommended Products
Glutto earns a tiny commission from qualifying Amazon purchases.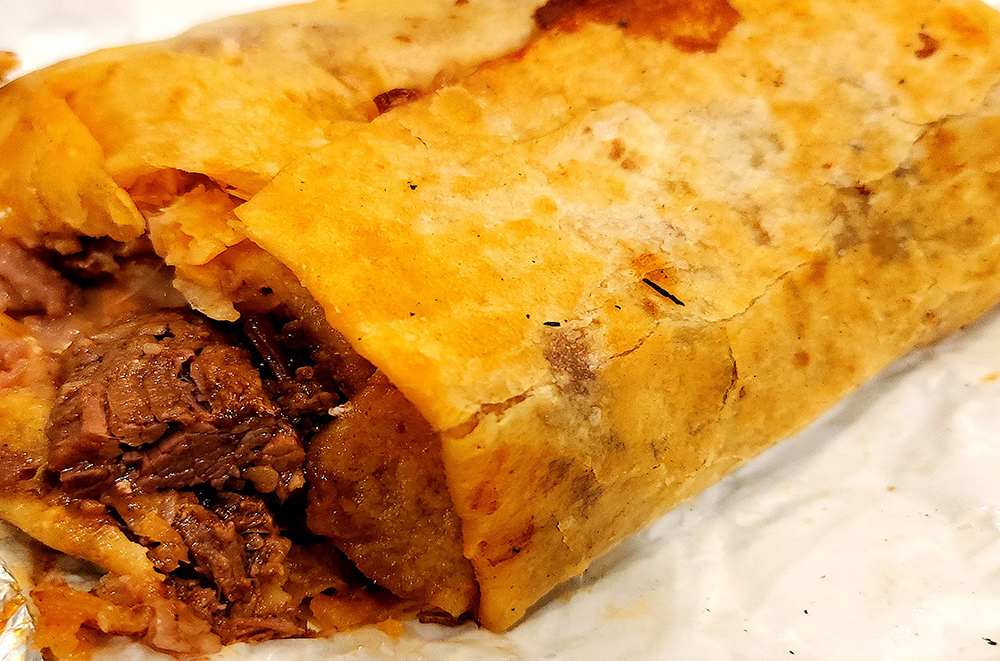 With the creation of the quesabirria and birria taco, the birria burrito. was inevitable. This…