Looking for a dish that combines the rich flavors of birria stew with the convenience of a sandwich? Look no further than the delectable birria torta. It's a type of torta ahogada (translation: drowned sandwich) that originated from Jalisco, Mexico and is gaining international popularity.
Background
Birria, a traditional Mexican dish with roots in Jalisco, combines meats like goat, beef, lamb, or pork with aromatic spices and chilies. Its origins lie in the culinary traditions of the indigenous people of the region, who merged Spanish influences with their own flavors.
Combining the flavors of Mexican birria in the form of a torta, birria torta emerged as a street food sensation in Guadalajara, Mexico. Vendors stuffed the flavorful birria meat into crusty bolillo or telera rolls, creating a handheld delight that captivated food enthusiasts both in Mexico and beyond.
Main components of a birria torta
meat: tender, shredded or sliced meat from the birria stew; whether you prefer goat, beef, lamb, or pork, the meat is infused with aromatic spices for an explosion of flavors
bread: the foundation is a crusty bolillo or telera roll; toasted or griddled, the bread provides a satisfying crunch while maintaining a soft interior
toppings: a variety of toppings can be added such as diced onions, cilantro, lime wedges, and Cotija cheese
consommé: the flavorful birria broth, for dipping or sipping
What does it taste like?
A birria torta offers a distinct flavor profile that combines the savory notes of tender meat, infused with aromatic spices, with the contrasting textures of a crusty bread roll. The meat, whether it's goat, beef, lamb, or pork, provides a rich and satisfying taste experience. The spices used in the birria stew enhance the flavor of the meat, adding depth and complexity. The crusty bread roll adds a satisfying crunch while complementing the succulent filling. The combination of flavors and textures in this meat-filled torta creates a unique and enjoyable eating experience.
How to eat a birria torta
personalize your torta with your favorite toppings, adding a burst of freshness and tang
dip your torta into the consommé to amplify the flavors and moisten the bread
inhale the aromatic spices permeating the tender, juicy meat
bite into contrasting textures of the crispy bread and succulent filling
Where can I find it?
Birria tortas are becoming increasingly popular, and you can find them in Mexican restaurants, food trucks, and dedicated birria torta establishments across the US and beyond. Here is an interactive map where you can find it near you!
How can I make it?
With the right ingredients and a little effort, you can prepare birria tortas in your own kitchen. Here is a simple recipe you can follow to enjoy this mouthwatering Mexican sandwich at home!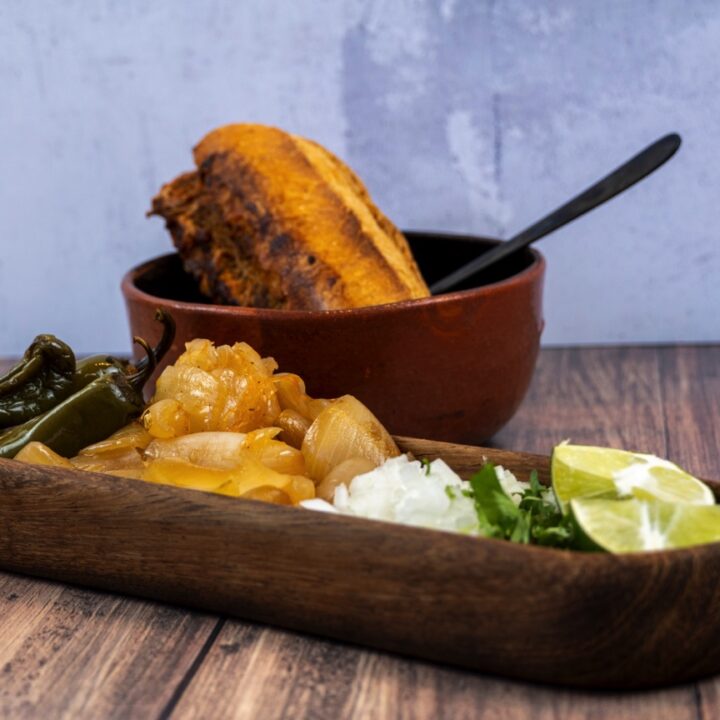 birria torta
Ingredients
Birria:
2 lbs boneless meat (goat, beef, lamb, or pork - cut into small pieces)
1 onion, chopped
4 garlic cloves, minced
2 tomatoes, diced
2 chipotle peppers in adobo sauce, minced
2 tablespoons chili powder
1 teaspoon ground cumin
1 teaspoon dried oregano
Salt and pepper to taste
2 cups beef or vegetable broth
Oil for cooking
Torta:
Crusty rolls (bolillo or telera)
Diced onions
Chopped cilantro
Lime wedges
Cotija cheese or your preferred cheese
Instructions
In a large pot or Dutch oven, heat oil over medium heat. Add the chopped onion and minced garlic, and sauté until fragrant and translucent.
Add the diced tomatoes and chipotle peppers, and cook for a few minutes until the tomatoes soften.
Season the meat with chili powder, cumin, dried oregano, salt, and pepper. Add the seasoned meat to the pot and brown it on all sides.
Pour in the beef or vegetable broth, ensuring the meat is fully submerged. Bring to a boil, then reduce the heat to low, cover the pot, and simmer for about 2-3 hours, or until the meat becomes tender and easily shreds.
Once the meat is cooked, remove it from the pot and shred it using two forks. Set aside.
Preheat a griddle or skillet over medium heat. Split the crusty rolls and lightly toast them on the griddle until they become golden and crispy.
To assemble the torta, spread a generous amount of the shredded birria meat onto the bottom half of each toasted roll.
Top the meat with diced onions, chopped cilantro, a squeeze of lime juice, and crumbled Cotija cheese or your preferred cheese.
Place the top half of the roll over the filling, pressing gently to hold everything together.
Serve and enjoy!
Notes
Feel free to customize your birria torta with additional toppings or condiments of your choice, such as avocado slices, salsa, or pickled jalapeños.
Recommended Products
Glutto earns a tiny commission from qualifying Amazon purchases.
More Mexican food posts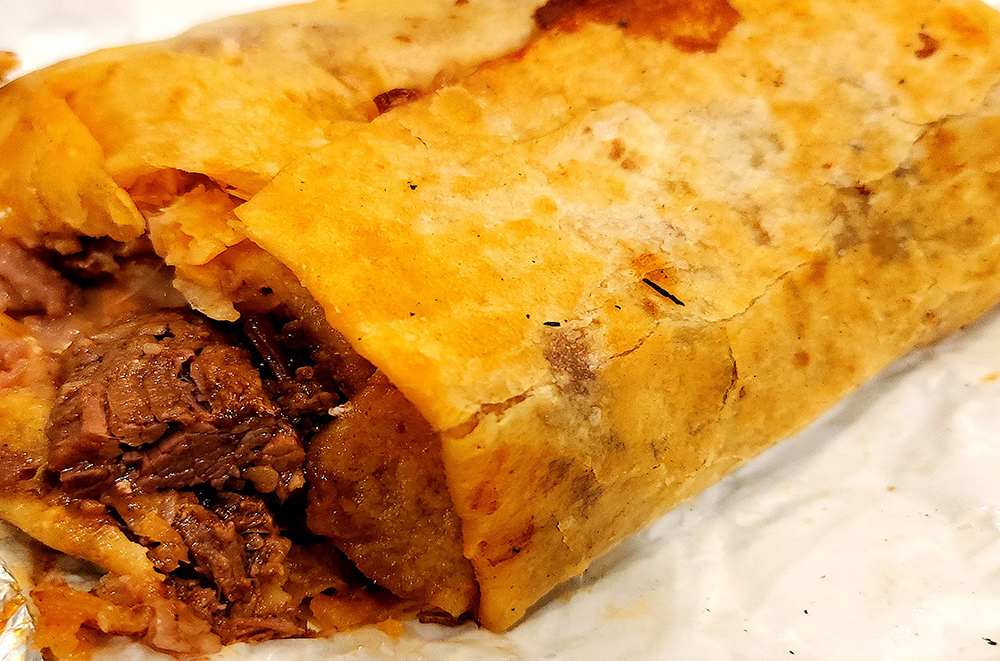 With the creation of the quesabirria and birria taco, the birria burrito. was inevitable. This…