What is birria ramen?
Birria ramen is a fusion dish that merges the flavors of traditional Mexican birria with the familiar elements of Japanese ramen. It blends slow-cooked meat, typically goat or beef, in a richly spiced broth, with ramen noodles, aromatic toppings, and seasonings inspired by both culinary traditions.
The allure of this fusion dish lies in its combination of flavors and cultural influences. This dish brings together savory, slow-cooked meat with the comforting aspects of ramen. It creates a unique and harmonious fusion that surprises and delights the palate.
What are the key ingredients?
It typically includes meat (usually either beef or goat), dried chilies (guajillo or ancho chilies), spices (cumin, cloves, and bay leaves), onions, garlic, ginger, and a combination of herbs like thyme and oregano. As you can tell by the name, ramen noodles, found in traditional Japanese ramen, are also an essential component.
How is it prepared?
The preparation of birria ramen involves several steps. The meat is marinated with spices and slow-cooked in a flavorful broth until it reaches a tender consistency. Meanwhile, a ramen broth is prepared, incorporating elements like miso, soy sauce, and aromatic vegetables. The cooked ramen noodles are then added to the broth, and the dish is garnished with toppings like green onions, cilantro, and lime.
Can birria ramen be enjoyed by vegetarians and vegans?
Yes! While the traditional version includes meat, vegetarian and vegan variations are possible. Substitutes such as jackfruit or mushrooms can be used to replicate the meat's texture and flavors. The broth can be prepared using vegetable stock and an assortment of spices to achieve a satisfying vegetarian or vegan experience.
Where can you find birria ramen?
Birria ramen can be found in various establishments that embrace culinary innovation. Look for it in ramen shops that explore fusion cuisine or food trucks that offer creative menu options. Keep an eye out for local food festivals and pop-up events where this fusion delicacy might make an appearance. The availability of this birria variation is expanding, offering food enthusiasts more opportunities to indulge in this unique dish.
How can I make it?
You can make birria ramen yourself by following this straightforward recipe. Keep in mind that if you are vegetarian or vegan, you can substitute the meat and dairy for whatever meat and dairy alternative you prefer.
birria ramen
Mexican meat stew with Japanese ramen
Ingredients
birria:
1.5 pounds (680g) beef chuck or goat meat, cut into chunks
1 onion, finely chopped
4 cloves garlic, minced
2 dried guajillo or ancho chilies, stems and seeds removed
2 dried pasilla chilies, stems and seeds removed
4 cups beef broth
1 tablespoon ground cumin
1 tablespoon dried oregano
Salt and pepper to taste
ramen:
4 packs of ramen noodles (discard the seasoning packets)
6 cups water
2 tablespoons soy sauce
2 tablespoons miso paste
1 teaspoon sesame oil
toppings:
Chopped green onions
Chopped fresh cilantro
Lime wedges
Instructions
Heat a drizzle of oil in a large pot over medium heat. Add the finely chopped onion and minced garlic. Sauté until the onion is softened and fragrant.
In a separate dry skillet, briefly toast the dried chilies until fragrant. Allow them to cool slightly before grinding them into a powder using a spice grinder or mortar and pestle.
Add the beef or goat meat to the pot with the sautéed onion and garlic. Cook until the meat is browned on all sides.
Stir in the ground chili powder, cumin, oregano, salt, and pepper. Ensure the meat is evenly coated with the spices.
Pour the beef broth into the pot and bring the mixture to a simmer. Cover the pot and let it cook over low heat for approximately 2 to 3 hours, or until the meat becomes tender and easily shreds apart.
While the meat is cooking, prepare the ramen noodles. In a separate pot, bring the water to a boil. Cook the ramen noodles according to the package instructions. Drain the noodles and set them aside.
Once the meat is tender, remove it from the pot and use two forks to shred it. Return the shredded meat to the pot and mix it into the flavorful broth.
In a small bowl, whisk together the soy sauce, miso paste, and sesame oil. Add this mixture to the pot with the meat and broth. Stir well to combine and let it simmer for an additional 10 minutes to allow the flavors to meld.
To serve, divide the cooked ramen noodles into bowls. Pour the birria broth and shredded meat over the noodles.
Garnish each bowl with chopped green onions, fresh cilantro, and a squeeze of lime juice. Feel free to add additional toppings or spices according to your taste.
Enjoy your homemade birria ramen while it's piping hot and full of flavor!
Notes
Feel free to adjust the seasonings and spice levels according to your preference. You can also get creative with toppings such as sliced radishes, avocado, or a dollop of sour cream to enhance the dish further.
Recommended Products
Glutto earns a tiny commission from qualifying Amazon purchases.
More Mexican food posts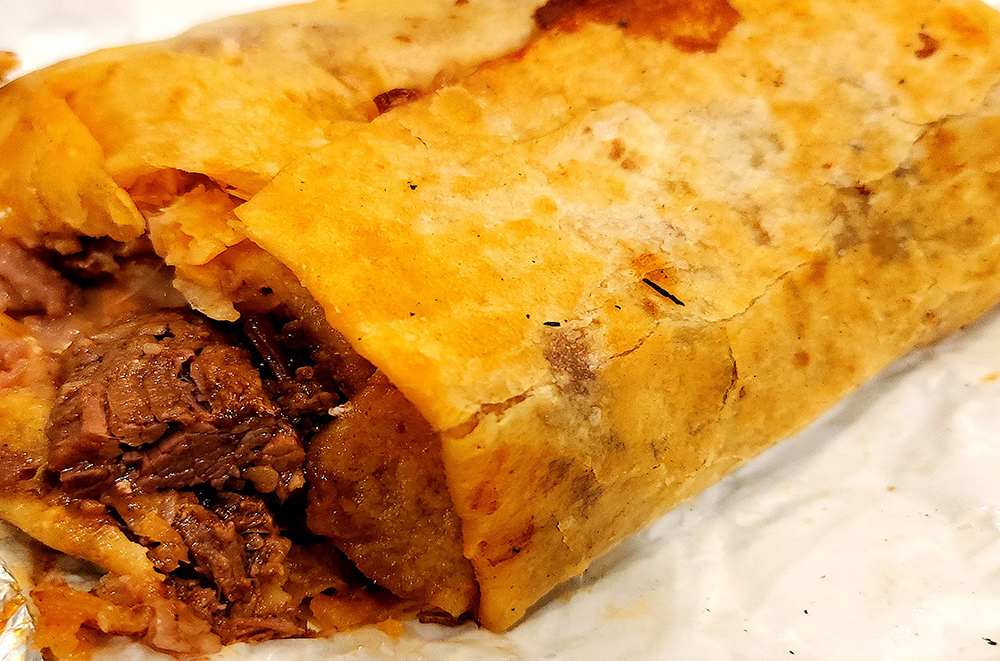 With the creation of the quesabirria and birria taco, the birria burrito. was inevitable. This…