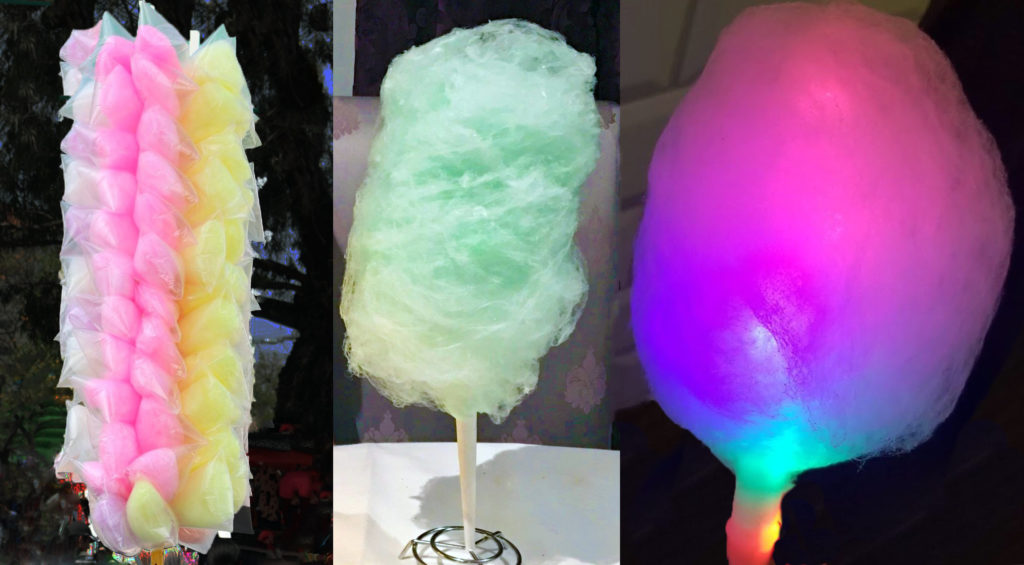 Cotton candy, a fluffy cloud-like treat that evokes a sense of carnival enjoyment, is finely spun sugar. It traditionally has a few drops of food coloring to give it a pink or blue hue. Sometimes, a bit of flavoring is added as well.
This cotton-like candy is made by melting the sugar with hot air in a specially-made machine that spins the sugar into a fine gossamer of edible threads or floss. These threads are typically wrapped around a paper cone until they resemble the shape of a large puffed-up ball.
Origin
This puffy treat has a long (and frequently misunderstood) history. According to Sweets: A History of Candy by Tim Richardson, cotton candy originated in Italy in the 1400s. Back then, it was made by heating sugar in a pan until it melted. A fork dipped in the melted sugar would drip thin strands of sugar onto the bottom of a bowl. This process was repeated numerous times until it created a dome-like shape.
In the mid 18th century, spun sugar was used in the U.S. and Europe to create eye-catching desserts and web-like decorations. It required a special technique held only by experienced confectioners. Because making this candy was a laborious process, it was only available to wealthy individuals.
In the late 19th century, confectioners John C. Wharton and William Morrison created a special machine that would quickly melt sugar and generate a centrifugal force to shoot it through a screen. This created multiple threads of sugar that would be wrapped around the top of a paper cone, so it looked similar to a massive scoop of ice cream. The invention of the machine opened up the availability of this spun sugar snack to the masses. In 1900, "spun sugar" made its international debut at the Paris Exposition. A few years later, it was a massive hit at the 1904 St. Louis World Fair. In the 1920s, this sugary snack was officially known in the US as "cotton candy."
Over the decades, it has become so popular that it has been sold to customers across the world. In the United States, two national food days have been dedicated to this cotton-like candy: July 31 and December 2.
Tasty Tees Hot Off the Press
Re-invented
This old-timey snack has undergone some creative updates in the 2000s. Gourmet cotton candy began to emerge in an endless array of flavors, from the more familiar pb&j to the more adventurous ghost pepper.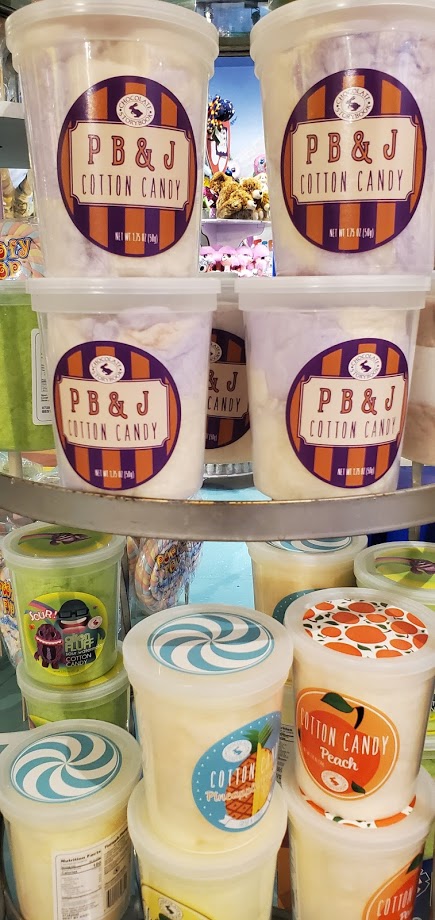 Also, various new dessert creations were invented. Here are some creative desserts that put a new spin on the time-tested treat.
cotton candy burritos – ice cream wrapped in spun sugar

cotton candy ice cream cones – ice cream topped with a cloud of spun sugar

rainbow cotton candy – sugar spun with multi-colored layers (usually pink, blue, purple, green and yellow)

cotton candy flowers – sugar spun into multi-colored layers shaped into a giant flower

glow-in-the-dark cotton candy – traditional spun sugar wrapped around an illuminated glow stick

In the 2010's, avant garde restaurants frequently incorporated the spun sugar in their elevated dishes. Examples include the foie gras cotton candy lollipops at The Bazaar by Jose Andres and "Paint" (a Jackson Pollock-esque performance art dessert) at Alinea by Grant Achatz.
What are other names for cotton candy?
This cloud of sweetness goes by several other names depending which country you are in:
Australia – fairy floss
Egypt – candy floss
India – candy floss
Ireland – candy floss
Finland – fairy floss
France – babe à papa (papa's beard)
Netherlands – suikerspin (sugar spider)
New Zealand – candy floss
South Africa – candy floss
Sri Lanka – candy floss
U.K. – candy floss
Is cotton candy bad for your health?
The short answer is: it depends.
Cotton candy is almost exclusively made of sugar (minus any food coloring or flavoring). Because there is no nutritional value it doesn't provide any direct benefit to your health.
However, when comparing this spun sugar candy with other desserts and sweets, it is considerably less unhealthy. One standard 1 ounce serving only uses one teaspoon of sugar. (Keep in mind that giant bags can contain multiple servings.) That is significantly less than one can of Coca-Cola, which contains nearly 10 teaspoons of sugar. It also contains zero fat, sodium or cholesterol.
So, if you were to stick to eating a single serving during special occasions, it would not make a negative impact on your overall health. But if you were to eat it every day, multiple times a day, it could cause health issues. As with anything in life, moderation is key.
Food that tastes like candy floss
Cotton Candy grapes – Yes, this is real fruit that surprisingly tastes like the sugary snack without containing any added sugar.

Cap'n Crunch's Cotton Candy Crunch – This is your childhood cereal shaped into blue and pink balls with a familiar sweet puffed candy flavor.

Drinks that taste like candy floss
Cotton Candy Frappuccino – This is a well-known secret menu item at Starbucks. In case your barista doesn't already know, it is a tall Vanilla Bean Frappuccino with 1 pump of raspberry syrup.
Desserts that are similar to candy floss
Where can I get cotton candy?
You can find this popular treat at most specialty candy stores as well as carnivals and state or county fairs. You can also find all the various types at the locations shown in this interactive map.
How can I make cotton candy?
If you have a cotton candy machine, here's a simple recipe you can follow. If not, scroll down further to the recipe below.
Special Tools
Ingredients
1/2 cup granulated sugar or baker's sugar (superfine/caster sugar)
2-3 drops food coloring (red or blue)
Directions
Mix the sugar and food coloring into a bowl.
When your machine is on, pour a teaspoon of the mix into the center of the spinning head.
Wait until the liquid forms floss-like strands that come out of the spinning head. At this point, reduce the heat.
Wrap the fluffy strands of sugar around one end of a paper cone or stick. (Tip: if the strands are not sticking to the cone/stick, add a few drops of water to it before collecting the strands)
Repeat steps 2-4 as necessary to create more candy floss.
Enjoy!
How can I make cotton candy without a machine?
If you don't have a machine, you're in luck. It is possible to make it using ordinary kitchen tools. Although it won't be as easy as having a machine, with the proper preparation, it can be done, and here's how.
Cotton Candy (no machine)
Ingredients
1 1/2 cups granulated sugar or baker's sugar (superfine/caster sugar)
5 tablespoons corn syrup
2 teaspoons water
2-3 drops food coloring (red or blue)
Instructions
Mix all ingredients and place over medium-high heat (stirring occasionally) until it reaches 320°F.
Transfer heated mixture into a heat safe bowl.
Dip the whisk in the melted mix and drizzle over the parchment paper by quickly waving the whisk back and forth to create many thin strands. Repeat as necessary. (Tip: reheat bowl in microwave if mixture is no longer liquified)
Lightly wrap the strands candy around the paper cone.
Enjoy!
Discover more cotton candy
Cotton candy vodka is a flavored alcoholic beverage that tastes like cotton candy or spun…