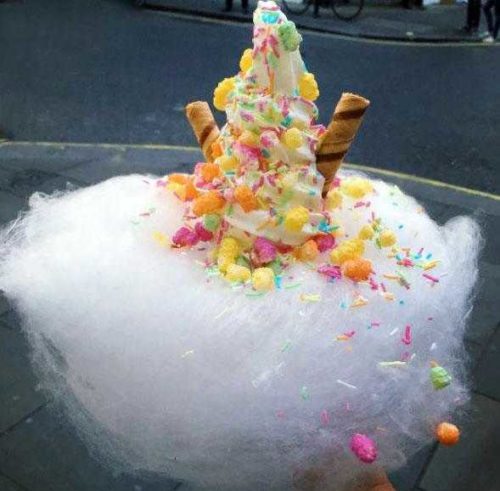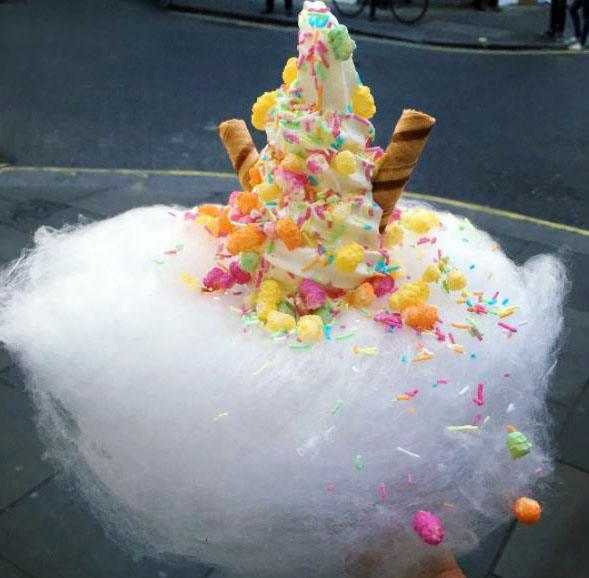 Where Can I Get it? | How Can I Make It?
What is a cotton candy ice cream cone?
Cotton candy ice cream cones (a.k.a. cotton candy-wrapped ice cream, cotton candy cones, cloudy ice cream, cloud cones, sugar clouds, candy floss ice cream [U.K.] and fairy floss ice cream [Australia]) is simply an ice cream cone covered in a fluffy cloud of cotton candy. The ice cream is typically soft-serve and is decorated with all kinds of candies and other sweet toppings. A variation includes ice cream in a cup topped with a decorated cloud of cotton candy.
It originated at a place called Milk Train Cafe in London, England and has spread throughout the globe to Dubai, the Philippines and Australia.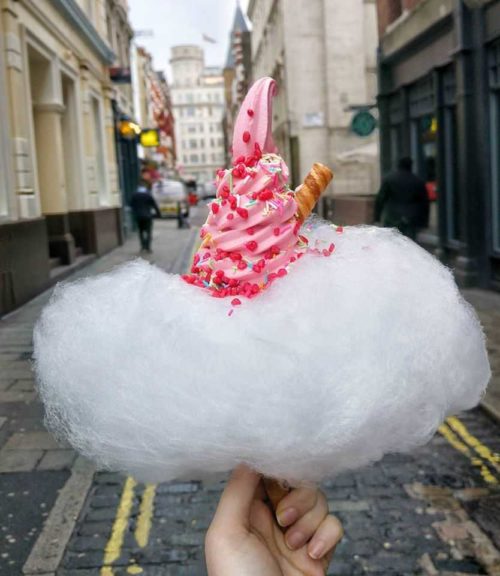 Don't confuse this dessert with:
cotton candy ice cream, which is simply a blue and sometimes pink ice cream with the flavor of cotton candy,
cotton candy burrito, which consists of multiple scoops of ice cream wrapped in cotton candy, or
Dairy Queen's cotton candy-dipped cone, which is a soft-serve cone dipped in a blue cotton candy-flavored liquid that coats the ice cream and solidifies into a hard shell.
What is eating a cotton candy ice cream cone like?
Contrary to what you might expect, this treat isn't overwhelmingly sweet and the cotton candy surprisingly compliments the ice cream nicely. One thing to keep in mind is that when the soft-serve ice cream touches the cotton candy, it "melts" the cotton candy instantly—so get your pictures in quickly.
Where can I get it?
You can find cotton candy ice cream cones in certain specialty ice cream shops like these…
Looking for more places that serve cotton candy ice cream cones? You can find them on Glutto right here.
How can I make it?
Cotton candy ice cream cones are easy to make as long as you have a cotton candy machine, which you can get quite affordably. Here are the steps to make this eye-catching dessert.
Special Tools
Ingredients (2 servings)
1 cup sugar, or as directed for your cotton candy machine
2 ice cream cones (either sugar or waffle cones will do)
4 scoops ice cream (your favorite flavors)
ice cream toppings (fruits, candies, cookies, bits of edible raw cookie dough, syrup etc.)
Directions
First, follow the directions for the cotton candy machine and wait till cotton candy begins to form.
Collect the cotton candy by wrapping it around the top of an ice cream cone so it creates a fluffy cloud shape.
Fill the cone with ice cream.
Add your favorite toppings and enjoy!
Cotton candy vodka is a flavored alcoholic beverage that tastes like cotton candy or spun…