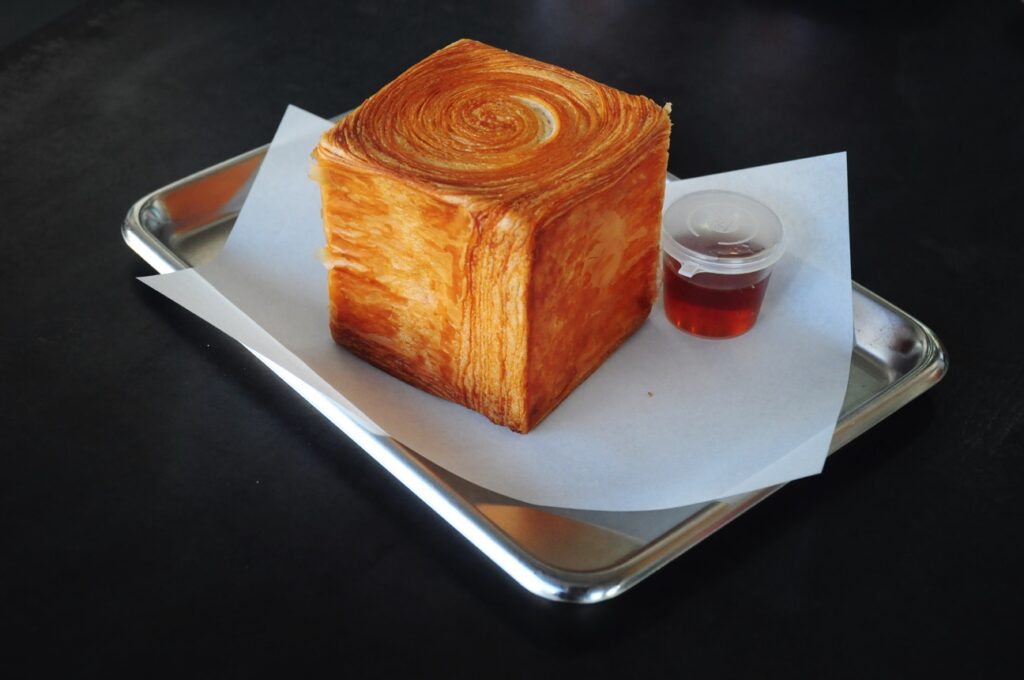 What are cube croissants?
Cube croissants (also known as croissant cubes, cubic croissants, or square croissants) are essentially the same recipe as their traditional crescent-shaped counterparts, but with a playful twist. The dough is meticulously cut into equally sized square pieces before being assembled and baked to golden cubic perfection. The resulting pastry resembles a wooden cube while the texture is a harmonious balance of crispy outer layers and a luscious, buttery interior. It is often filled and/or topped with a flavored cream like chocolate, vanilla, or matcha.
Origin
The mastermind behind this audacious pastry invention, Bedros Kabranian, is a Swedish baker with a knack for pushing culinary boundaries. As a member of the Swedish national pastry team, Kabranian wanted to shake things up and put his own spin on the iconic French breakfast bread creating the first documented croissant cube in 2018.
Multiple bakeries like Little Pebbles in Toronto have made their own version for years since it was originally created. However, it wasn't until late 2022 and well into 2023 that London's Le Deli Robuchon helped make this perfect geometric pastry (10 cm x10 cm x10 cm) go viral internationally through social media, especially on TikTok.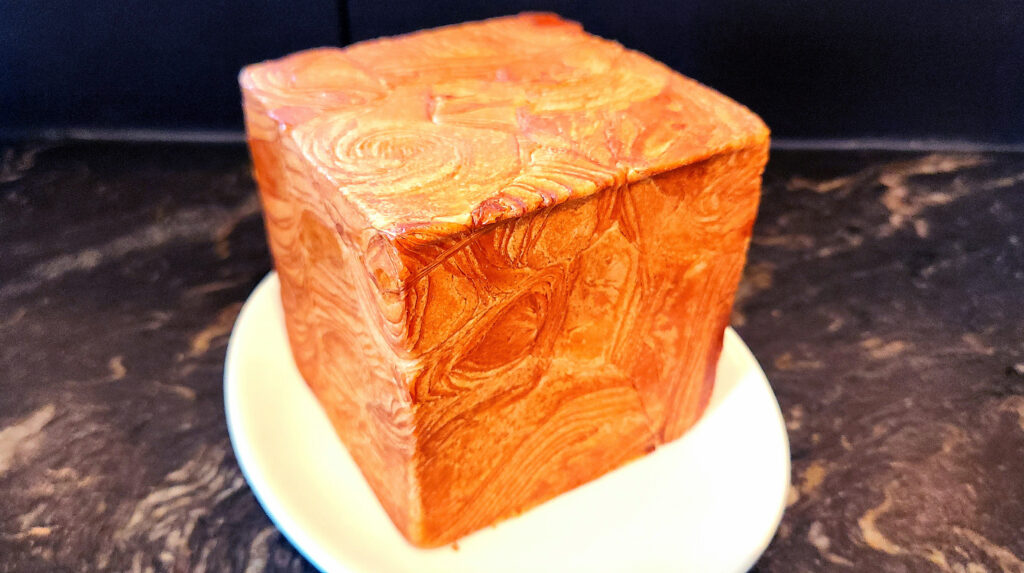 a freshly baked cube croissant from Croissanté in Santa Clara, CA
Flavors of cube croissants
Like its recent predecessor, the spiral croissant, the cube croissant also comes in a wide variety of flavors in addition to the original butter croissant flavor (depending on which bakery you visit). To have an idea of what is typically available, here are some of the most popular flavors being served:
chocolate
vanilla
matcha
pistachio
strawberry
Where can I get cube croissants?
While cube croissants are a French pastry with a modern twist created by a Swedish baker, they have spread throughout the world from London to Brisbane.
Most bakeries allow you to purchase the cube croissant in limited amounts like New York's Julien Boulangerie while others ship their cubic croissants in small quantities like San Francisco's Lil' Alijo.
Although locations are quite limited since it's a relatively recent food phenomenon on social media, you can be sure to find them in tourist destinations from NYC to Las Vegas. Here is an interactive map where you can find croissant cubes in the US:
Other names for cube croissants
Again. like the spiral croissant, some bakeries have their own names for this cubic croissant. These include…
Le Cube Robuchon @ Le Deli Robuchon (London, England)
Cube Danish @ 232 Cakery (Tauranga, New Zealand)
Crubik @ The Farmacia del Cambio bar (Turin , Italy)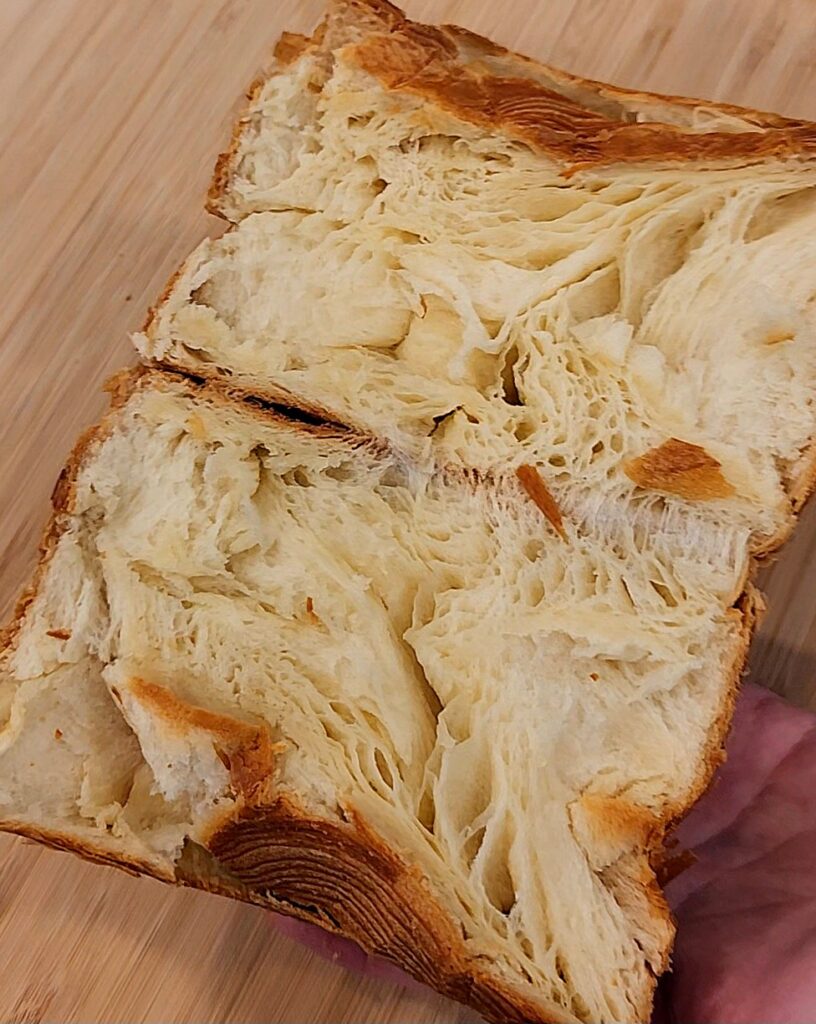 the soft interior of an original butter flavored cube croissant
How to make cube croissants
Making perfect cubic croissants requires precise measurements, careful handling of the dough, and proper shaping techniques. Here's a straight-forward recipe that you can follow to enjoy these geometric croissants at home: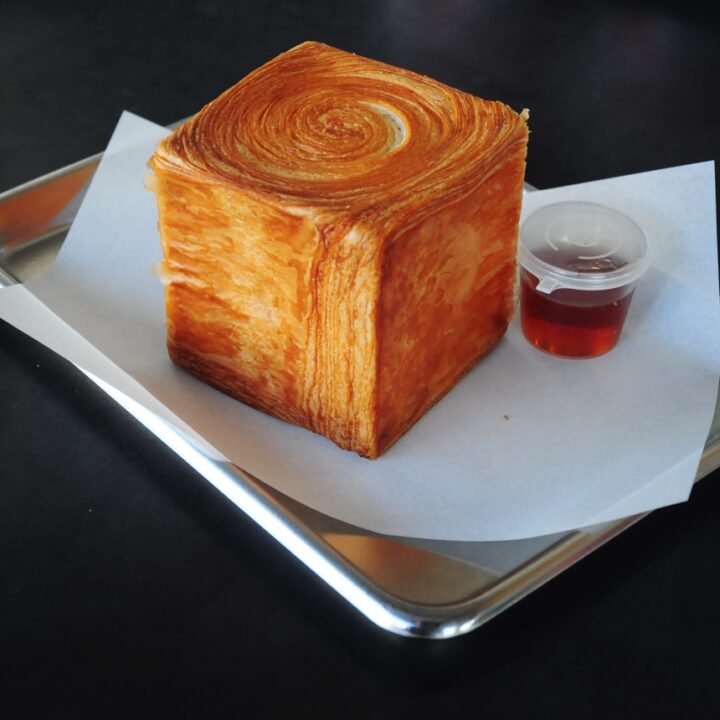 cube croissant
A flaky croissant with a soft interior in the shape of a cube.
Ingredients
3 cups all-purpose flour
1/4 cup granulated sugar
1/2 teaspoon salt
1/4 cup unsalted butter (cold)
1 tablespoon active dry yeast
1/2 cup water (warm)
1/2 cup unsalted butter (room temperature)
your favorite filling/topping (e.g. chocolate ganache, whipped cream, maple syrup, etc. - optional)
Tools - see recommended products below for links:
cube mold (required for a perfect cube shape)
plastic wrap
rolling pin
mixing bowl
Instructions
Add the flour, sugar, and salt together in a sizeable mixing bowl.
In a separate container, dissolve fresh yeast in warm water, and let it sit for five minutes.
Slice the cold butter into cubes and add 1/4 cup of it to the flour mixture. With your hands, mix the butter until it feels like rough sand.
Gradually incorporate the yeast mixture into the flour mixture until it forms a dough. Knead the dough for about 10 minutes until it becomes smooth and elastic.
Cover the dough with plastic wrap and allow it to rest for an hour until it doubles in size.
Roll out the dough into a large rectangle.
Spread room-temperature butter over two-thirds of the dough.
Fold the unbuttered third over the middle third, then fold the other end over that (like folding a letter).
Roll out the dough again into a large rectangle.
Repeat steps 8 and 9.
Fully cover the dough in plastic wrap and refrigerate overnight.
The next day, either 1) cut the dough into squares slightly smaller than the bottom of the cube mold leaving room to expand; stack the squares until a cube is formed—optional: after stacking halfway, carefully pipe desired filling into the center of the cube), or for a spiral design 2) cut the dough into long triangles and roll into a spiral (must fit into box diagonally)
Bake at 375°F for approximately 20 minutes.
Add any desired toppings. Bon appétit!
With its six-sided flaky exterior and pillowy soft interior, this cubic croissant is an undeniably familiar, yet novel way to enjoy one of the most beloved pastries in the world.
More Croissant Posts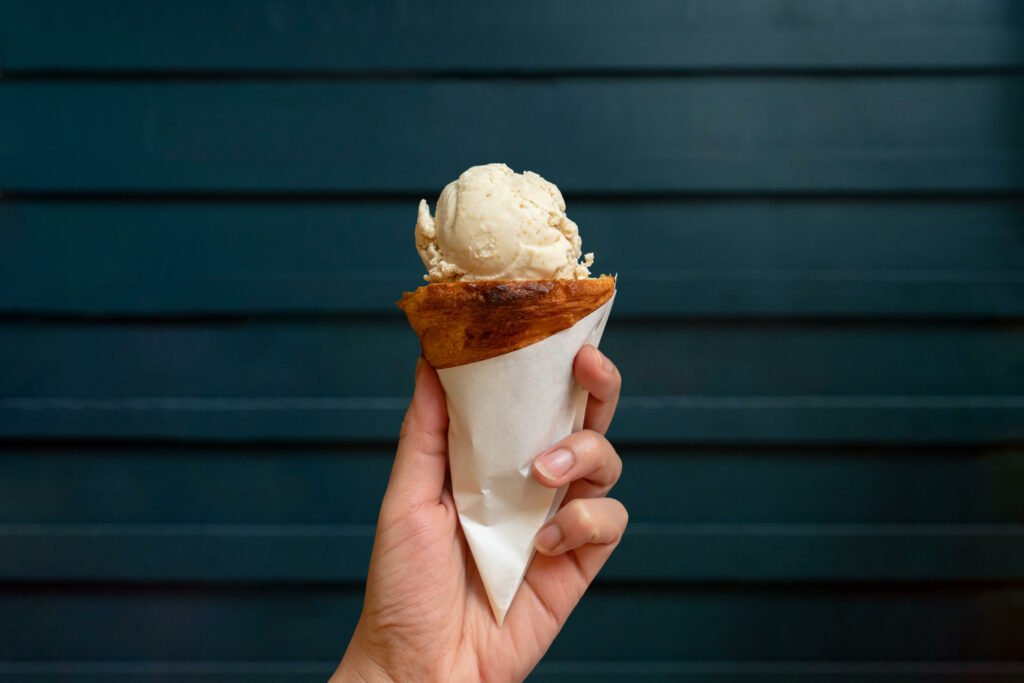 The ice crone (a.k.a. crone, croissant cone, ice cream croissant, croissant ice cream cone, or…