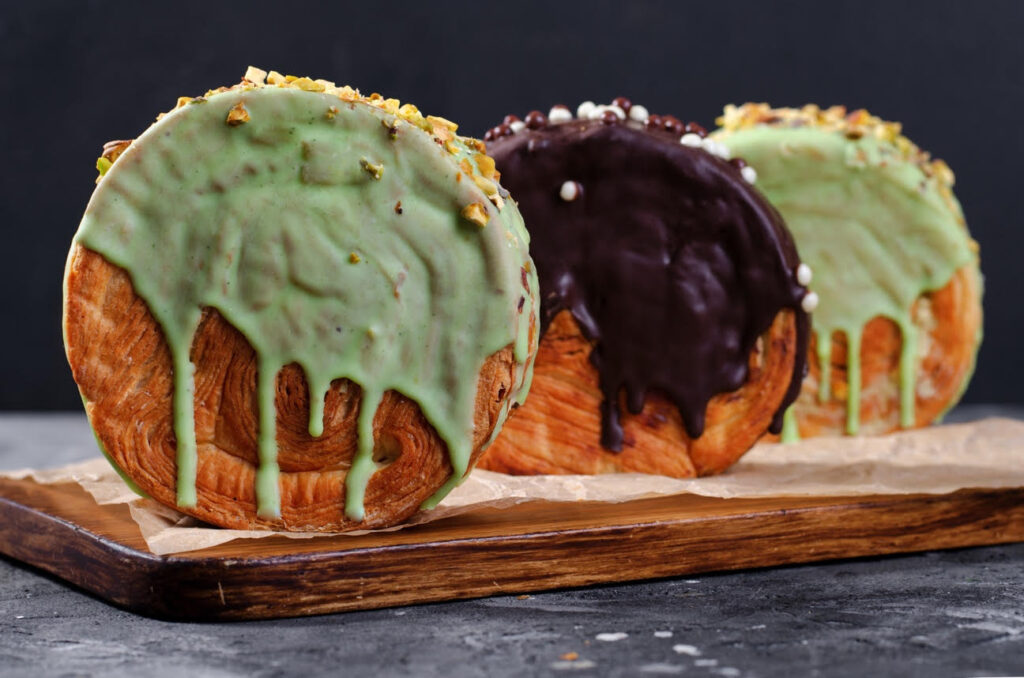 What is the Suprême croissant?
The Suprême (colloquially known as the supreme croissant, spiral croissant, round croissant, circular croissant, or circle croissant) is a recent invention in the croissant world that quickly rose to internet fame for its unique hockey puck-like shape. This spiral pastry is not for the faint of heart—it is rich, buttery, and often filled with indulgent flavors.
Additionally, these pastries are typically larger than your average croissant, which means there is more room to pack in all sorts of creamy fillings and toppings. From classic chocolate and pistachio to more unconventional and seasonal flavors like matcha and yuzu, the Suprême croissant offers a wide range of options.
But it's not just the fillings that make the Suprême croissant so special. It's the pastry itself. Layers of buttery, flaky dough are expertly crafted to create a texture that is both crispy and tender, with a satisfying amount of chewiness.
Origin
While there are many bakeries across the world that have created their own versions of the Suprême croissant, the original was created by Lafayette bakery's Pâtissier Scott Cioe, in New York, NY. It debuted in April 2022 and began to go viral in May on social media, particularly TikTok. Just a few months later, this highly-sought after pastry had already been replicated in bakeries across the globe from London to Sydney.
Why is the Suprême so popular?
In the same manner that the original cronut by Dominique Ansel became a worldwide sensation, the Suprême went viral due to its alluring unique shape, quality and exclusiveness.
Lafayette bakery in NYC (where the Suprême originated) stated that it 3 days to make this cream-filled spiral pastry. They also limit the quantity to a few hundred per day to maintain their high level of quality.
What flavors do supreme croissants come in?
Depending on where you get your spiral croissants, the flavors will vary greatly. However, here is a list of all the original Suprême flavors created by Lafayette in its first year since debuting the pastry:
April 2022: Pain au Chocolat and Pistachio Suprême
May 2022: Pain au Chocolat and Pistachio Suprême
June 2022: Pain au Chocolat and Pistachio Suprême
July 2022: Rose Berry Spritz Suprême with strawberry, campari & ruby rose
August 2022: Peaches N' Crème Suprême
September 2022: Corn Berry Crunch Suprême
October 2022: Pumpkin Chai Latte Suprême with sleepy hollow custard & autumn spice
November 2022: Bourbon Maple Nut Suprême with Vermont creemee, cranberry caramel, toasted pecans
December 2022: Suprême de Noël with holiday 'nog, wintergreen glaze and yule log meringue
January 2023: Yuzu Coconut Mojito Suprême
February 2023: Passion Ruby Raspberry Suprême with lilikoi crème
March 2023: Blood Orange Meringue Suprême with black poppies
Variations of spiral croissants
Because the spiral croissant is a relatively new food invention, there are not many variations besides different flavors. However, the evolution of food is inevitable. Here are some early variations of this round croissant that have been circulating the interwebs.
croissant chicken sando @ Global Village (Dubai, United Arab Emirates)
cube croissant a.k.a. square croissant @ Le Deli Roubuchon (London)
Where can I find supreme spiral croissants?
Dozens of international bakeries and cafes now offer their own take on the Suprême croissant, but you can only get the original in New York City at Lafayette bakery. Here, the croissants are made from scratch with the finest ingredients and baked with precision, resulting in a pastry that is truly supreme.
Not able to visit NYC any time soon? Perhaps you'd be interested in trying a Suprême-inspired croissant. Keep in mind that the quality, texture, flavors and even names can vary greatly by bakery. (e.g. Pitchoun! in Los Angeles calls their version the "Royal Croissant Roll.") Check out this interactive map to find a location that serves these spiral croissants near you.
What are other names for spiral croissants?
Because each bakery has its own name for spiral croissants, they can be a bit tricky to find—even if you're looking at the menu of a place that has them. Here are several places around the world that have unique names for this circular pastry.
Croissant Roll @ Paris en Rose (Del Mar, CA, USA)
Croissant Swirl @ Sucre Patisserie & Cafe (Calgary, Alberta, Canada)
Croissant Wheel @ Banksia (Sydney, New South Wales, Australia)
Croon @ Swish Rolls (Singapore)
Pinwheel Croissant @ Luna Bakehouse (Aukland, New Zealand)
Royal Croissant Roll @ Pitchoun! (Los Angeles, CA, USA)
Spiral Filler Croissant @ Tappis Cafe (El Cajon, CA, USA)
Any tips for getting my hands on a Suprême at Lafayette?
Want to make sure you don't miss out on getting an authentic Suprême during your next visit to NYC? Here are the details.
When it first went viral, Lafayette would sell 2 drops of 120 Suprêmes at 8 am and noon. Since September 15, 2022; they bumped up the quantity to 3 drops of 120 Suprêmes at 8 am, noon and 4 pm.
As the demand for these pastries persists, Lafayette will maintain a limit on orders to 2 Suprêmes per person. They recommend that customers line up 1 hour before each drop. So if you do the quick math, the first 60 people in line are guaranteed to get two Suprêmes. If you're the 61st to 120th person in line, cross your fingers that the people ahead of you only order one Suprême. Otherwise, you'll have to wait for the next drop. Good luck and bon appétit!
More trendy food posts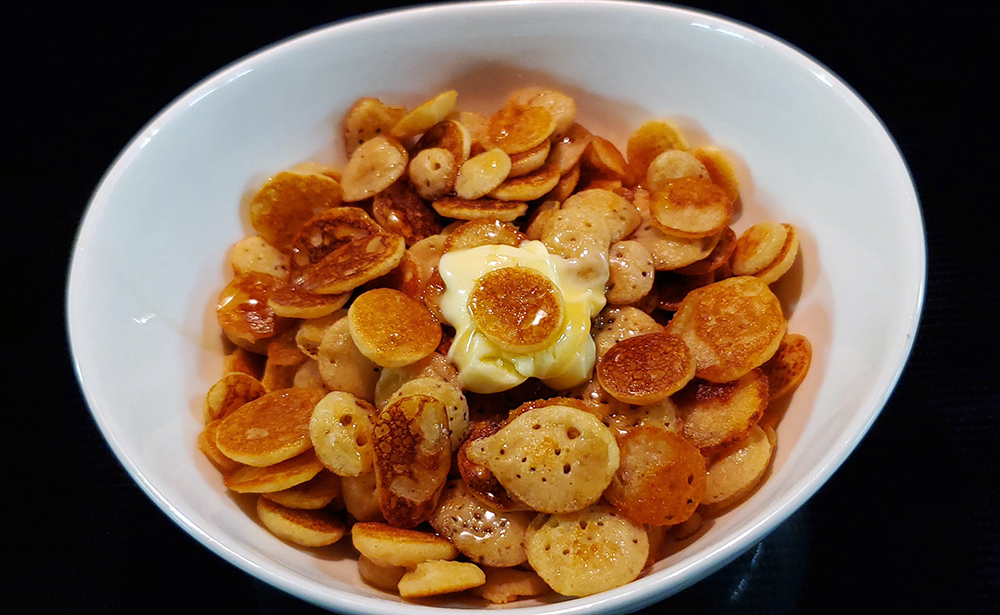 What is it? | How do I make it? What is pancake cereal? Pancake cereal…