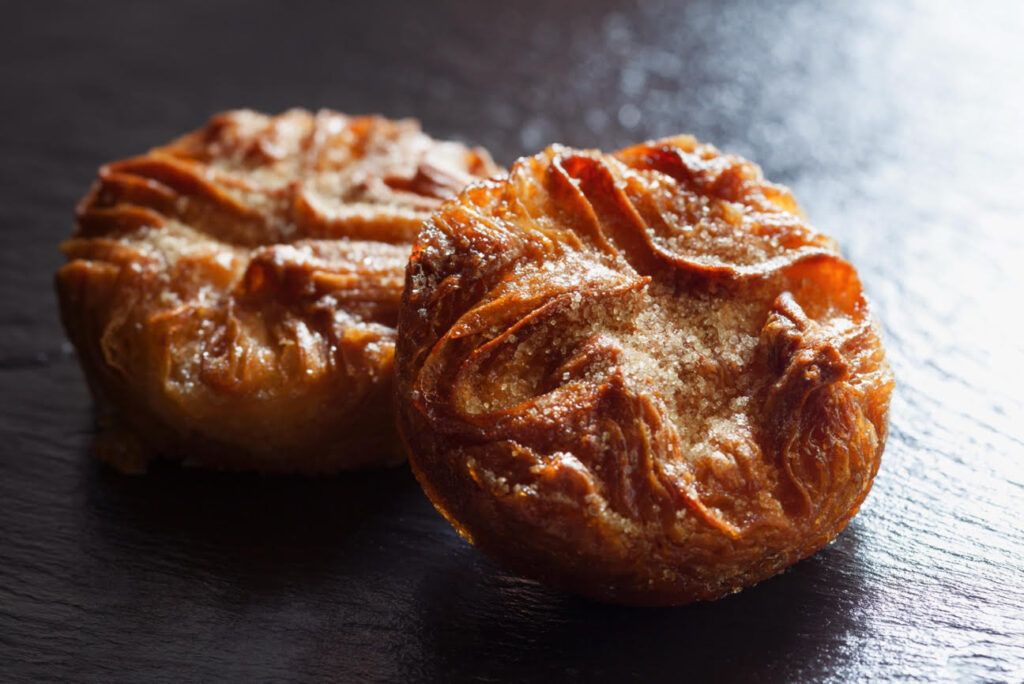 If you're a fan of flaky, buttery pastries, then you absolutely need to try the kouign amann (sometimes shortened to "KA"). This sweet Breton pastry has been dubbed "the fattiest pastry in all of Europe" by the New York Times.
History
Kouign amann (technically spelled kouign-amann, with a hyphen) originated in the Brittany region of France in the 1800s. The name is derived from the Breton words for "butter" (kouign) and "cake" (amann). It is traditionally eaten as a viennoiserie (breakfast pastry), but can be enjoyed as a snack or dessert as well. It was created as a way for bakers to use up extra dough and butter. The dough is rolled out and layered with butter and sugar, similar to the process of making croissants. However, unlike croissants, this flaky pastry is typically round and has a caramelized exterior.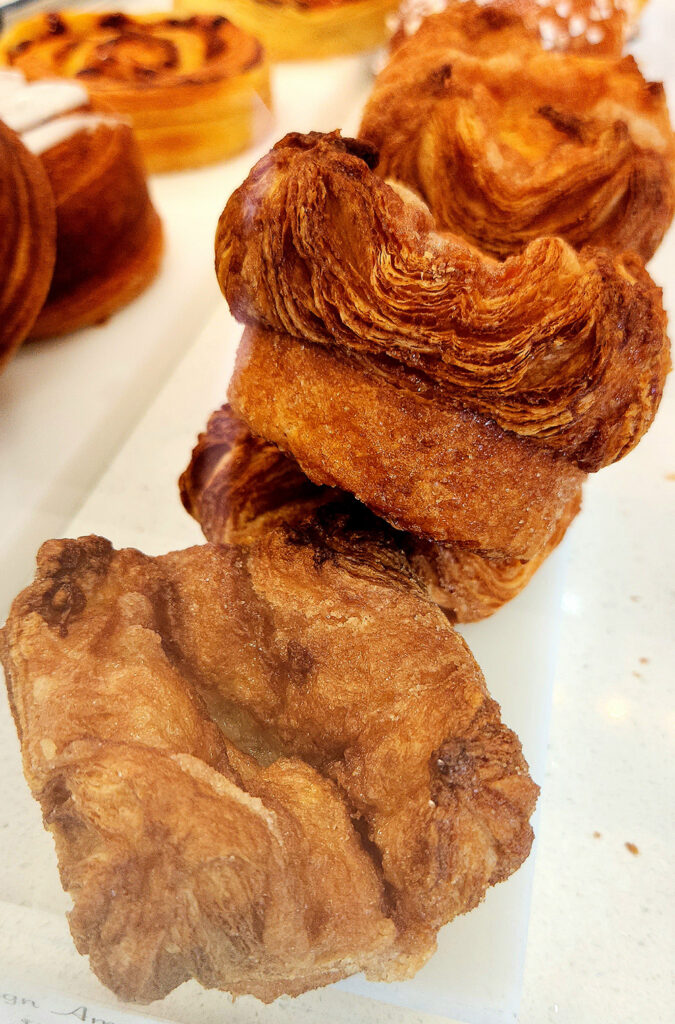 Kouign amann gained popularity in the United States in the early 2000s, thanks to bakeries like Dominique Ansel (where it is called the "DKA," short for Dominique's Kouign Amann). Today, you can find this sweet flaky pastry in bakeries all over the world.
How to pronounce it
Need some help pronouncing kouign amann? Although it is commonly incorrectly said as "queen a man," the correct pronunciation is "KWIN-yah-mahn" (rhymes with WIN-ha-gone). Another correct pronunciation is the slight variation "KOON-yah-mahn" (rhymes with MOON-ha-gone).
Still having trouble saying it? If so, listen to its proper pronunciation here.
Where to find the best kouign amann
If you're searching for the best place to get this mouthwatering pastry, you'll want to head to a bakery that specializes in French pastries. If you're actually in France, you'll want to head to the Brittany region to find the most authentic version. Some of the best quality bakeries include Boulangerie-Pâtisserie Guéguen in Douarnenez and La Feuilletée in Quimper.
For exact locations in the U.S. check out this interactive map:
How to make kouign amann
Making kouign amann is a very labor-intensive process that requires patience and precision. The dough is made from flour, water, yeast, and salt. It's then rolled out and layered with butter and sugar. The dough is folded over itself several times, creating multiple layers of butter and sugar within the pastry.
Once the dough has been folded and rolled, it's cut into rounds and baked. During the baking process, the butter and sugar melt and caramelize, creating a crispy, caramelized exterior. The interior of the pastry is soft and flaky, with layers of buttery goodness. Like making croissants, it takes a master to make this pastry perfectly.
Although it can be quite intimidating to make an authentic kouign-amann, here is a simplified recipe that you can try out for yourself.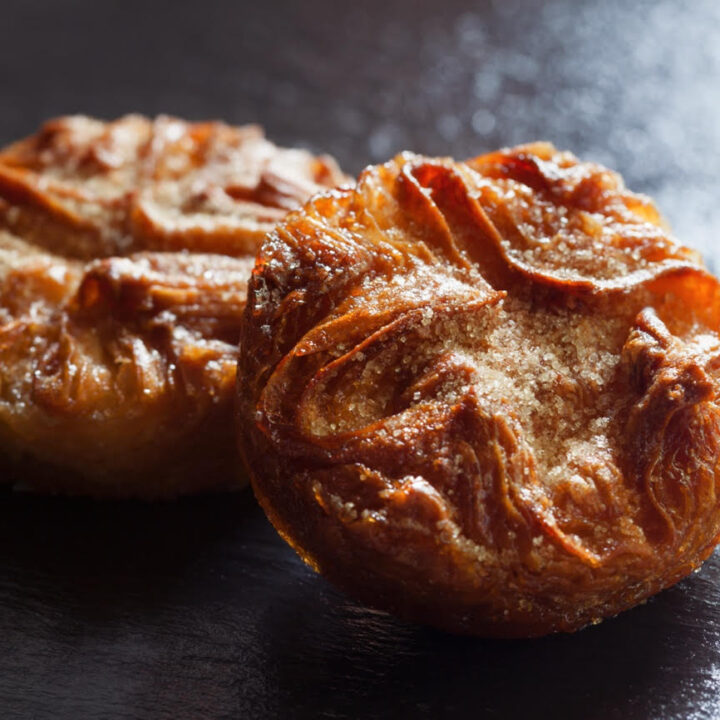 kouign amann
A traditional French pastry similar to a sweet croissant.
Ingredients
2 1/2 cups all-purpose flour
1 1/2 teaspoons active dry yeast
1/2 cup warm water
1/2 cup unsalted butter, softened
1/2 cup granulated sugar
1/2 teaspoon salt
Instructions
Start by dissolving the yeast in warm water in a small bowl. Leave it to rest for about 5 minutes.
In a large mixing bowl, combine the flour, salt, and softened butter. Mix until the butter is evenly distributed throughout the flour.
Add the yeast mixture to the flour mixture and stir until the ingredients are well combined, and a dough forms.
Transfer the dough onto a floured surface and knead for about 5-10 minutes until it becomes smooth and elastic.
Shape the dough into a ball and place it into a greased bowl. Cover with a clean towel and leave it in a warm place to rise for about an hour, or until it has doubled in size.
Preheat your oven to 375°F (190°C).
On a lightly floured surface, roll out the dough into a rectangle with a thickness of about 1/4 inch.
Evenly sprinkle the granulated sugar over the surface of the dough.
Fold the dough in thirds, similar to how you would fold a letter, and then fold it in thirds again to make a small square.
Roll out the dough again into a rectangle with a thickness of about 1/4 inch.
Cut the dough into 12 equal squares.
Take a muffin tin and grease it well. Place one square of dough into each cup.
Bake in the preheated oven for 25-30 minutes until they turn golden brown.
Once baked, remove them from the oven and allow them to cool for a few minutes before removing them from the muffin tin.
Serve warm and enjoy!
Notes
To make the texture extra crispy, sprinkle additional sugar on top of the Kouign-amann before baking.
Recommended Products
Glutto earns a tiny commission from qualifying Amazon purchases.
More French food posts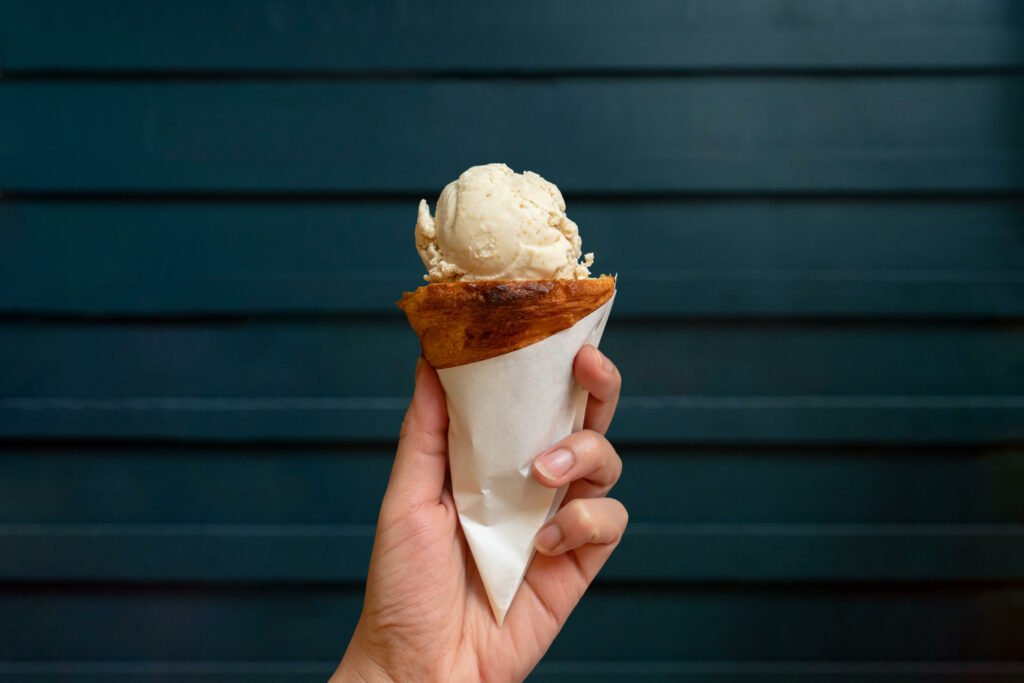 The ice crone (a.k.a. crone, croissant cone, ice cream croissant, croissant ice cream cone, or…