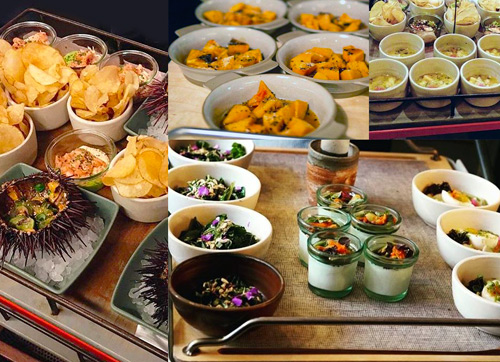 What are food cart restaurants?
Food cart restaurants are unique eating establishments that serve their food by using small push carts to serve their ready-to-eat foods directly to their guests.  These serving carts or trolleys come out of the kitchen filled with dozens of small plates of food and make their way to each table.
Think of it like a buffet, an endless array of food available in tapas-sized portions. But instead of walking up to the food at stationary stations, the food is delivered to you on push carts. Also, the cost is usually not all-you-can-eat, but per plate. Guests stay seated at their tables and simply point at whatever dishes they would like to eat. Then, those dishes are immediately placed on their table to be eaten.
There is virtually no time spent waiting for your food to be prepared (unless they run out of a specific dish and have to make more). Due to the instantaneous nature of this style of food service, some restaurants opt not to have full menus. This provides a more serendipitous feel. In either case, the kitchen is often provided more liberty to cook on a whim.
History of food carts / serving carts in restaurants
The origin of food cart dining service in restaurants is primarily attributed to Cantonese dim sum. Although cocktail carts have been around as early as the 1920s and airline catering carts have been used since the late 1960s, dim sum is truly the granddaddy of food cart restaurants due to its roaming food-specific nature.
Dim sum has technically existed for over 2,500 years. In the early 20th century, it was commonly served on trays. Since the 1970s, places that specialized in dim sum would regularly use carts—usually heated by steam or stacked with bamboo steam containers to keep the food warm. The ready-to-serve dishes were carted around to each table where the diners would select what they want to eat and instantly served thereafter.
As of the early 2010s, this dim sum-style service has been prevalently implemented in places serving various non-Chinese cuisines—frequently referred to as "American dim sum."  Some serving cart restaurants of yore like David Burke's Primehouse in Chicago and The Church Key in Los Angeles have come and gone, but not for their unique serving format.  Today, a fresh generation of food cart restaurants is pushing on.
Where can I find food cart restaurants?  
Restaurants that employ food cart service span across the country, primarily in large diverse cities.  Here are a handful of the most lauded restaurants to serve their guests "a la carte."
Los Angeles, CA:

189 by Dominique Ansel


—bloody mary cart & rotating tray-passed brunch service—
The Fancy Food Show is a biannual B2B event hosted by the Specialty Food Association…