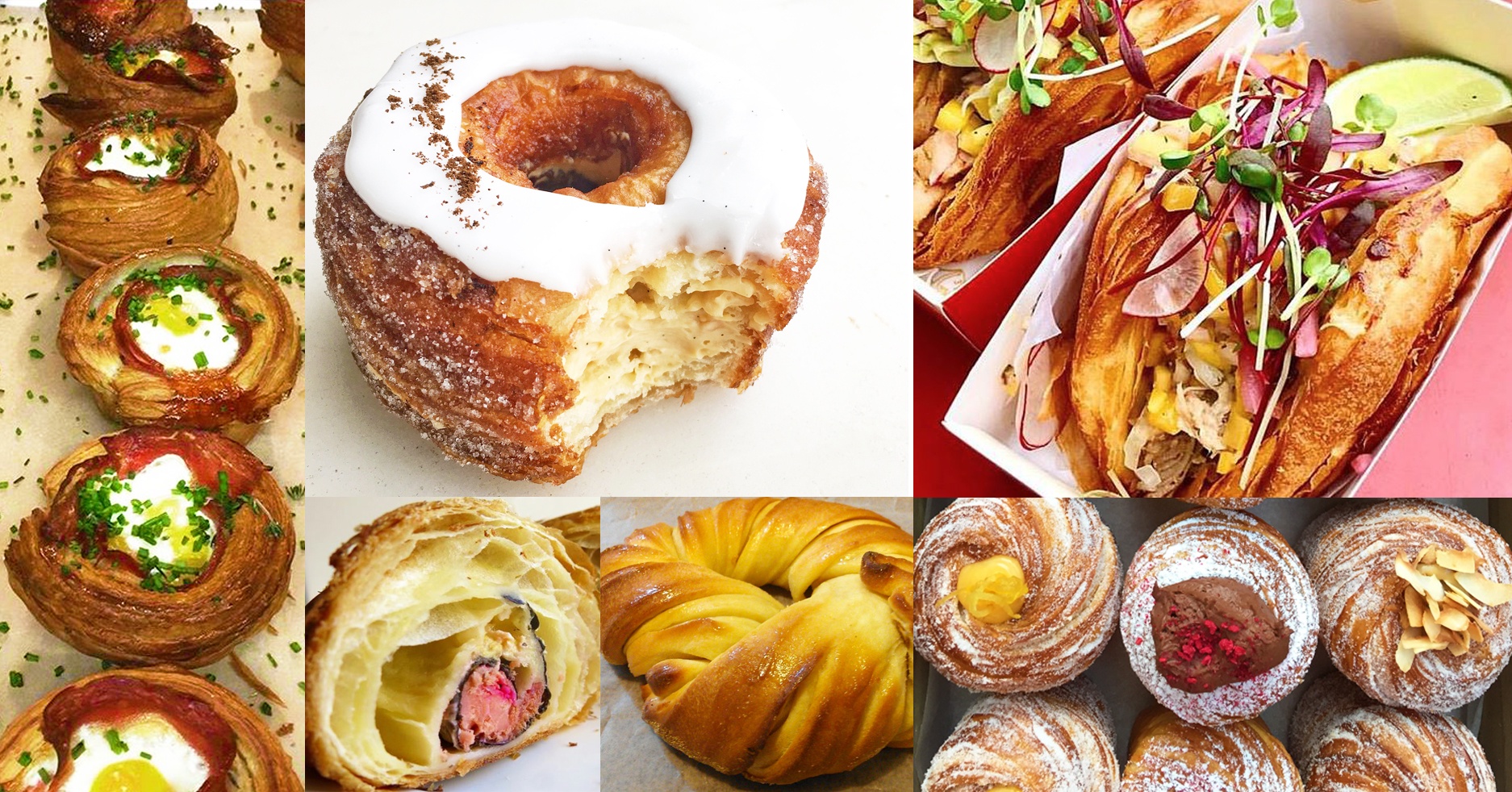 What are croissant hybrids? What's a tacro?? Croissushi???
Croissant hybrids (not to mention food hybrids in general) have been all the rage ever since 2013, when Dominique Ansel of Dominique Ansel Bakery sold his very first cronut, a croissant-doughnut hybrid. The cronut is the grandfather of modern food trends. As a legitimate artisan pastry, it takes three days to make and would sell out every single day at its flagship store in New York, especially due to of salivation-inducing images on social media like these…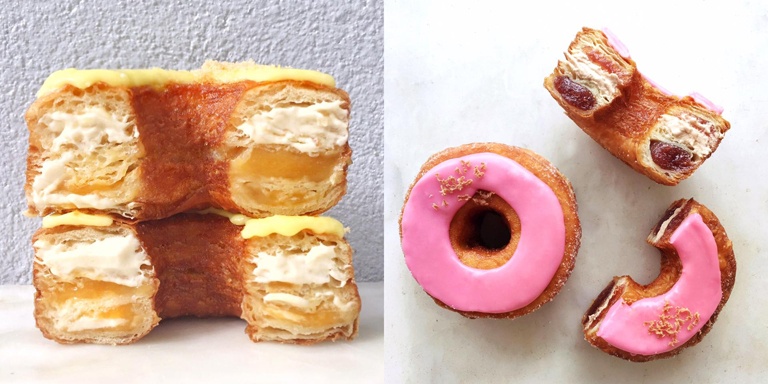 This trademarked food phenomenon has bred hundreds of copy-cats heralding names like the "doughssant" and "doissant"—even national chains like Dunkin' Donuts and Jack-in-the-Box briefly jumped in. It has also paved the way for other croissant hybrid variations over the years such as these:
tacro = taco + croissant
The tacro is the latest of all the croissant hybrids. It is a food hybrid made of taco meat fillings held in a taco shell-shaped croissant. It was invented in San Francisco at Vive la Tarte in January 2018.croissushi = croissant + sushi
Croissushi (a.k.a. croissant sushi or California croissant) is a rice-less sushi roll in a croissant. It was a viral food trend that was introduced in 2015, had its 15 minutes of fame in February 2017 and popped up again in late 2017/early 2018 thanks to those who hadn't heard about it the first time around.
crotilla = croissant + tortilla
Walmart started selling the crotilla, a croissant-tortilla mashup, in mid 2017. It briefly made headlines, but is relatively unknown.
crozel = croissant + pretzel
A crozel is croissant pretzel. Dunkin' Donuts attempted to jumpstart its version of the twisted carb in 2016 and later evolved into a bacon, egg and cheese breakfast sandwich.
cragel = croissant + bagel
The cragel (or crogel) is a combination of a croissant and a bagel. It was invented in New York in 2016.
cruffin = croissant + muffin
The cruffin is a croissant-muffin hybrid originally invented in Melborne, Australia in 2013, but was trademarked and popularized by Australian bakers in San Francisco in 2014.
ham and egg croissant = ham + egg + croissant
The ham and egg croissant is a lesser-known croissant mashup (technically not a hybrid) that momentarily hit the media back in 2014, but is arguably the most eye-catching variation of them all.
Where can I get them?
You can get these and all sorts of croissant hybrids in many avant-garde bakeries around the globe. However, if you want the most "authentic" eating experience, you may want to visit the places that invented these original croissant creations that have taken the food world by storm…
Berkeley, CA:

Fournée Bakery


—ham and egg croissant—
Los Angeles, CA:

Mr. Holmes' Bakehouse


—cruffin: croissant-muffin and croissushi: croissant-sushi (past item)—
New York, NY (Brooklyn):

The Bagel Store


—cragle: croissant-bagel—
croissant shapes
In the early 2020s, non-traditional croissant shapes went viral. These geometric and uniquely-shaped croissants include the:
spiral criossant (Supreme croissant)
square croissant (think Texas toast)
squiggle croissant
baguette croissants
mini cereal croissants
cardamom knots
More croissant posts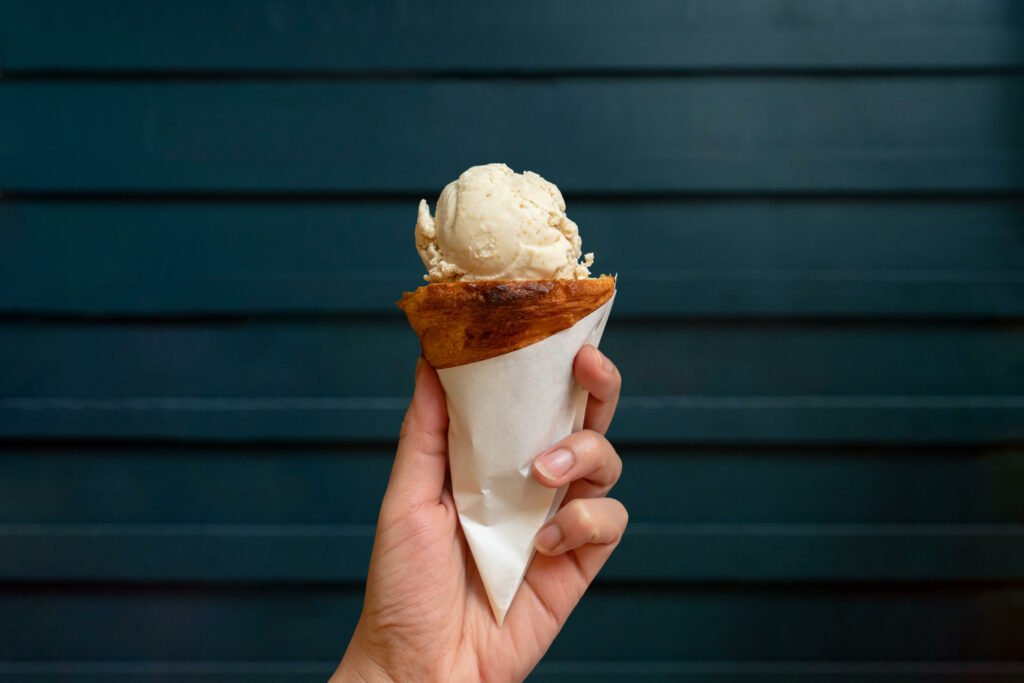 The ice crone (a.k.a. crone, croissant cone, ice cream croissant, croissant ice cream cone, or…