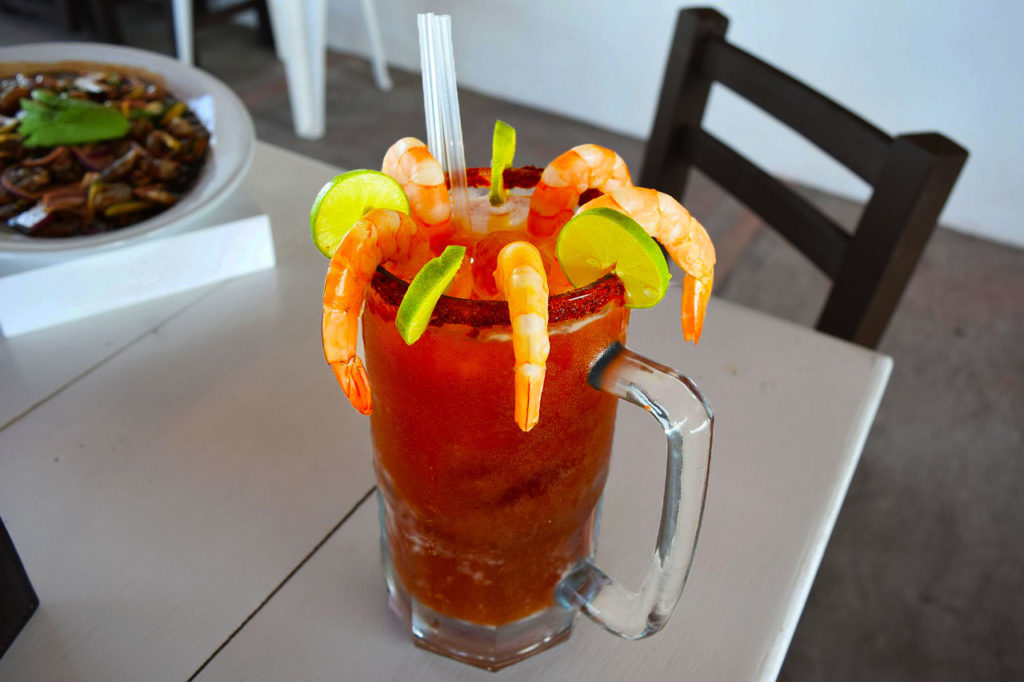 A Michelada is a spicy and savory Mexican beer-based cocktail traditionally mixed with lime juice, chili powder and salt. It also often includes tomato juice and various spices and sauces. It's served in a Tajin-rimmed or salt-rimmed glass garnished with a slice of lime.
Origin
Micheladas have been around since the mid 21st century. Common belief says that the name "Michelada" came from the saying mi chela helada, which means "my frosty beer" or "my ice-cold beer" in Spanish.
However, there is an alternate, more romanticized origin story. Club Deportivo in San Luis Potosi claims that it is the birthplace of the Michelada. Locals say that a member of the club, Michel Ésper, regularly ordered a beer with salt and lemon juice. By combining his name with the Spanish word for lemonade (Michel + limonada), "Michelada" was born.
What does a Michelada taste like?
Micheladas have a cool refreshing taste because it's served with ice-cold beer and has lime juice. It also has spicy and savory flavors due to the salt, sauces and chili peppers. It is often called a Mexican Bloody Mary because it is a spicy-savory drink that often has tomato juice.
Types of beer used for Micheladas
Micheladas are meant to be made with a light Mexican beer. These are some of the most popular beers used for this Mexican cocktail.
Tecate
Pacifico
Modelo Especial
Sol
Corona
Michelada vs. Chelada
A Chelada is a more simplified, non-spicy version of a Michelada. A Chelada only consists of ice-cold beer, lime juice and salt—no chili powder. It also tends to not have the over-the-top garnishes that Micheladas are occasionally served with.
Michelada vs. Bloody Mary
These drinks are similar because they are both alcoholic beverages with a spicy and savory flavor profile. Micheladas also commonly include some form of tomato juice like Bloody Marys. Both are also traditionally garnished with a slice of citrus (either lime or lemon). Additionally, both of these cocktails are highly customizable with many optional extravagant garnishes.
They are different because Micheladas are a beer-based beverage while Bloody Marys are vodka-based. Also, because Micheladas are used with a lighter type of alcohol, it is generally accepted as a more refreshing beverage that can be enjoyed on a warm sunny day. Bloody Marys a more often seen as a heavier, more savory drink. Furthermore, Micheladas are often served with the bottle or can of beer partially poured so you can add more alcohol as you see fit. This is an added level of customization that Bloody Marys don't usually have.
Are Micheladas healthy?
Because Micheladas have similar ingredients to Bloody Marys, they are also viewed as "hangover drinks." This means that people often drink them in an attempt to prevent a hangover. The version that contains tomato juice does provide a healthy dose of vitamin C. Also, using light beer instead of vodka gives it a lower alcohol content than Bloody Marys.
However, alcohol is a toxin and a global study had shown that any amount is not good for your health. (This is due to alcoholic beverages being known carcinogens which offset any health benefits.) But, if you are going to drink, make sure to so in moderation—even if it is just a light beer-based drink.
Where Can I get a Michelada?
You can go to most full bars (i.e., doesn't only serve beer and wine) and order a Michelada. Even if they don't know what it is, you can tell the bartender the ingredients (light beer on ice with lime, chili powder and salt) and they can make one for you. If you want to go to a place that specializes in Micheladas, check out this map for the closest Mexican cocktail bars to you.
How can I make a Michelada?
Micheladas are a simple drink to make, but, like Bloody Marys, they can become as complex and ostentatious as you like. Feel free to experiment by adding whatever savory flavors you like (perhaps some Mexican flavors from chamoy or Tajin) to the foundational ingredients.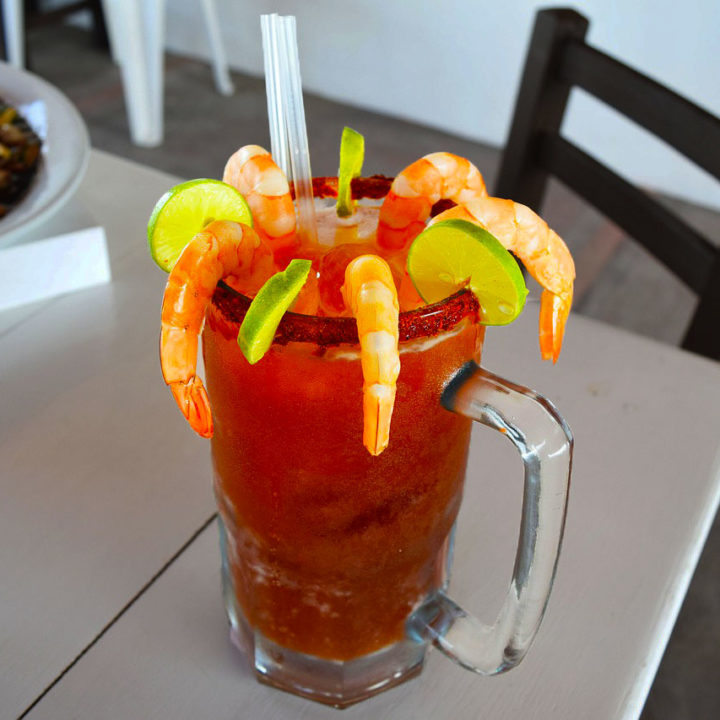 Michelada
Ingredients
1 dash Tajín (or a mix of chili powder and salt)
4 tablespoons lime juice (about 2 limes worth)
2-3 teaspoons Mexican hot sauce (e.g. Cholula, Tapatio or Valentina)
1 teaspoon Worcestershire Sauce
1 dash sea salt
12 ounces Mexican beer (e.g. Modelo Especial or Tecate - reduce to 6 oz if adding tomato juice)
6 ounces tomato juice (optional)
4-6 ice cubes
2-4 lime slices (to garnish)
2-4 cocktail shrimp (to garnish)
Instructions
Rim the glass with lime juice and Tajin. (This can be done quickly by rubbing the rim of the glass with a slice of lime, then turning the glass over a Tajin-covered plate to coat the rim.)
Gently mix the lime juice, hot sauce, Worcestershire Sauce, salt and ice in the glass without rubbing off the Tajin.
Top the glass off with beer and garnish with lime slices and shrimp. Enjoy!
Notes
Feel free to be creative with your garnishes. Garnish your drink with anything savory that you have on hand from Greek olives to a sliced grilled cheese sandwich!
Recommended Products
Glutto earns a tiny commission from qualifying Amazon purchases.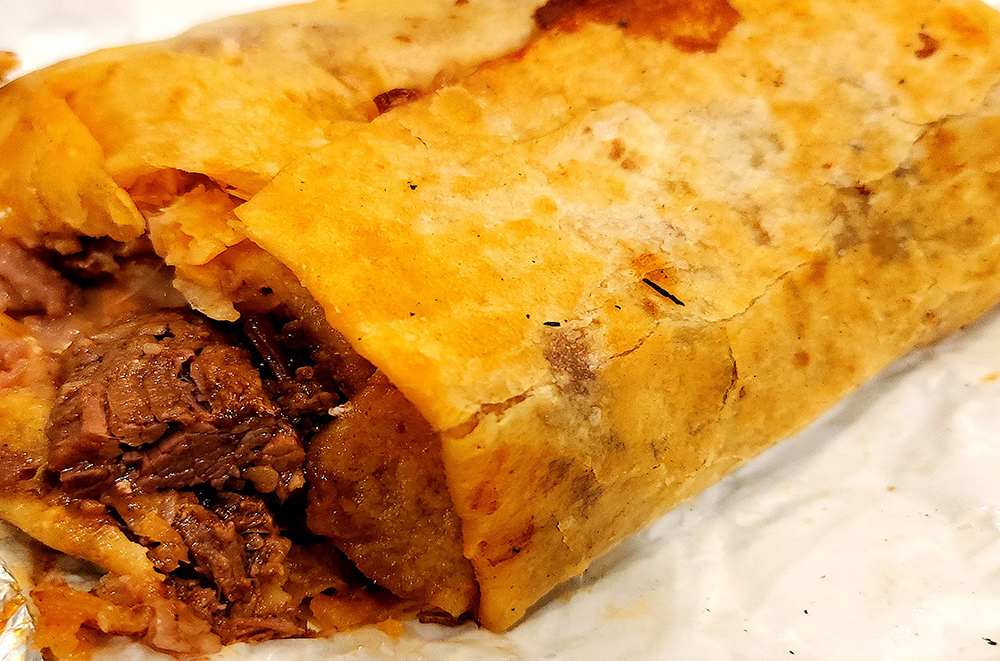 With the creation of the quesabirria and birria taco, the birria burrito. was inevitable. This…