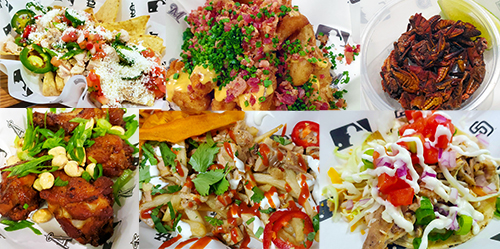 What are they? | Where can I get them?
What is MLB food?
Baseball is strong on tradition. Throughout the decades, the MLB (Major League Baseball) has done well in preserving old traditions—from the rules of the game to the food it serves. No other sport has specific foods so strongly embedded in its history as baseball and foods like hot dogs, peanuts and Cracker Jacks. (Know the song "Take Me Out to the Ballgame"? A couple of those foods are mentioned in the lyrics.) At the same time, the MLB recognizes that times are changing and there is always room for improvement. Today, the evolution of baseball food is more apparent than ever.
As "American as apple pie," baseball games used to have a basic offering of traditional American food. With the increasing diversity of the MLB players and fanbase, the foods offered at games has also become quite diverse. Each of the 30 teams now offer fans a taste of some of their best local cuisine…much of it influenced by international cuisines introduced by their city's immigrants. This includes Filipino sisig fries, Mexican elote nuggets and Oaxacan grasshoppers. Major League Baseball isn't saying goodbye to the classic American foods of yesteryear, but it is making plenty of room for all the unique and delicious foods their team's cities have to offer.
Where can I get them?
Obviously, you can get MLB foods at the ballparks where the MLB teams play. Remember that many of these foods are specific to each location, so don't just go to any one ballpark expecting to try every featured food across the league. If you have the time and resources, it's definitely worth traveling to each place to get the absolute full experience. However, not everyone has the luxury to do so. The most efficient way to try foods from every team is to attend the MLB Foodfest.
The MLB Foodfest is an annual food festival organized by the MLB.  The 1st MLB Foodfest began in 2018 in New York City.  Now, it is held in multiple cities including LA, New York and London.  It showcases unique foods served at each of the 30 ballparks where the MLB teams play.  It also features a few international cuisines where international games are played.  Make sure to check the MLB Foodfest website for upcoming schedules and details.
Here's a quick sampling of the many specialty foods you can find at each ballpark across the league…
American League Ballpark Foods
AL East
Baltimore Orioles – Oriole Park at Camden Yards (Baltimore, MD)
Chesapeake Waffle Fries
Boston Red Sox – Fenway Park (Boston, MA)
Hot Lobster Roll
New York Yankees – Yankee Stadium (New York, NY)
NYY Steak Sandwich
Tampa Bay Rays – Tropicana Field (St. Petersburg, FL)
Beer Braised Short Rib Grilled Cheese Sandwich
Toronto Blue Jays – Rogers Centre (Toronto, ON)
BBQ Watermelon Pulled Pork Sandwich
AL Central
Chicago White Sox – Guaranteed Rate Field (Chicago, IL)
Elote Nuggets
Cleveland Indians – Progressive Field (Cleveland, OH)
Fat Rooster
Detroit Tigers – Comerica Park (Detroit, MI)
Bahn Mi
Kansas City Royals – Kauffman Stadium (Kansas City, MO)
BBQ Burger
Minnesota Twins – Target Field (Minneapolis, MN)
Tony O's Cuban Sandwich
AL West
Houston Astros – Minute Maid Park (Houston, TX)
Frito Pie Corndog
LA Angels – Angel Stadium (Anaheim, CA)
Kung Pao Chicken Drumstick
Oakland A's – Oakland–Alameda County Coliseum (Oakland, CA)
Brisket Nachos
Seattle Mariners – T-Mobile Park (Seattle, WA)
Toasted Grasshoppers
Texas Rangers – Globe Life Park (Arlington, TX)
Dilly Dog (corn dog with Angus beef hot dog in a dill pickle)
National League Ballpark Foods
NL East
Atlanta Braves – SunTrust Park (Atlanta, GA)
Dagwood Grilled Cheese
Miami Marlins – Marlins Park (Miami, FL)
Chicken & Bubble Waffle
New York Mets – Citi Field (New York, NY)
New York Deli Pastrami Sandwich
Philadelphia Phillies – Citizens Bank Park (Philadelphia, PA)
Philly Cheesesteak
Washington Nationals – Nationals Park (Washington D.C.)
Original Half Smoke – "All The Way"
NL Central
Chicago Cubs – Wrigley Field (Chicago, IL)
Chicago Dog
Cincinnati Reds – Great American Ball Park (Cincinnati, OH)
'Cincinnati Hot' Pork Schnitzel
Milwaukee Brewers – Miller Park (Milwaukee, WI)
Wisconsin Ultimate Cheese Fry
Pittsburgh Pirates – PNC Park (Pittsburgh, PA)
Pulled Pork Pierogie Hoagie
St. Louis Cardinals – Busch Stadium (St. Louis, MO)
Four Hands Nachos
NL West
Arizona Diamondbacks – Chase Field (Phoenix, AZ)
Churro Dog
Colorado Rockies – Coors Field (Denver, CO)
Rocky Mountain Oysters
LA Dodgers – Dodger Stadium (Los Angeles, CA)
Sisig Fries
San Diego Padres – Petco Park (San Diego, CA)
Mahi Mahi Taco
San Francisco Giants – Oracle Park (San Francisco, CA)
Cha Cha Bowl
International Ballparks
In addition to their 30 teams, the MLB occasionally plays international games. These are some featured foods available overseas.
Mexico
Sultanes De Monterrey "Monster Dog"
Japan
Japanese Curry
London
Fish and Chips with Mushy Peas
The Fancy Food Show is a biannual B2B event hosted by the Specialty Food Association…
The Fancy Food Show is a biannual B2B event hosted by the Specialty Food Association…
What foods are served? | Where are they located? What is a night market? A night market…
What are some interesting fair foods? | Where can I get them? What first comes to…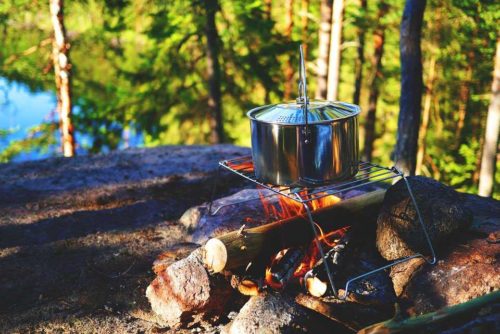 What Are Good Foods For Camping? | How Can I Make Them? The fresh air. The…