This Mexican-inspired dish has taken the food world by storm, and for good reason. Quesabirria is a delicious blend of savory and spicy flavors that is sure to satisfy your taste buds.
Brief history
Quesabirria is a relatively new dish that has gained popularity in recent years. It originated in Tijuana, Mexico, and has since spread across the United States, especially in cities with large Mexican populations like Los Angeles and Chicago.
The dish is a variation of birria, a traditional Mexican stew typically made with goat or beef meat. Quesabirria takes this classic dish to the next level by adding a generous amount of melted cheese to the mix. The result is a delicious, savory, and indulgent flavor that is truly unique.
What is the difference between quesabirria and birria tacos?
The main difference between quesabirria and a birria taco lies in the presentation and preparation method:
Quesabirria: This combines the flavors of birria with the concept of a quesadilla. It typically consists of tender birria meat, often beef or goat, that is shredded or chopped and placed inside a tortilla along with cheese. The tortilla is then griddled until crispy, allowing the cheese to melt and bind the filling together. It is often served with a side of flavorful consommé, which can be used for dipping.
Birria Taco: A birria taco, on the other hand, is a more traditional preparation of birria. It involves using soft tortillas, typically corn tortillas, that are filled with the tender birria meat, along with other traditional taco toppings. The meat is often shredded or chopped and placed on the tortilla, and it can be accompanied by onions, cilantro, lime juice, and other condiments or toppings of choice. Birria tacos are commonly served with consommé on the side for dipping or as a broth to pour over the tacos.
Where to Find the Best Quesabirria
While making quesabirria at home is always an option, sometimes you just want to indulge in someone else's culinary skills. Luckily, it's becoming increasingly popular in Mexican restaurants and food trucks across the United States.
If you're looking for the best quesabirria in your area, start by checking out local Mexican restaurants and food trucks. Many establishments will offer quesabirria as a special, so be sure to ask your server if it's available. You can also look for food festivals or events that feature Mexican cuisine, as these often have a variety of quesabirria options to choose from.
Additionally here is an interactive map where you can find this meaty, cheesy dish near you!
How to Make Quesabirria
Making quesabirria at home is actually quite easy. Here's a step-by-step guide on how to do it:
quesabirria
Mexican quesadillas filled with flavorful birria.
Ingredients
1 pound beef chuck roast
1 tablespoon vegetable oil
1 tablespoon ground cumin
1 tablespoon dried oregano
1 tablespoon chili powder
1 teaspoon salt
4 cups beef broth
8 corn tortillas
2 cups shredded cheese (such as Oaxaca or Monterey Jack)
Chopped onion and cilantro, for serving
Lime wedges, for serving
Instructions
Preheat your oven to 325°F.
Heat the vegetable oil in a large oven-safe Dutch oven over medium-high heat.
Rub the beef with the cumin, oregano, chili powder, and salt.
Sear the beef in the Dutch oven until browned on all sides, about 5 minutes.
Add the beef broth to the Dutch oven and bring to a simmer.
Cover the Dutch oven and place it in the preheated oven.
Cook the beef until tender and falling apart, about 3-4 hours.
Remove the beef from the Dutch oven and shred it with a fork.
Heat a large skillet over medium-high heat.
Take a corn tortilla and add a generous amount of shredded cheese to one half of the tortilla.
Add a portion of the shredded beef on top of the cheese.
Fold the other half of the tortilla over the filling, creating a half-moon shape.
Cook the quesabirria in the skillet until the cheese is melted and the tortilla is crispy on both sides, about 2-3 minutes per side.
Repeat with the remaining tortillas and filling.
Serve the quesabirria hot with chopped onion, cilantro, and lime wedges on the side.
Notes
Feel free to substitute beef for chicken or your desired meat.
More Mexican food posts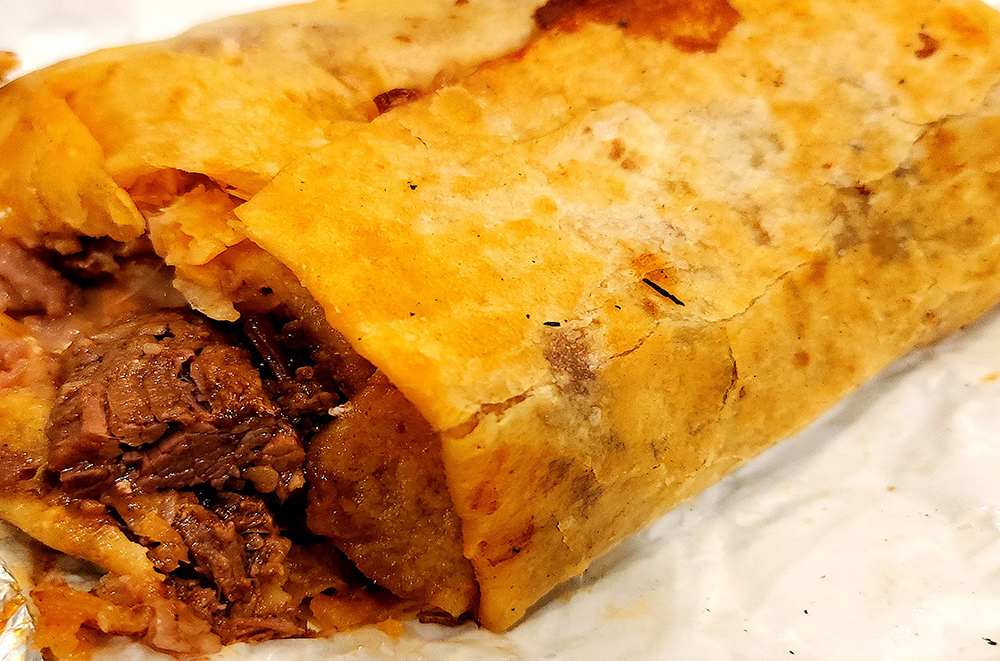 With the creation of the quesabirria and birria taco, the birria burrito. was inevitable. This…