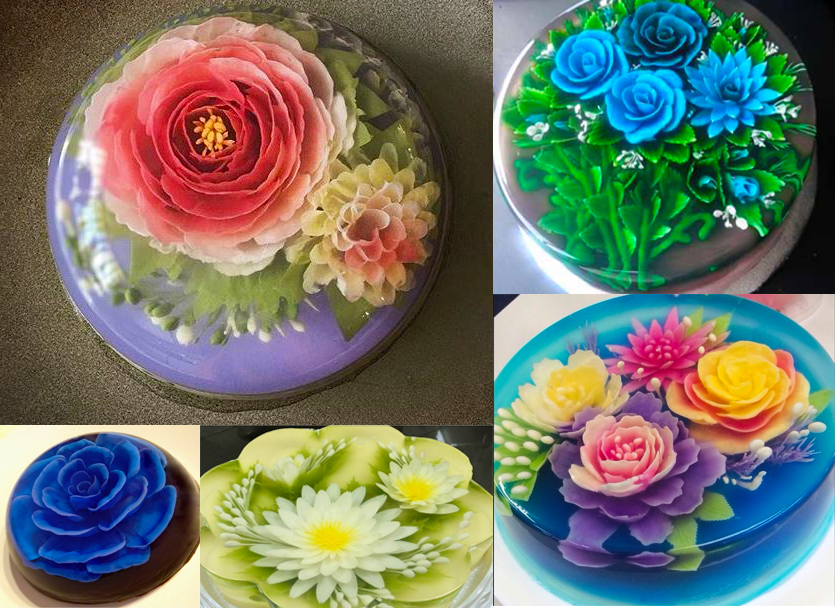 What is gelatin art?
Gelatin art (a.k.a. jelly art, jello art, 3D gelatin cakes, or 3D gelatin dessert) is edible art composed of three-dimensional artistic designs suspended inside sweetened gelatin.  The gelatin (a.k.a. agar, agar-agar, or jello…technically "Jell-O") is clear or translucent so that the embedded art inside is highly visible. 
The designs are most commonly displayed in the form of "gelatin flower cakes" since the tools available are primarily floral shaped for creating different types of flowers and leaves.  These are not to be confused with Havaro, which are Japanese gelatin desserts with real flowers floating inside.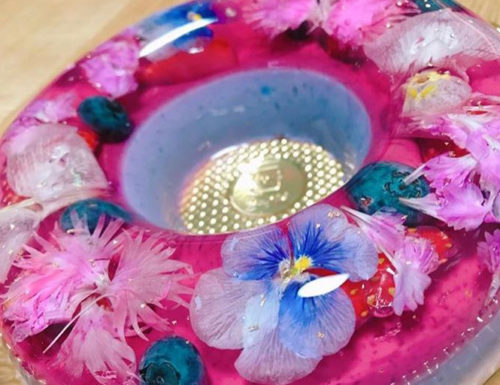 Although most 3D gelatin art displays are floral, some gelatin artists provide desserts that cover a wide range of holidays. Gelatin cake designs can include sculpted babies for baby showers, beer bottles for Father's Day and even Disney characters for kids' birthday parties.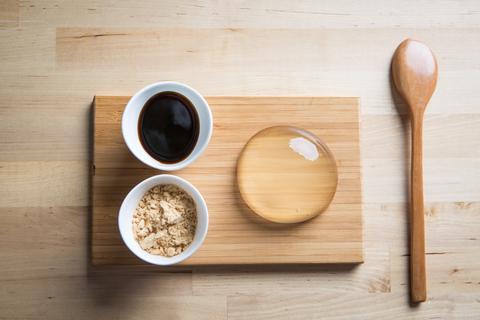 A form of gelatin cake is a raindrop cake, which is gelatin shaped into a giant raindrop sitting on a surface.  However, raindrop cakes are not typically decorated on the inside and are covered with flavorings like syrup and kinako powder instead.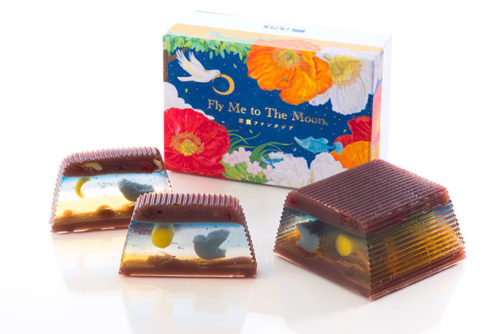 A next-level version of gelatin art is Japanese story gelatin. This type of jello art tells a story by displaying different scenes as you cut slices into it. For example, the Japanese storytelling jelly "Fly Me to the Moon" tells a story of a little blue bird flapping its wings towards a crescent moon during the day, which turns into a full moon at night.
What does gelatin art taste like?
The taste of this artistic dessert depends on the type of flavorings used in the gelatin. Generally, it tastes sweet and fruity, with a texture that is soft and slightly chewy. Some gelatin artists also incorporate fruits or other edible decorations into their designs, which can add additional flavors and textures to the dessert.
It's worth noting that the primary focus is on the visual appeal of the dessert, with taste being a secondary consideration. While it can be enjoyable to eat, the main highlight of this dish is on the intricate and beautiful designs that can be created with this unique art form.
Where did gelatin art come from?
One of the earliest iterations of this dish is aspic, a dish made of savory ingredients suspended inside meat stock gelatin. It was created in 14th century and became popular around the 1950's and 60's. Its primary purpose was to help keep cooked meats fresh.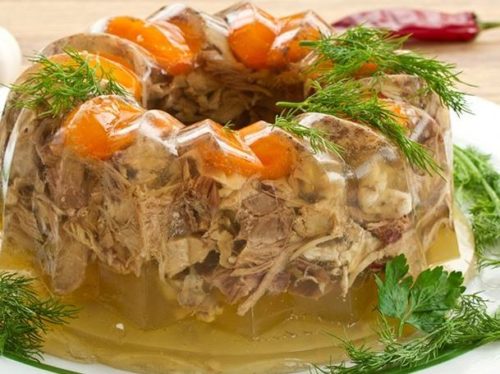 a pork jelly aspic from the Balkans
In the 1960's Jell-O salad (a.k.a. gelatin salads, molded salads, or congealed salad) became widespread. These jelly salads were simply made with flavored Jell-O and ingredients like sliced fruit, marshmallows, nuts, and/or cream cheese. These dessert salads were popular for potlucks due to its simplicity and inexpensiveness.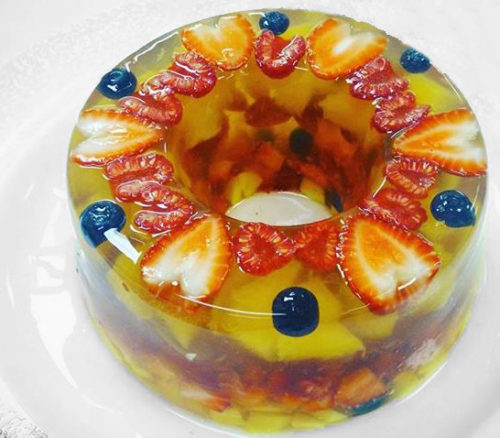 The popularity of aspic and Jell-O salads in the mid 20th century died down over the following decades. New techniques of jelly art were created in Southeast Asia, particularly in countries like Vietnam, Thailand, and Indonesia. The art form is believed to have started in the 1990s and has since spread to other parts of the world.
One of the earliest forms of gelatin art is known as "agar-agar art," which originated in Indonesia. Agar-agar is a type of gelatin made from seaweed that is commonly used in Asian cuisine. In agar-agar art, colored agar-agar is used to create intricate designs that are often shaped like flowers or other natural objects.
In the 2000s, this form of edible art became popular in Vietnam, where it was called "thach rau cau." Gelatin artists in Vietnam developed new techniques for creating more intricate and detailed designs, such as using specialized tools to inject different colors of gelatin into a mold.
Gelatin art then spread to other countries, such as Malaysia, Singapore, and China, where it continued to evolve and become more popular. Today, gelatin art is a popular dessert in many parts of the world, and has even been featured on cooking shows and in culinary competitions.
Where can I get gelatin art?
You can commonly find this dessert at small gelatin dessert shops and through independent gelatin artists. Here are a few shops with some of the most talented gelatin artists around. As the status of locations constantly change, please verify that the location you are interested in is open for business.
Los Angeles, CA (Rosemead):

Dolci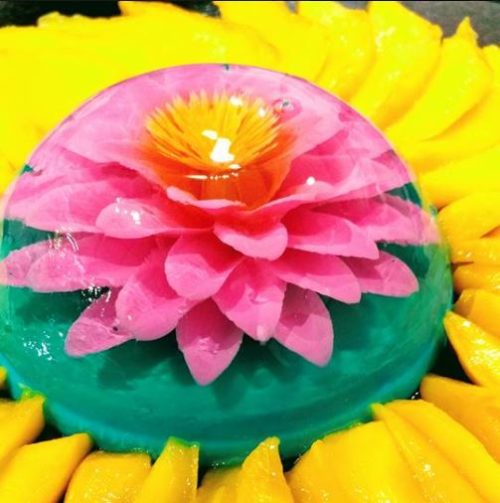 Newark, NJ (Bound Brook):

Go Gelatin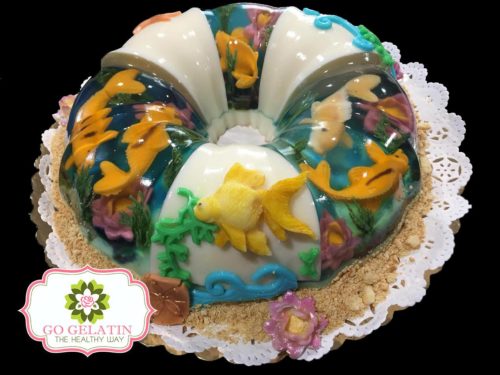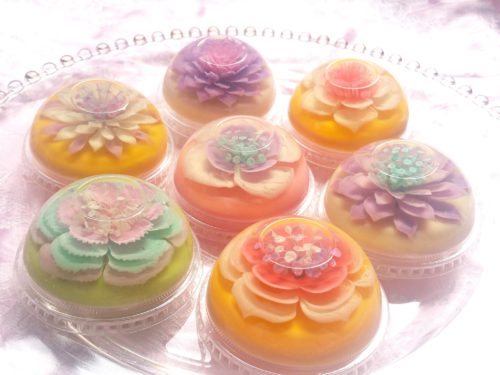 How can I make it?
Making gelatin art is not as complex as it may seem, as long as you have the right tools and guidance.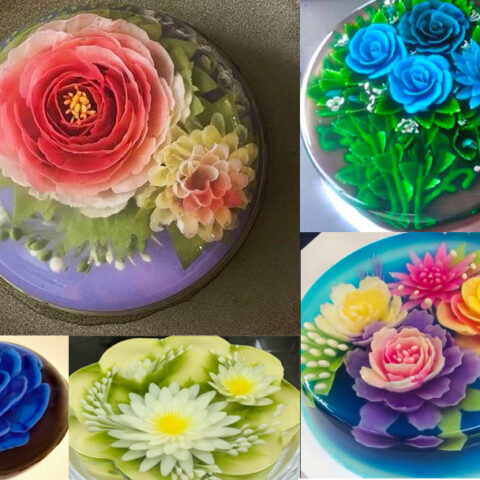 gelatin art
Ingredients
jelly powder
water (per instructions)
Instructions
Make the gelatin in the mold according to the directions on the jelly powder package.
With the small melon baller or spoon, scoop out a small area in the bottom center of the gelatin (see video below).
Fill the syringe with food coloring and repeatedly insert it from the bottom center of the gelatin to make your designs. Use different colors to create the desired effect. Watch videos like the one below to see the proper technique.
Fill the bottom with another layer of gelatin (also according to the package).
Flip the gelatin upside down and release from the mold onto a plate. Enjoy!
More dessert posts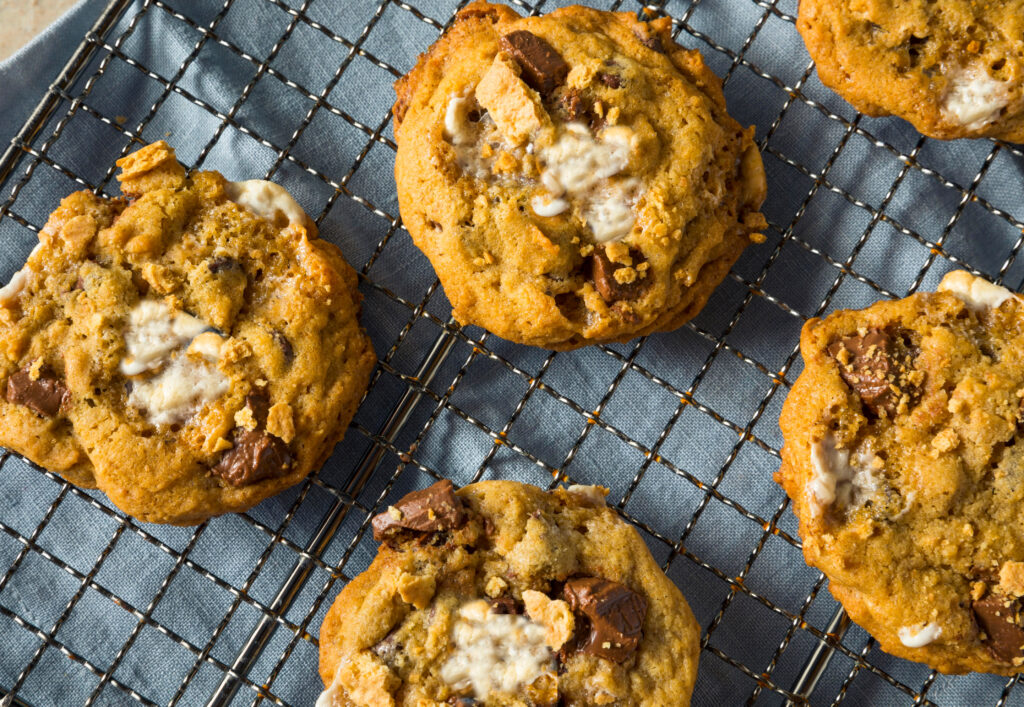 With comfort foods still going strong, s'mores cookies bring the essence of a crackling campfire…