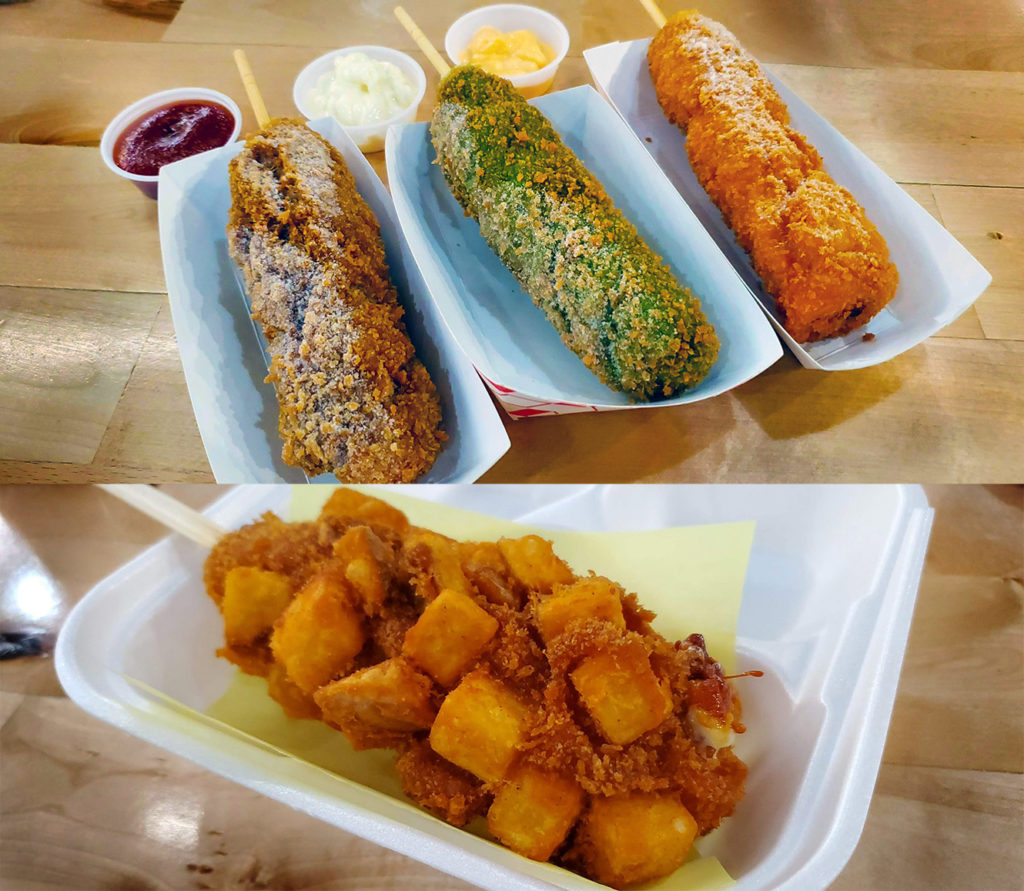 Where Can I Get it? | How Can I Make It?
What are Korean hot dogs?
Korean hot dogs (or Korean corn dogs) are a variation of the traditional corn dog covered with different crispy toppings such as panko bread crumbs, fried potatoes or ramen. These toppings are either savory (left plain or infused with squid ink, green tea, etc.) or sweet (sprinkled with sugar or infused with sweet flavors like blueberry).
Vegetarian options typically replace the hot dog with mozzarella cheese or rice cake.
The Kogo, a french fry encrusted corn dog, is an especially popular variation among Westerners because, well…hot dogs and french fries.
The batter used in Korean hot dogs is typically a glutinous rice flour, but the process is pretty much the same as making any other corn dog: dip a skewered hot dog in the batter, add toppings, then deep fry it.
Korean hot dogs have been a South Korean street food staple since the early 2010s.  Prior to that, what was known as "Korean hot dogs" were traditional hot dogs in a bun topped with kimchi or bulgogi.  This more recent corn dog version has only been seen outside of Korea in countries like Japan, Canada and the US since the mid 2010s.  
Where can I get it?
Korean hot dogs can be found in areas that are popular for Korean cuisine. Koreatown in LA has multiple eateries that serve different variations of Korean hot dogs.
Have a hankering for some well-dressed corn dogs? Here are several locations throughout the US where you can try this carnival-esque food.
nationwide locations (Atlanta, GA; Dallas, TX; Los Angeles, CA; etc.):
Myungrang Hot Dog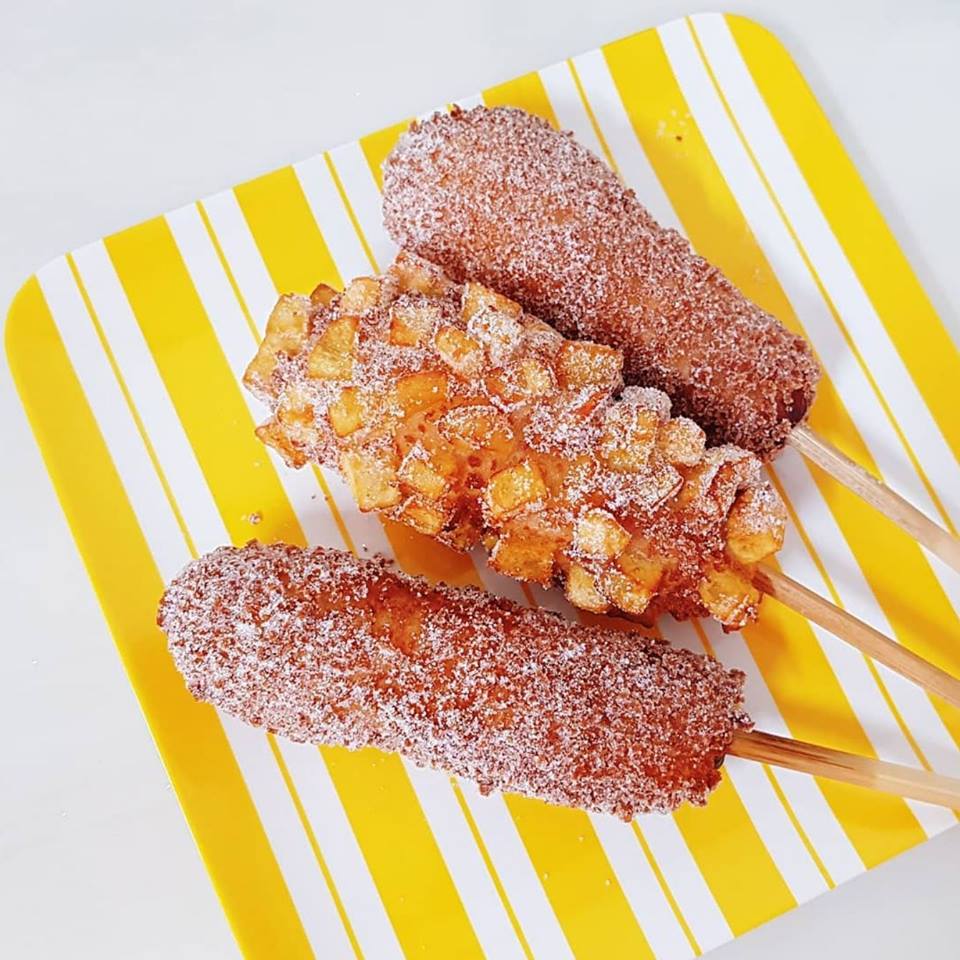 ?: Myungrang Hot Dog on Facebook
Los Angeles, CA:
Kosteat
?: Kosteat on Facebook
nationwide locations (Los Angeles, CA;New Jersey; Seattle, WA; etc.):
Chungchun Rice Corn Dog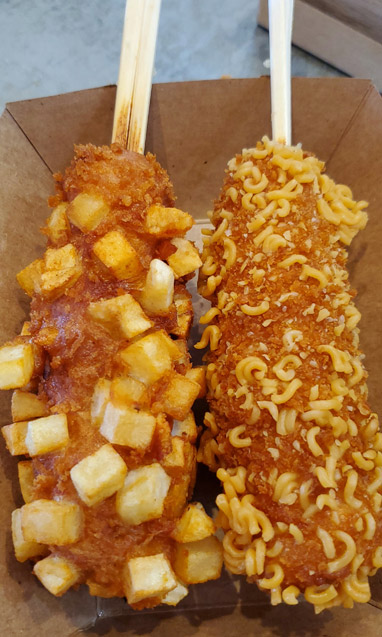 ?: Team Glutto
San Diego, CA:
Cham Hot Dog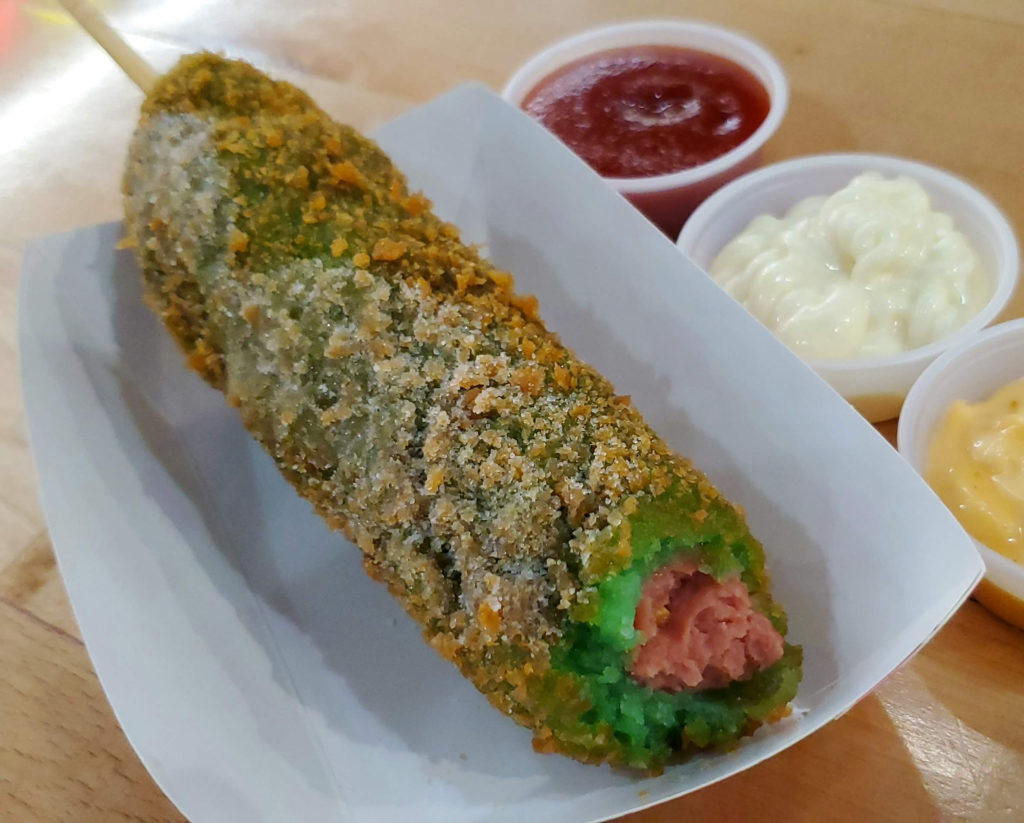 ?: Team Glutto
How can I make it?
You can make Korean hot dogs pretty easily…within half an hour tops, including prep. The toughest part, as with deep frying anything, is not getting any hot oil on yourself. 😛 So, we've provided a safer, healthier air-fried recipe as well as a traditional deep fried recipe (both which are easily modifiable) to make a Korean corn dog that fits your tastes.
Special Tools
Ingredients
4 hot dogs (e.g. beef, chicken, veggie, etc.)
1 cup panko bread crumbs
for airfryer – non-stick oil spray
for pot – vegetable oil (enough to dip hot dogs in pot for frying)
condiments (as desired: ketchup, mustard, sriracha, mayo, etc.)
batter:
1/2 cup flour
1 teaspoon baking powder
1/4 teaspoon salt
1 teaspoon sugar
1 small or medium egg
1/2 cup milk (or milk alternative: soy, almond, oat, etc.)
Directions
First, mix the flour, baking powder, salt and sugar in a bowl.
Then, whisk the egg with the flour mixture until fully incorporated into an even batter.
Chill batter in refrigerator.
Skewer each hot dog with a chopstick/thick skewer.
Spray air fryer with oil and turn on to 400°F, or heat oil in a pot to 375°F.
Dip the skewered hot dogs into the chilled batter until fully coated.
Completely cover the batter with panko bread crumbs.
Slowly put 1-2 hot dogs in the air fryer at a time and air fry until golden brown (approximately 5 mins, then turn hot dogs over and fry another 5 mins). Or, carefully fully submerge 1-2 hot dogs in the pot at a time until golden brown (approx 5 mins). Repeat with remaining hot dogs.
Place cooked hot dogs on paper towel-lined plate and sprinkle with sugar (as desired).
Serve with condiments (ketchup, mustard, sriracha, mayo, etc.)
Enjoy!