Aguas frescas are sweet non-alcoholic Mexican beverages. Its literal translation is "fresh waters," which describes its refreshing, thirst-quenching nature. These water-based drinks are usually fruit-infused, but they are more than just infused water. Rather than having just a hint, they are packed with flavor. Besides fresh fruits, they are also mixed with sugar and hibiscus flowers, jicaro seeds or rice. They are most often displayed in clear large jugs in a variety of vibrant colors.
These drinks are often served with Mexican cuisine, but they can complement any spicy or savory dishes well due to their refreshing nature. This also makes them ideal for washing down snacks on a hot day.
Where were they invented?
Curious to know how this sweetened flavored water was invented? According to Aztecan legend, in the 15th century, the Aztecs would go travel from their farmlands and through the lakes to Tenochtitlan. During their journeys, they foraged for fruits and other plants. The edible fruits, seeds and flowers they collected were mixed with ice from the nearby mountains formed by the dormant volcanoes of Iztaccíhuatl and Popocatépetl. This became a staple drink of the Aztec people.
As the centuries passed, these flavored drinks became common in households in Mexico and Guatemala. In the mid 20th century, street vendors in the US began selling aguas frescas with antojitos (Mexican snacks) like paletas, elotes, and more recently, Tostilocos.
Aguas frescas have become popular throughout Mexico, regions of the US with large Hispanic populations and Latin American countries. Nicaragua and Honduras simply call these drinks refrescos or, more commonly, frescos for short. They are often served at large gatherings and outdoor markets.
Are aguas frescas healthy?
They are generally healthier than sodas and many other store-bought drinks because they are often made fresh and contain fresh fruits which are a great source of vitamins. However, they may include added sugar, so it's important to drink them in moderation.
What aguas frescas flavors are the most popular?
There are many popular flavors of these water-based drinks. These are some of the flavors you will often find:
strawberry
cantaloupe
honeydew
lemon
lime
mango
papaya
pineapple
watermelon
tamarindo
horchata (made with jicaro seeds or rice; pronounced or-CHA-ta)
jamaica (made with hibiscus flowers; pronounced ha-MY-ka)
Fruits and other flavors are also often combined to create unique refreshing blends. Some of the best flavor combinations include:
apple and lychee
strawberry and kiwi
strawberry and horchata
pineapple and strawberry
papaya and lime
cucumber and lime
cucumber and watermelon
watermelon and lime
watermelon and mint
Aguas Frescas vs. Raspados
What is the difference between aguas frescas and raspados? Because they are both refreshing and come in similar flavors, people can sometimes get them confused. However, they are two are completely different items. While aguas frescas are beverages, raspados are flavored shaved ice and are viewed more of as a sweet treat or dessert than a drink.
Where can I get these drinks?
You can find aguas frescas at many Mexican food stands, fruterias and eateries. Most authentic Mexican taco shops will sell at least horchata and/or jamaica. Make sure to use this map to find them near you.
How can I make aguas frescas?
Whether you're hosting a large fiesta or just a small Mexican dinner, aguas frescas are a great way to quench the thirst of your guests, especially for those who don't drink alcohol. Some common questions you may have about making them include
How long do they stay fresh?
Aguas Frescas can last up to one week when refrigerated. However, they are best consumed fresh, within 1-2 days of preparation.
Can I use artificial sweeteners?
Yes, you can substitute sugar with artificial sweeteners. However, this may alter the taste.
Can I use frozen fruit?
Yes, you can use frozen fruit to make aguas frescas. It's a good way to enjoy out-of-season fruits. Simply remember to adjust the amount of ice you use.
Can they be made with any fruit?
Yes, you can use practically any fruit to make aguas frescas. While most popular flavors are listed above, you can experiment with your favorite fruits.
Here's a highly customizable recipe that you can use to make aguas frescas that you and your guests will love.
Aguas Frescas
Ingredients
1 cup fresh fruit (e.g. apples, cantaloupe, lychees, mangoes, papayas, strawberries watermelon, etc.)
2 cups filtered water
3 tablespoons sweetener (maple syrup, monkfruit, sugar, etc.)
1 cup ice cubes
Instructions
Remove any peel or seeds from the fruit.
Blend the fruit, water and sweetener until completely smooth.
Pour mixture in large carafe or pitcher and ice & water. Feel free to add more water to thin out the mixture. Mix through with large spoon.
Pour in glasses and enjoy!
Notes
This is good for about 2-4 servings. For larger parties, double or triple the recipe, or repeat the recipe with different flavors for some variety.
More Mexican food posts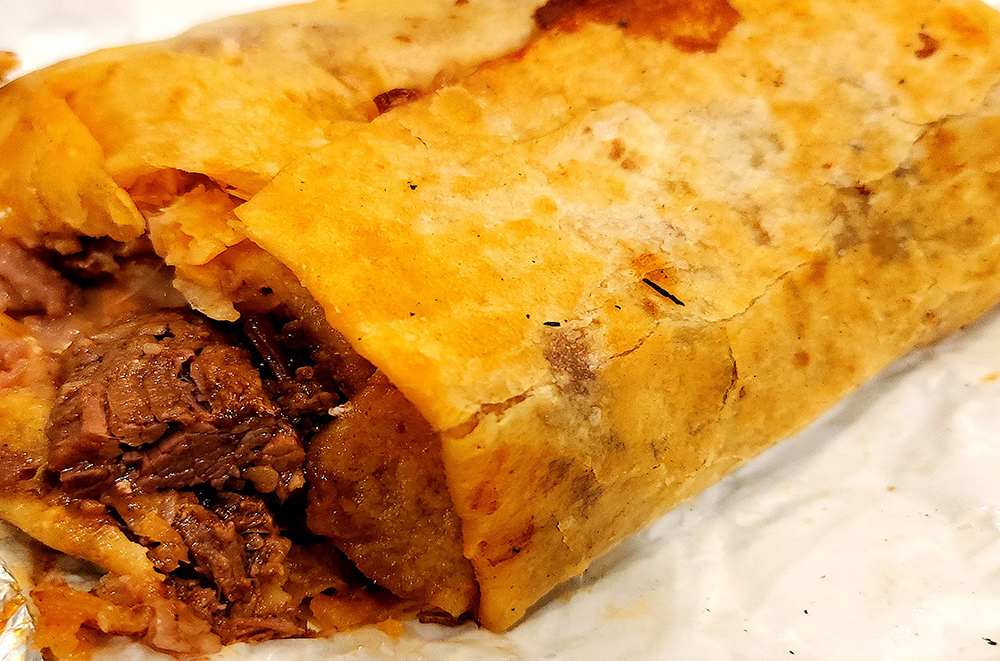 With the creation of the quesabirria and birria taco, the birria burrito. was inevitable. This…