In the world of culinary experimentation, there are moments when two beloved traditions collide to create something utterly delectable. Enter birria pizza, a culinary masterpiece that marries the rich, savory flavors of birria with the beloved comfort of pizza. This fusion dish takes the best of both worlds and elevates them to a whole new level of gastronomic delight.
Origin of Birria Pizza
Birria, a traditional Mexican dish hailing from the state of Jalisco, has long been celebrated for its robust flavors and tender meat. Typically made with goat or beef, birria involves marinating the meat in a blend of chili peppers and spices, slow-cooking it to perfection, and serving it in a rich, flavorful broth. It's a beloved staple at family gatherings and celebrations across Mexico.
So, how did this Mexican treasure find its way onto a pizza? Although there are no official records, Vishee Mandahar of Krave It in Queens takes credit for this fusion masterpiece. He sought to combine the comforting appeal of pizza with the bold and spicy allure of birria. The result? A harmonious convergence of flavors that captures the essence of a pizza and the consome-drenched birria.
Popularity
Birria pizza has exploded into the culinary scene since the late 2010s due to this perfect storm of factors.
A Marriage of Cultures: Birria pizza beautifully encapsulates the essence of fusion cuisine, seamlessly blending the traditional flavors of Mexico with the familiarity of Italian pizza.
Umami Explosion: Each bite is a journey through layers of umami-rich meat, spicy adobo, and creamy cheese, offering a combination of flavors that awaken your taste buds.
Instagram Worthy: The vibrant colors and enticing presentation make it a favorite among food photographers and social media enthusiasts.
Endless Variations: The versatility of this type of pizza allows for endless creativity. From different types of meat to unique toppings, the possibilities are as boundless as your imagination.
Main Components of Birria Pizza
Birria Meat: The heart and soul of birria pizza, this tender, slow-cooked meat are the star of the show. While traditional birria often uses goat or beef, birria pizza aficionados have been known to experiment with chicken, pork, or even a vegetarian twist with jackfruit.
Adobo Sauce: The birria meat is bathed in a luscious adobo sauce, a tantalizing blend of dried chili peppers, tomatoes, garlic, and aromatic spices. This sauce infuses the pizza with a depth of flavor that's simply irresistible.
Mozzarella Cheese: The creamy, gooey goodness of mozzarella cheese provides the perfect contrast to the spiciness of the birria. Its mild flavor complements the boldness of the birria, creating a symphony of taste.
Pizza Dough: The canvas upon which this culinary masterpiece is created, pizza dough is rolled out thin and cooked to a crispy perfection that adds texture to the dish.
Toppings: While birria is a main component, feel free to get creative with your toppings. Fresh cilantro, diced onions, and a squeeze of lime are common choices, adding freshness and zing to every bite.
Additional Toppings
Looking for more ideas on different toppings to add to your birria pizza? Here are some more options
Fresh Vegetables:
sliced jalapeños
diced tomatoes
sliced avocado
sliced black olives
sliced radishes
sliced red or yellow bell peppers
sliced red cabbage
fresh arugula
Cheeses and Dairy:
queso fresco
crema mexicana
cotija cheese
crumbled queso añejo
Sauces and Condiments:
hot sauces (Cholula, Tapatio, Valentina, etc.)
salsa verde
pickled red onions
fresh lime wedges
chopped scallions
Fruits and Others:
fresh pineapple chunks
grilled red bell peppers
roasted corn kernels
chopped fresh cilantro
The Preparation
The process of making this pizza begins with a base of pizza dough, spread generously with adobo sauce. Next comes the mozzarella cheese, acting as the glue that holds the birria and the pizza together. The birria meat is then artfully arranged atop the pizza, creating a mosaic of flavors and textures.
Into the oven, it goes, where the dough crisps up, the cheese melts, and the birria meat becomes even more tender. Once out of the oven, it's time to sprinkle those fresh toppings, giving a burst of color and a refreshing contrast to the indulgent, savory flavors.
How to make it
Interested in making birria pizza yourself? Here is a straightforward recipe you'll be sure to enjoy.
birria pizza
a flavorful mouthwatering pizza topped with saucy birria
Ingredients
For the Birria Meat:
1 pound (450g) boneless beef or goat meat, thinly sliced
3-4 dried guajillo chili peppers, stemmed and seeded
2-3 dried ancho chili peppers, stemmed and seeded
1 small onion, chopped
4 garlic cloves, minced
1 teaspoon ground cumin
1 teaspoon dried oregano
1/2 teaspoon ground cinnamon
Salt and pepper to taste
2 tablespoons vegetable oil
2 cups beef or vegetable broth
For the Pizza:
1 pound (450g) pizza dough
1 1/2 cups shredded mozzarella cheese
Fresh cilantro, chopped
Red onion, thinly sliced
Lime wedges for serving
Instructions
Start by preparing the birria meat. In a dry skillet over medium heat, toast the dried guajillo and ancho chili peppers for a few seconds on each side until fragrant. Be careful not to burn them.
Place the toasted chili peppers in a bowl, cover them with hot water, and let them soak for about 20-30 minutes until they become soft. Then, drain the soaked chili peppers and put them in a blender or food processor.
Add chopped onion, minced garlic, ground cumin, dried oregano, ground cinnamon, salt, and pepper to the blender. Blend until you have a smooth, thick paste. If needed, add a little water for the desired consistency.
In a large skillet, heat vegetable oil over medium-high heat. Add the chili paste and cook for 2-3 minutes, stirring constantly, to develop the flavors.
Sear the sliced meat in the skillet until it's browned on all sides.
Pour in the beef or vegetable broth, reduce the heat to low, cover, and simmer for about 1 to 1.5 hours until the meat is tender and the sauce has thickened. Stir occasionally, adding more broth if it becomes too dry.
Once the birria meat is ready, it's time to assemble and bake the birria pizza. Preheat your oven to 475°F (245°C) and place a pizza stone or baking sheet inside to heat up.
Roll out the pizza dough on a lightly floured surface to your desired thickness.
Transfer the rolled-out dough onto a piece of parchment paper for easy transfer to the hot pizza stone or baking sheet.
Spread a generous amount of the birria meat and sauce evenly over the pizza dough, leaving a small border around the edges.
Sprinkle the shredded mozzarella cheese over the birria meat.
Carefully slide the parchment paper with the assembled pizza onto the hot pizza stone or baking sheet in the preheated oven.
Bake for 10-12 minutes, or until the pizza crust is golden brown and the cheese is bubbly and slightly browned.
Remove the pizza from the oven and sprinkle chopped fresh cilantro and thinly sliced red onions on top.
Serve your delicious birria pizza hot with lime wedges on the side for an extra burst of flavor. Enjoy!
Recommended Products
Glutto earns a tiny commission from qualifying Amazon purchases.
Birria pizza is a culinary triumph that bridges cultures and delivers a delightful flavor explosion to your palate. This fusion dish has taken the food world by storm, and rightly so. It combines the best of both worlds, marrying the soul-soothing comfort of pizza with the bold, spicy richness of birria.
More on birria and Mexican food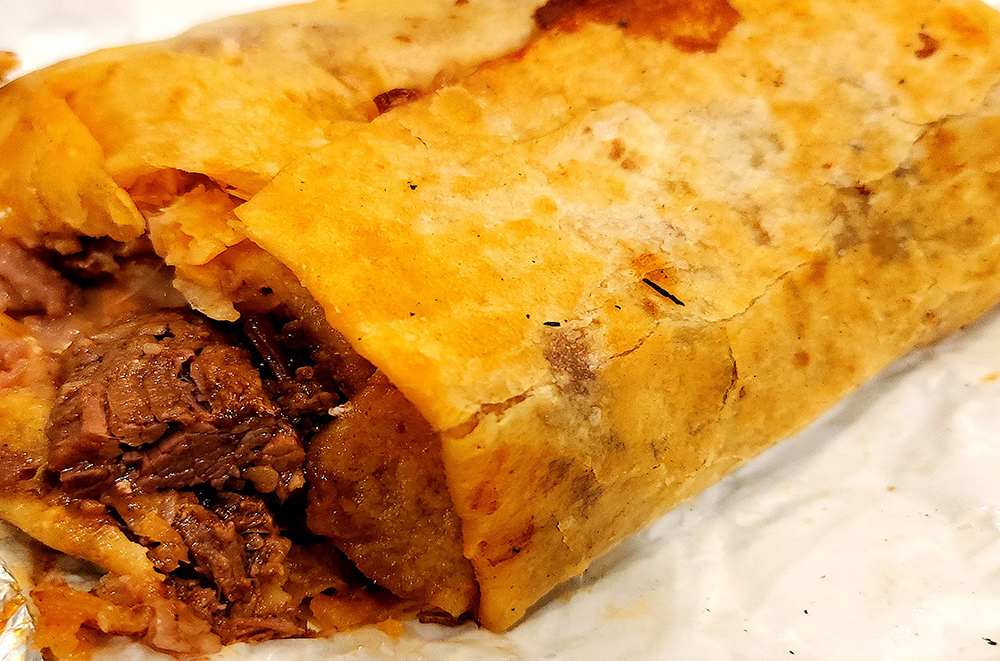 With the creation of the quesabirria and birria taco, the birria burrito. was inevitable. This…