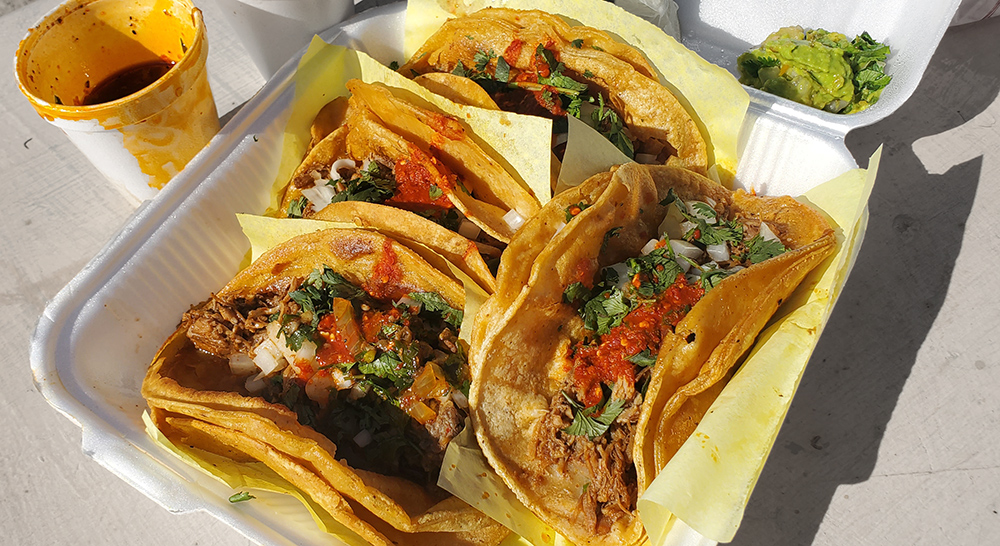 What are birria tacos?
Birria tacos are Mexican tacos filled with birria (pronounced BEE-ria, with an ever-so-slight rolling of the "r"). Birria is a traditional Mexican dish that, in the most simple terms, can be described as a meat stew. The meat is marinated in vinegar, peppers and spices, then fully cooked in a consommé or broth. With the proper cooking technique, it comes out tender and full of flavor.
For a birria taco, this flavored beef is simply placed in a corn tortilla with chopped onions, cilantro and a slice of lime. The taco is usually served with a side bowl of consommé. While some prefer to pour the liquid in the taco, the better (less soggy) method is to dip the taco in the bowl.
What animal is birria made from? What part?
Although it is made with goat meat in its most traditional form, birria is also frequently made with lamb, sheep, beef, veal or pork. The meat usually comes from the ribs of the animal, but the shank of the cow is also commonly used. Other cuts of meat are also acceptable to use.
Where did birria tacos originate from?
Birria, itself, originated from Jalisco in Mexico back in the 1500s. Because the classic version requires many various ingredients and is quite time-consuming to make, it was traditionally only eaten during special occasions like holidays or large celebrations.
Now, with pressure cookers and wider availability of ingredients, birria has become easier and faster to make. This once "special occasion" dish became much more accessible and widespread in other regions and countries, including the US.
In the late 2010s, birria could be found in many taquerias served as birria tacos.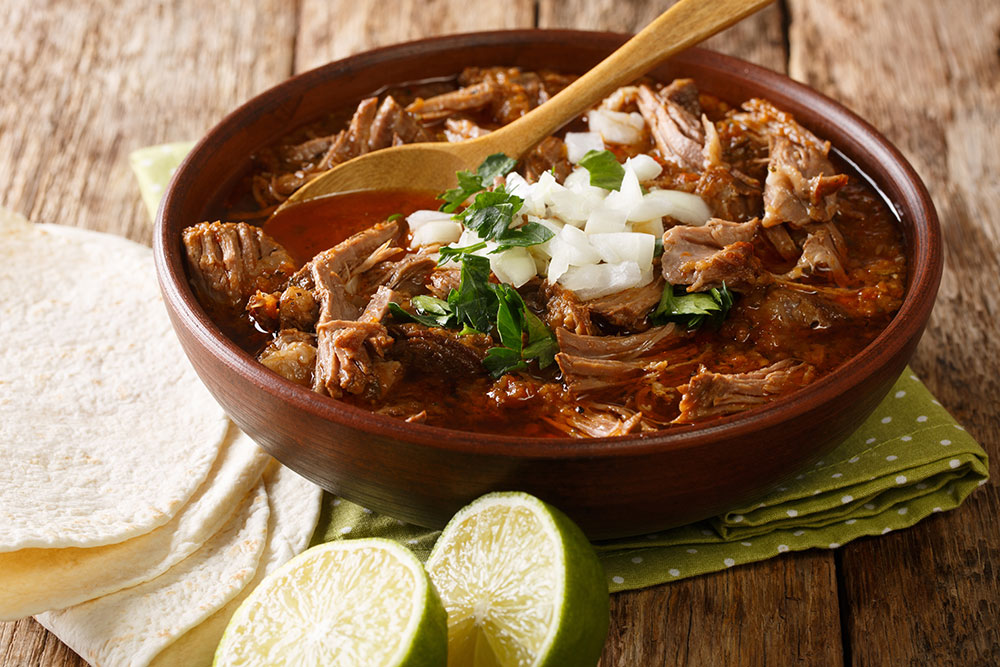 Birria variations
Besides tacos, these variations of birria have arisen over the years.
quesabirria – This is a variation of the birria taco covered in melted cheese.
birria pizza – This Mexican pizza is covered in the marinated meat and Mexican cheeses.
birria nachos – It's pretty much what you'd expect, tortilla chips covered in traditional nacho toppings along with a heaping layer of birria.
birria burrito – A (usually sizable) burrito stuffed with birria.
Birria vs. Barbacoa
It's easy to get these two types of meats confused because they are both tender, flavorful pieces of meat. The difference lies in the consommé.
Barbacoa is technically a method of cooking meat in a hole in the ground (or a large pot nowadays). This hole is filled with hot stones and covered with leaves. However, barbacoa more commonly refers to the actual meat that is cooked in this manner.
Birria is made from barbacoa that is soaked in consommé.
Where can I get birria tacos?
You can get birria tacos at taquerias or birrerias (eateries that specialize in making birria). Many authentic Mexican restaurants serve it as a stew and will make them in taco form (if it's not already on their menu) by request. Some Mexican eateries even serve birria pizza…yes, pizza. Here are dozens of locations that serve this tender, flavorful meat.
How can I make them?
If you can't get thee to a birreria, your next best option is to try your hand at making them yourself. Although this is a long process, it is well worth it in the end.
Birria Tacos
Ingredients
Meat
1 pound lamb (bone-in ribs)
2 pounds beef (shank)
1 tablespoon salt
1 tablespoon ground black pepper
1 teaspoon ground cumin
Broth
1 chipotle pepper (remove seeds)
5 ancho chiles (remove seeds)
5 guajillo chiles (remove seeds)
1 teaspoon thyme
1 teaspoon marjoram
1 teaspoon oregano
2 bay leaves
1 teaspoon ground ginger
1/2 teaspoon ground cumin
1/2 teaspoon ground cinnamon
10 garlic cloves
4 tomatoes
1/2 onion
1 1/2 tablespoons salt
1/4 cup apple cider vinegar
2 cups water
Taco
4-6 corn tortillas
2 tablespoons chopped onions
1 lime (sliced)
fresh cilantro
Instructions
Season all meats with salt, pepper and cumin.
Cook seedless chiles in an oiled pan for 2-3 minutes.
Boil cooked chiles in a saucepan for 10 minutes or until slightly soft.
Meanwhile, lightly brown onions in pan, then add garlic, bay leaves and all spices (minus the ginger and cumin) and stir over medium heat for 5 minutes.
Blend spiced onions with softened chiles, ginger, cumin, apple cider vinegar and water until it is a smooth sauce.
In a large bowl, pour sauce over meat making sure the meat is completely coated. Cover with plastic wrap and marinate in the refrigerator overnight.
Cook in a large covered pot over medium heat for 2-3 hours or until meat is tender and falls off the bone.
Shred meat with two forks and serve with tortillas, chopped onions, fresh cilantro and lime slices.
Enjoy!
Recommended Products
Glutto earns a tiny commission from qualifying Amazon purchases.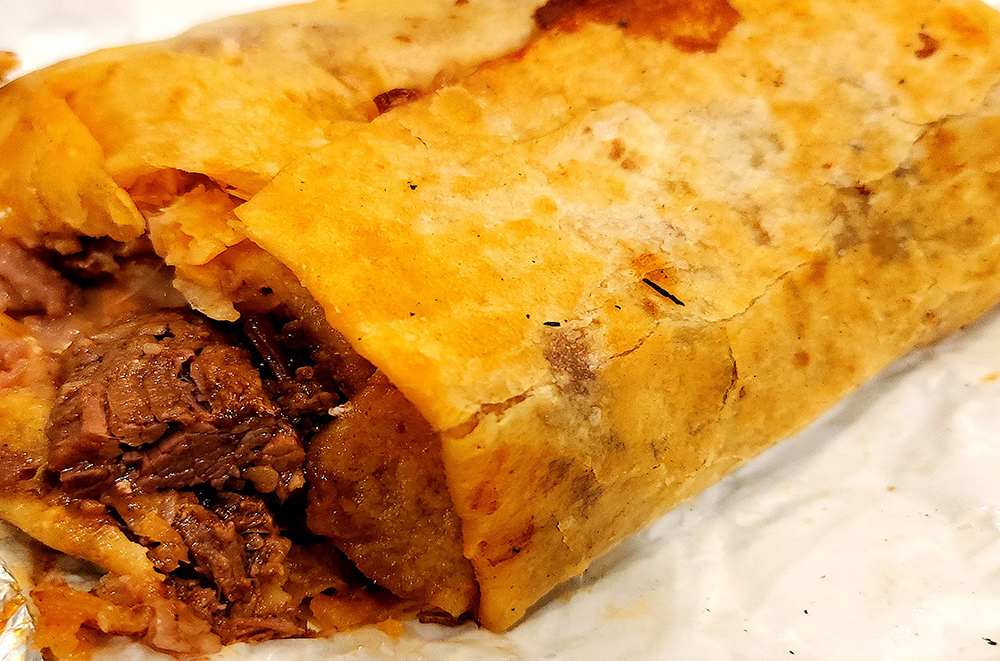 With the creation of the quesabirria and birria taco, the birria burrito. was inevitable. This…