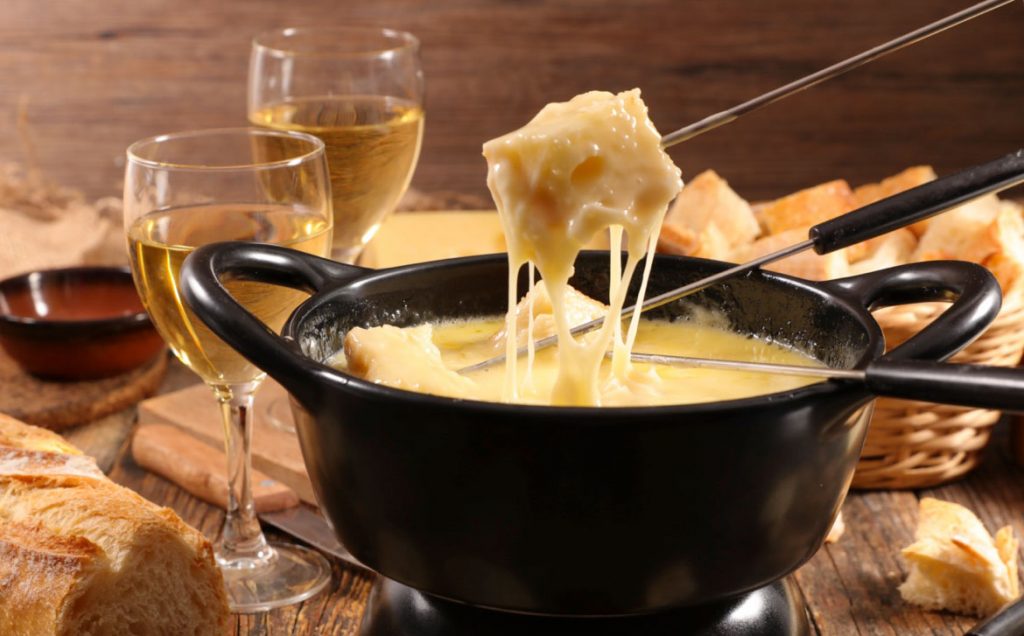 What is fondue?
Fondue is a Swiss dish of melted cheese used for dipping pieces of food. It is traditionally served in a communal pot which guests dip their food into with a long fork.
The word "fondue" is a derivation of the French word fondre, which means "melt."
Although it largely refers to melted cheese in a pot, in the mid 20th century, its meaning expanded to refer to any ingredient liquefied by heat in pot used as a communal dip to coat or cook a piece of food. Two other popular forms of fondue are chocolate fondue (melted chocolate for dipping) and fondue bourguignonne (heated broth or oil for cooking).
What kind of cheese can I use in fondue?
You can certainly use any cheese that melts well for your fondue. Various types of Swiss cheese are a popular option. Here are some artisanal cheeses that can either be melted alone or combined in your fondue pot:
beaufort
cheddar
comté
emmentaler
fontina
gouda
gruyere
What can I dip in cheese fondue?
Although bread sliced into cubes is the most common choice, pretty much any type of savory food can be dipped in cheese fondue. If you're looking for some fondue ideas, here is a list of different fondue dippers:
breads/crackers
French baguette (sliced)
sourdough (cubed)
breadsticks
meats
cured meats (sliced – e.g. bacon, prosciutto, salami, chorizo, etc.)
meatballs (cooked)
shrimp (grilled)
fruits
green apples (cubed)
pears (cubed)
apricots (dried)
figs (dried)
vegetables
bell peppers (sliced)
broccoli/cauliflower (florets)
pickles/gherkin
roasted brussels sprouts
roasted potatoes (small or cubed)
What wine goes well with cheese fondue?
Dry white wine is traditionally used in cheese fondue to prevent the cheese from curdling since it has high acidity. It can also be enjoyed as a drink to pair with cheese fondue. Here are some of the best dry white wines to use:
sauvignon blanc
Muscadet
Chablis
dry Alsace
dry riesling
What is in a fondue set?
A fondue set or fondue kit primarily consists of a fondue pot, a heat source and fondue forks.
fondue pot
A fondue pot, also known as caquelon, is a type of specialty cookware specifically for melted cheese (and sometimes melted chocolate or broth). There are two main types of fondue pots, open flame fondue pots and electric fondue pots.
open flame fondue pots: made of a flame-safe material like ceramic and is often heated by a candle, alcohol burner, or another source of fuel; heat depends on the size and duration of flame
electric fondue pots: made of steel, ceramic or any heat-safe material and is heated by electricity; heat level is easier to control
fondue forks
Fondue forks (sometimes called fondue pitchforks) are long thin forks with two or three prongs. Their elongated shape and fewer prongs make it easy for picking up small pieces of food and dipping them in the communal fondue pot.
Each guest uses one fondue fork (sometimes marked with different colors in the handle) for the duration of the meal. The fondue fork is often sharp and is not meant to be eaten from. It is only meant to dip food in the fondue pot; a separate utensil should be used to eat the dipped food. This prevents contamination between guests.
fondue fountain
A fondue fountain may replace a fondue pot in a fondue set when serving a larger group of guests at an event or gathering. It is used as a decorative piece that functions as display for cascading liquid that guests can dip their food in. Fondue fountains can be used for:
melted chocolate (milk, dark or white chocolate)
melted cheese (nacho cheese, artisanal cheese, etc.)
sauces (BBQ, buffalo, marinara, ranch etc.)
Here are some different types of fondue fountains:
Where can I get cheese fondue?
If you don't have your own fondue set or have no intention of serving fondue at home, you can still enjoy it at restaurants that specialize in fondue. View this map to see where you can find a fondue restaurant near you:
How to make cheese fondue
Here is a quick and simple fondue recipe that you can use for your next fondue party!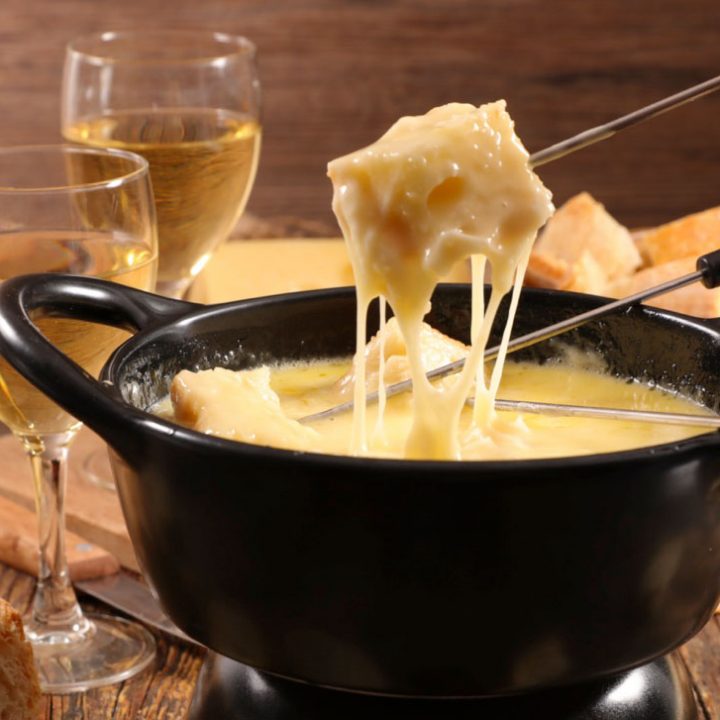 Cheese Fondue
A classic fondue recipe that your guests are sure to enjoy!
Ingredients
1/3 cup beaufort (shredded)
1/3 cup cheddar (shredded)
1/3 cup comté (shredded)
1 cup sauvignon blanc
1/2 cup apples and/or pears (cubed)
1/2 cup bell peppers (sliced)
1/2 cup broccoli (florets)
1/2 cup French bread (cubed)
1/2 cup roasted potatoes (small or cubed)
Instructions
Turn on heat for fondue pot.
Put all cheese and wine in fondue pot and allow to fully melt while stirring frequently.
Serve with cubed bites of food and fondue forks. Enjoy!
Recommended Products
Glutto earns a tiny commission from qualifying Amazon purchases.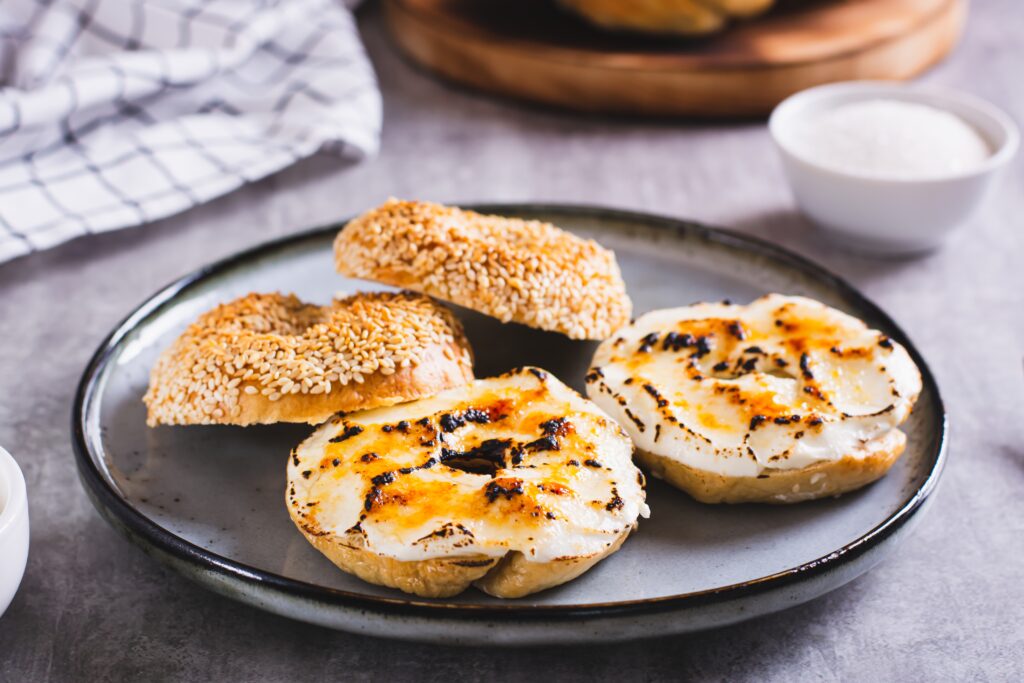 The creme bruleegle (a.k.a. creme brulee bagel) has entered the captivating world of food innovation….