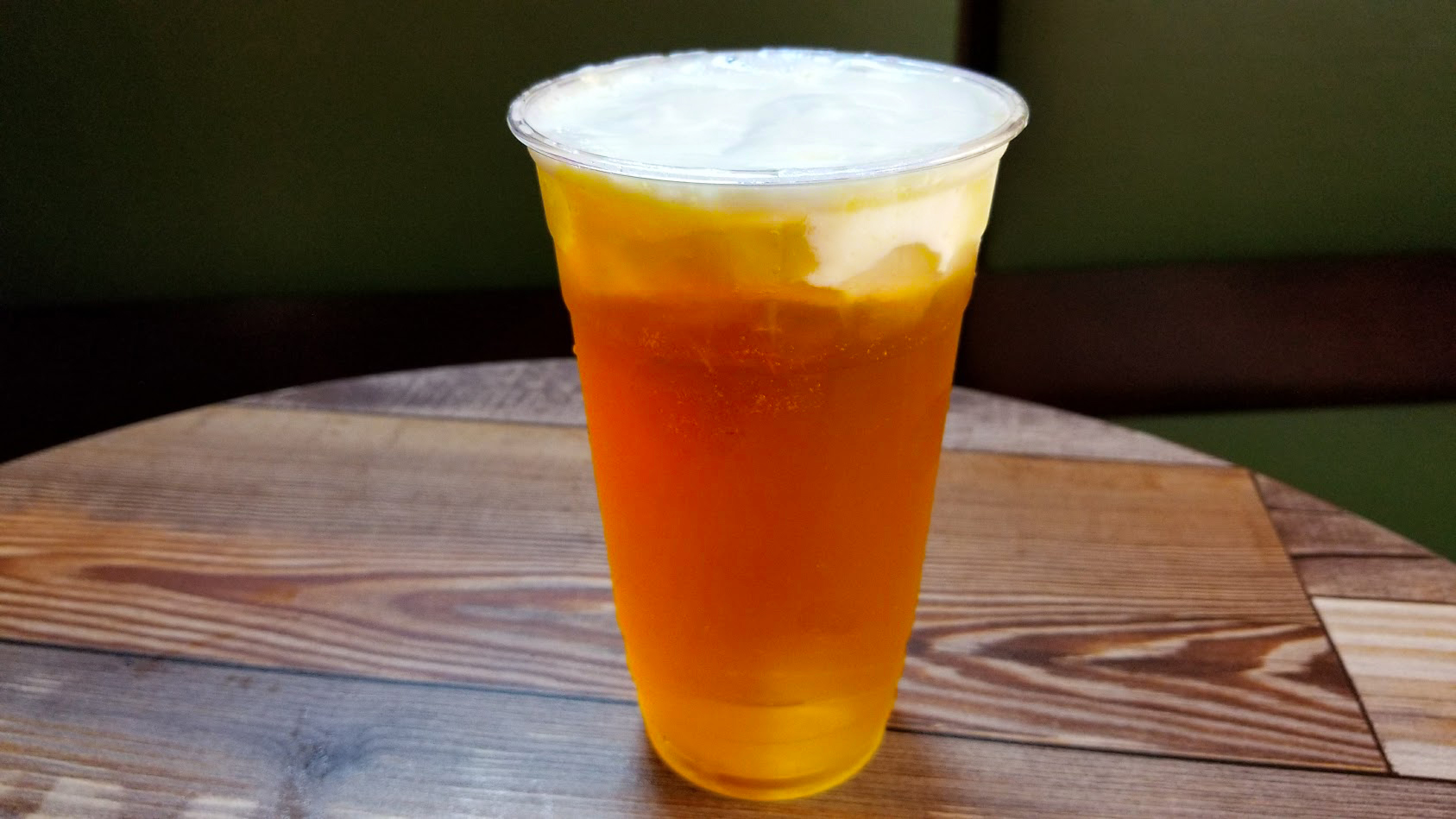 Where Can I Get it? | How Can I Make It?
What is cheese tea?
Cheese tea is not as jarring as it might initially sound. In the same way cheesecake is cake combined with a light, smooth cheese…cheese tea is tea combined with cream cheese. More specifically, it can be either hot tea or iced tea topped with a foamy salted cream cheese. This adds a creamier, more savory element to tea than your usual milk. Enthusiasts of this faddish drink discourage the mixing of the cheese foam into the tea to enjoy a more distinct creamy flavor just prior to tasting the tea.
Originating in Taiwan back in 2010 and quickly spreading throughout China and Malaysia, cheese tea has gone global reaching past the boundaries of Asia into Australia, Europe and North America.
Where can I get it?
If you don't have plans of venturing out of the US anytime soon, here are some places that are now serving this internationally acclaimed frothy drink.
New York, NY (and nationwide):

Happy Lemon
San Francisco Bay Area, CA (Fremont):

Royaltea USA
Looking for more places that serve cheese tea? You can find them on Glutto right here.
How can I make it?
There are a number of ways to make cheese tea. There are some slight variations on the Taiwanese, Chinese, and other countries' versions of cheese tea. It all depends on your taste (i.e. what type of tea you prefer, if you like your tea hot or cold, how sweet you like your tea, etc.). Here is a recipe that you can use and modify as necessary to create your ideal cheese tea.
Special Tools (optional)
Ingredients
for cheese:
1 cup milk
2 ounces cream cheese
2 ounces cream cheese powder
1/3 cup whipped cream
2 1/2 tablespoons condensed milk
1 pinch sea salt or Himalayan pink salt
for tea:
tea (as preferred: earl grey, green tea, matcha, oolong, etc.)
sugar (to taste)
Directions
 First, prepare the cheese. In a large bowl; mix the milk, cream cheese, and cream cheese powder with a hand blender (or a fork) until completely even.
Add condensed milk, whipped cream, and salt into the mix until medium foamy peaks are formed.
Cover the cheese foam with plastic wrap and chill in the refrigerator for at least 2 hours.
While the cheese is chilling, make your tea.  Boil water in a tea kettle or pot.  Then, pour boiled water in a heat-safe pitcher and steep your tea to your preferred strength.
Put tea in the refrigerator until chilled. (optional)
Pour tea in tall clear glasses until 3/4 of the way full and add sugar to taste.
Add spoonfuls of cheese until glasses are topped off.
Enjoy!