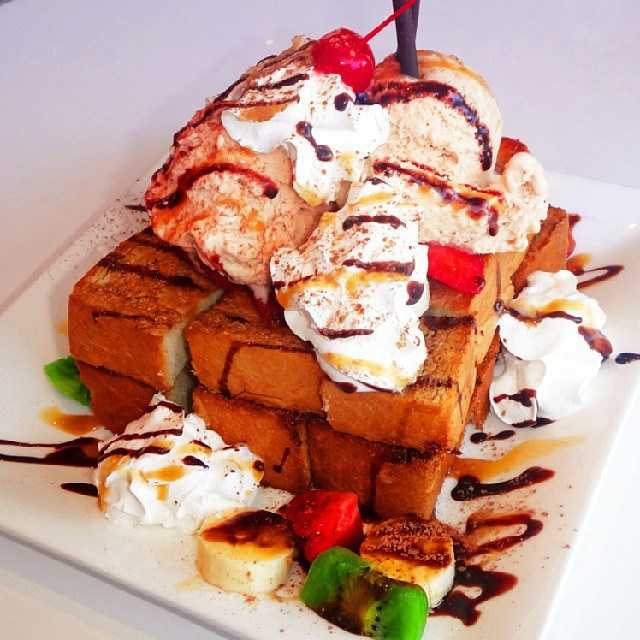 What is honey brick toast?
Honey brick toast (a.k.a. brick toast, honey toast, Japanese honey toast, Shibuya toast or Shibuya honey toast) is a thick dense toast often cut into cubes and assembled into a large brick piled with assorted sweet toppings such as: ice cream, fresh fruits (e.g. strawberries, mangoes, bananas, blueberries, kiwis, cherries, etc.), whipped cream, azuki beans (sweet Japanese red beans), and syrups.
As you may guess, this dessert originated in the Shibuya district of Tokyo, Japan. It was created in the early 2000s and spread like wildfire in the mid-aughts (around 2004-2007) throughout Japan, Taiwan and Singapore). In the 2010s, this decadent toast finally made its way across the US. By the mid-2010s, this cube-shaped dessert had surpassed the pinnacle of "newness" (especially in foodie circles). However, it is still considered a unique dessert in the eyes of the masses and is a popular item internationally in Asian cafes, dessert shops and karaoke bars.
Where can I get it?
Honey toast tends to be more prevalent in the west coast, but here are some popular locations across the US where you can try this sweet monolith:
Monterey Park, CA:

Tea Brick
Looking for more places that serve this Japanese dessert toast? Take a look at this interactive map to try it out near you!
How can I make it?
Making honey brick toast is a bit like assembling a gingerbread house. It's all about maintaining the structure while getting all the sweet ingredients in there. Here's a flexible recipe that you can save on Glutto that is pretty fun and very doable:
honey brick toast
Ingredients
1 unsliced loaf of sandwich bread
¼ cup granulated sugar
⅓ cup unsalted butter (room temperature)
1 teaspoon pure vanilla extract
1 sliced banana (can substitute/add: strawberries, kiwis, raspberries, etc.)
1-3 scoops ice cream (pick your favorite flavor)
2-3 vanilla wafers or rolled wafers for decoration (optional)
honey or chocolate syrup (for drizzling)
Instructions
Preheat oven to 350° F.
To create the bricks, cut off one end and hollow out the bread with a sharp knife so the sides are even and the bottom is intact.
(Tip: It helps to make a small cut on the outside along the bottom to release the center.) This creates a bread container. Then, cut the hollowed-out section into cubes.
Mix the butter, sugar and vanilla.
Spread the butter mixture on each of the cubes and inside the bread container.
Place the butter-covered bread container and cubes in the oven for 6-8 minutes, or until golden brown.
Fill the bread container halfway with the cubes and fruit, then lightly drizzle with honey or chocolate syrup.
Fill the bread container to the top with the cubes and fruit, then lightly drizzle with honey or chocolate syrup.
Place 1-3 scoops of ice cream and 2-3 wafers on top.
Drizzle honey or chocolate syrup on top of the ice cream and enjoy!
More interesting desserts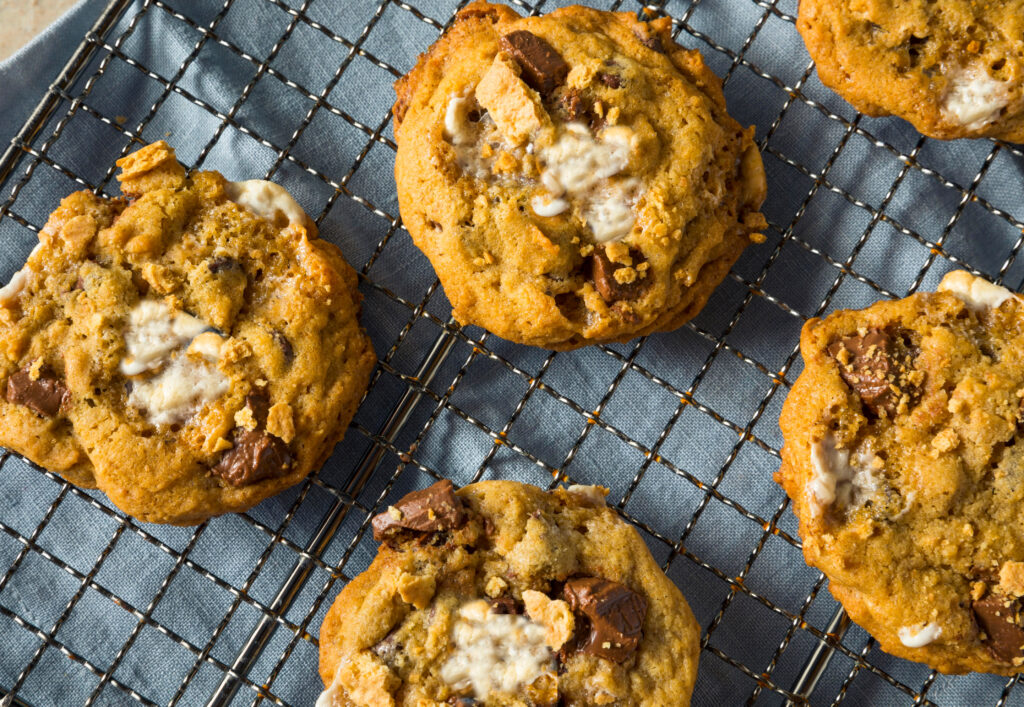 With comfort foods still going strong, s'mores cookies bring the essence of a crackling campfire…