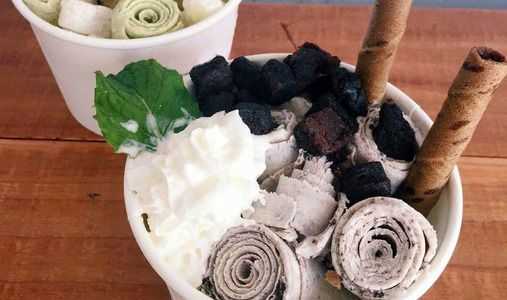 Where Can I Get Rolled Ice Cream? | How Can I Make It?
What is rolled ice cream?
Rolled ice cream (a.k.a. Thai rolled ice cream, stir-fried ice cream, ice pan ice cream, hibachi ice cream, and ice cream rolls) is a form of ice cream that is flattened and rolled up in to several scroll-like shapes.
Origin
Rolled ice cream originated in Thailand in 2009, but it quickly grew in popularity throughout Asia in the early 2010's thanks to viral videos posted throughout social media. It wasn't until the mid-2010's that this became a viral food sensation throughout many major cities in the United States.
Rolled ice cream vs. Traditional ice cream
Rolled ice cream is different from traditional ice cream primarily in its preparation and presentation. Unlike traditional ice cream which is pre-made and ready-to-scoop, it is made-to-order and usually takes between 3-5 minutes to prepare each serving.
Preparation
Ice cream rolls begin as a creamy liquid custard mixed and chopped with other flavors and ingredients until they are fully and evenly incorporated. This liquid mixture is spread and solidified on a frozen metal pan. (The alternate names "ice pan ice cream" and "stir-fried ice cream" were derived from the use of the frozen pan and the "stirring" motion to mix the ingredients on it.) It is flattened out with a metal spatula and scraped into rolls that are typically placed vertically in a cup with assorted toppings.
While this can take more time to serve each customer than simply scooping ice cream, it can also allow for greater customization. Because many of the ingredients are mixed into the cream while it is in liquid form, the flavors are better incorporated into the rolls of ice cream. It also makes for a slightly denser texture since the solidified cream is completely flattened on an ice pan before it is rolled up and presented in an eye-catching "bouquet" of rolls.
Besides the act of preparing and style of presenting rolled ice cream, it is actually quite similar to traditional ice cream since it is available in many of the same flavors with similar mix-ins, toppings and variations.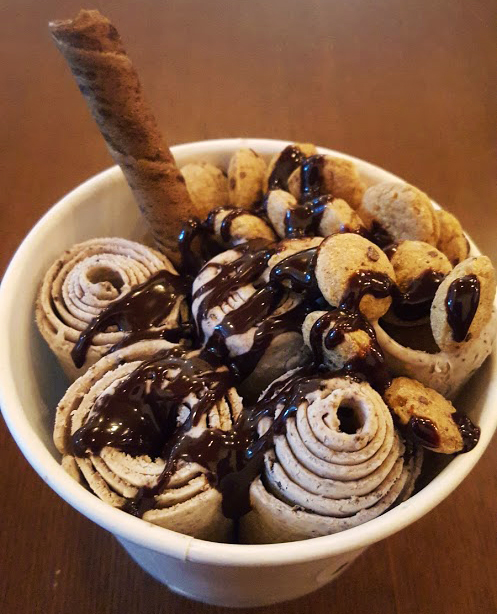 Flavors
Like traditional ice cream, ice cream rolls come in a wide variety of flavors. Some of the most popular flavors include:
matcha green tea
cookies 'n creme
strawberry
chocolate
pistachio
mango
vanilla
coffee
Mix-ins & Toppings
Besides selecting a base flavor, individuals can choose from the many different mix-ins and toppings available at many ice cream shops to modify the taste and texture of the ice cream to their liking.
fresh fruits: bananas, strawberries, raspberries, blueberries, blackberries, mangoes, lychee, etc.
crushed/sliced nuts: almonds, cashews, hazelnuts, macadamia nuts, pistachios, pecans, peanuts, walnuts, Brazil nuts, etc.
candies: chocolate chips, M&Ms, Reese's, Andes, Nerds, Skittles, gummy bears, gummy worms, etc.
chopped candy bars: Hershey's, Kit-Kats, Snickers, Butterfingers, Heath bar, Milky Way, granola bars, etc.
cereals: Lucky Charms, Froot Loops, Cocoa Pebbles, Fruity Pebbles, etc.
chewy treats: boba, popping boba, marshmallows, mochi, tapioca, etc.
cookies/baked goods: Oreos, chocolate chip cookie dough, Pirouettes, brownie bites, etc.
crackers: graham crackers, animal crackers, etc.
sauces: hot fudge, strawberry, caramel, white chocolate, etc.
sprinkles: edible rainbow sprinkles, chocolate sprinkles, glitter sprinkles, gold sprinkles, etc.
Variations
There are a growing number of versions of ice cream roll desserts. Many come from existing ice cream combinations, which include:
…in a waffle cone
…in a taco shell-shaped waffle cone
…on a Belgian waffle
…sandwiched between cookies
…with cotton candy
Where can I get it?
Places that serve these rolls of ice cream have popped up in nearly all major cities. Here are some popular locations where you can try these ice cream rolls for yourself. (Please double check any locations you wish to visit as many places have temporarily or permanently closed due to social distancing measures.)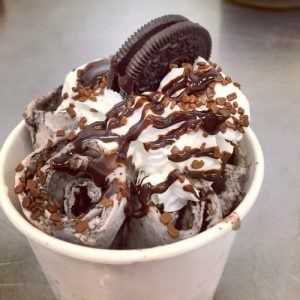 Los Angeles, CA: Chelo Creamery (closed)
instead, check out Holy Roly
Provo, UT: Roll With It (closed)
instead, check out Sweet Rolled Tacos
Looking for more places that serve rolled-up ice cream? You can find them on Glutto right here.
How can I make it?
If you can't make it to any of the places above, or just want to try your hand at this mystifying process, we've got a recipe for you to follow. It is straightforward and relatively simple to follow. There is also plenty of room for customization so it fits your taste preferences. The first thing you must do is fully prepare your kitchen or workspace. Make sure you have all the right equipment and tools specific for making rolled ice cream. Then, of course, gather all the necessary ingredients. Have fun!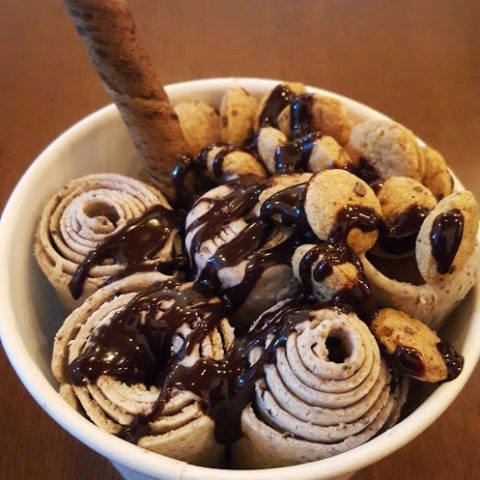 Rolled Ice Cream
Additional Time:
15 minutes
Total Time:
1 hour
15 minutes
Ingredients
Liquid ice cream base
2 cups heavy whipping cream (refrigerated)
1 can condensed milk
Toppings/Mix-ins
syrups (e.g. chocolate syrup, strawberry syrup, caramel, etc.)
candies (e.g. sprinkles, marshmallows, M&Ms, Nerds, etc.)
chopped nuts (e.g. almond slices, chopped cashews, etc.)
cookies (e.g. Oreos, wafers, biscotti, animal crackers, etc.)
cereals (e.g. Frosted Flakes, Fruity Pebbles, Kix, etc.)
whipped cream
maraschino cherry
Instructions
Chill your pan, or place your stone slab in the freezer for at least 1 hr and put it on a moistened cloth/paper towel to prevent slipping.
Mix the heavy whipping cream and condensed milk until even to create an ice cream base.
Pour approximately 1 cup of the liquid ice cream base on the slab and add all your desired mix-ins (i.e. what you want inside your ice cream), but make sure to save the toppings for the end.
Chop your mix-ins with your scraper to incorporate them into your ice cream base.
Use your scraper to continuously spread the liquid evenly over the slab until it's frozen.
Use your scraper to scrape the ice cream off the slab by pressing the edge of the scraper down and away from you.
Keep scraping from one side to the other until all the ice cream is formed into rolls.
Place the rolls in cups or bowls so they stand up next to each other vertically.
Add your desired toppings over the ice cream rolls and dig in!
Looking for the top rolled ice cream machines? As you might assume, a quality rolled…