Chipsi mayai (a.k.a. chips mayai or zege) is a popular street food in Tanzania. Chipsi is Swahili for "French fries" and mayai is Swahili for "eggs." As you might expect, it is an omelet with fries mixed in. Think of it as a more efficient way to eat scrambled eggs with home fries.
What really sets it apart from other egg and potato dishes is the toppings that it is often served with. Typical accompaniments include: East African tomato sauce, kachumbari (fresh tomato and onion salad), fresh chilies, salt and pepper.
Besides eggs and fries, it can also be mixed in with a variety of vegetables like onions, green bell peppers, tomatoes and mushrooms. In addition, it's sometimes topped with nyama choma (barbecued beef) or kuku choma (barbecued chicken) to make it an even heartier meal.
How do you pronounce chipsi mayai?
It is pronounced CHIP-see ma-YAI in most areas of Tanzania. It rhymes with "gypsy awry."
In Zanzibar, it is called zege which is pronounced ZEH-geh. It rhymes with "tempeh."
How do you eat it?
If you want to eat like the locals in Tanzania, eat it with your hands. First, make sure to wash your hands. Then simply top it with some East African tomato sauce, fresh chilies, a bit of salt and/or pepper…and dig in!
If you are unable to eat with clean hands, or just don't want to get your hands dirty, you can always ask for some silverware. It won't taste any less delicious, but you'll miss out on the full experience.
How do you make chipsi mayai?
Chipsi mayai is quite simple to make. If you can make an omelet, then you'll have no problem making this.
Here's a simple recipe to follow. You can easily add or substitute additional ingredients to adjust it to your tastes. Be creative by including whatever vegetables, herbs, spices and sauces you like. Have fun!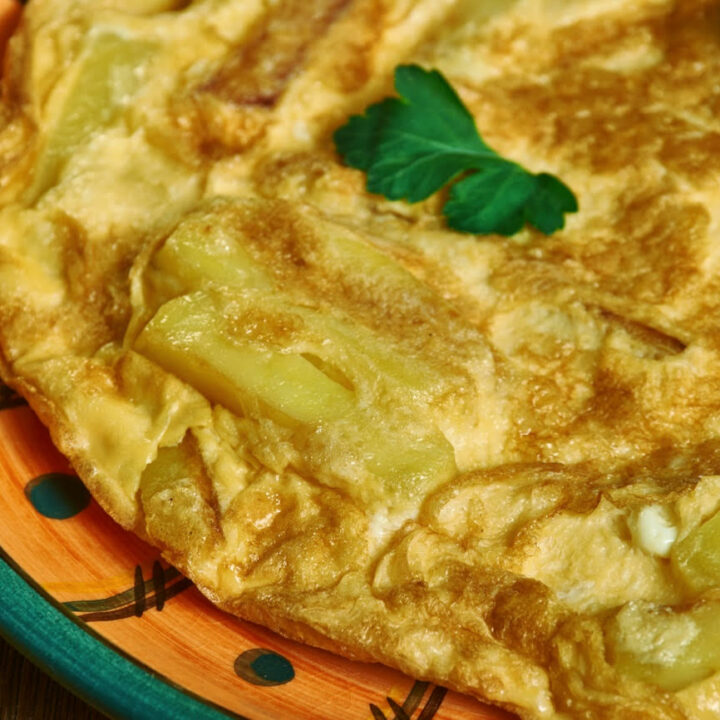 Chipsi Mayai
Tanzanian French fry omelet
Ingredients
2 Eggs
1 cup French Fries
salt (to taste)
freshly ground black pepper (to taste)
1 cup chopped vegetables (pick your favorite: onions, mushrooms, tomatoes, etc. - optional)
condiments (pick your favorite: chili sauce, ketchup, etc. - optional)
oil (for pan)
Instructions
Make French fries according to directions.
Chop vegetatables. (optional)
Heat a drizzle of oil on medium-high heat in a non-stick pan.
Place chopped vegetables in heated pan and mix 2-3 minutes or until slightly softened, then set aside. (optional)
Beat the eggs in a medium-large bowl until one consistent texture. Mix in fries and other cooked vegetables.
Drizzle oil in pan again and add egg and vegetable mixture. Cook 2-4 minutes or until golden brown, then flip and cook for another 1-2 minutes or until golden brown.
Salt and pepper to taste. Serve with condiments and enjoy!
Recommended Products
Glutto earns a small commission from qualifying Amazon purchases.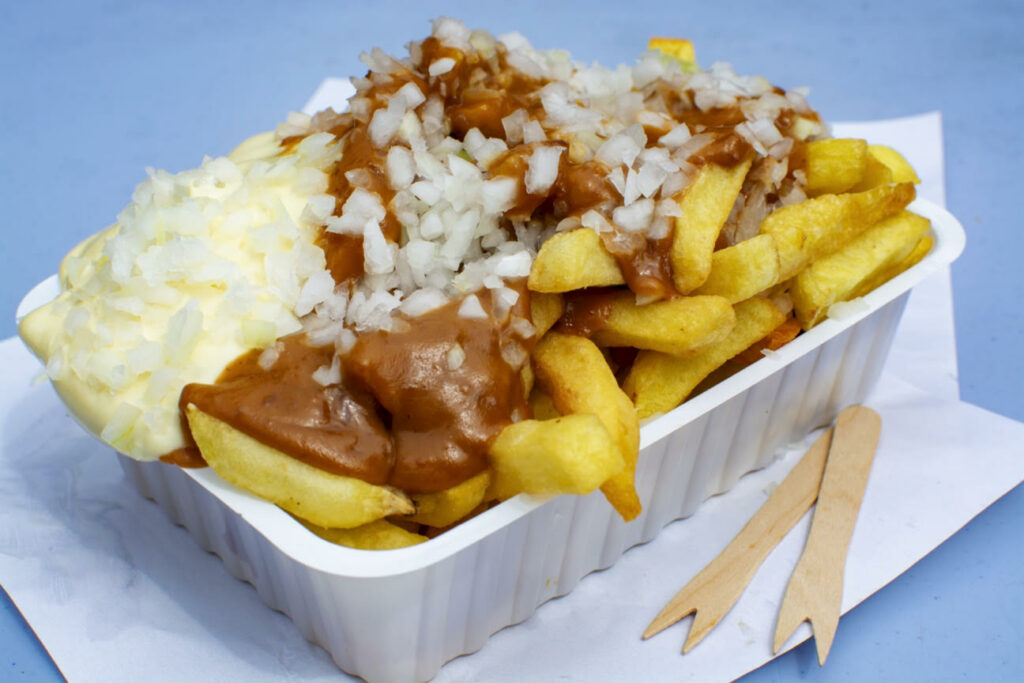 Patatje oorlog (a.k.a. friet oorlog, war fries or war chips) are an Indo-Dutch street food…