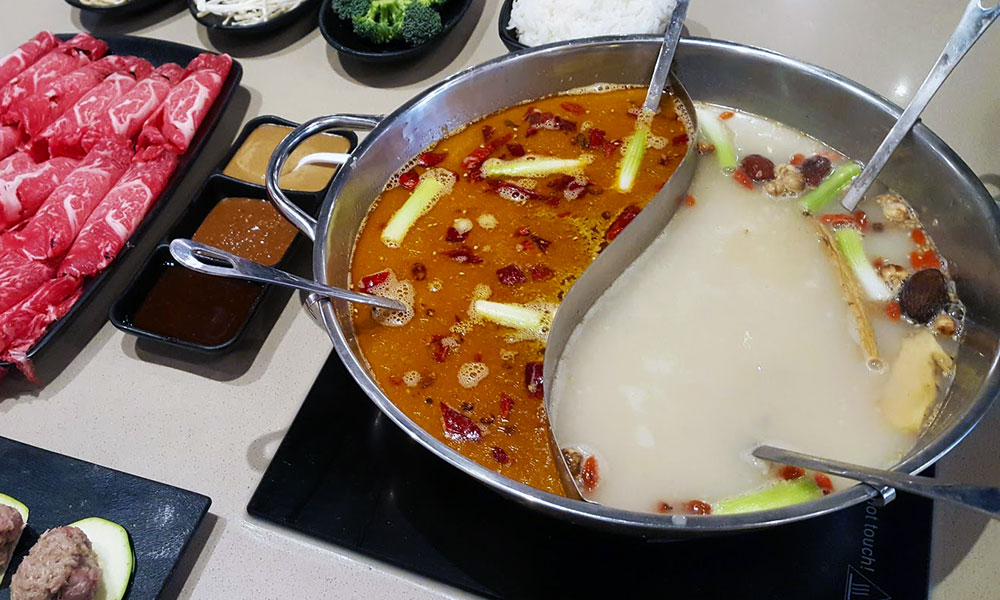 Chinese hot pot (also hotpot or steamboat) is a method of cooking raw meats, vegetables and other raw ingredients in a bowl of simmering soup. This soup is often a basic water-based stock.
Origin
According to Chinese Cuisine Stories, the earliest version of the Chinese hot pot dates back over 6,000 years. The Xi'an Banpo ruins held ancient pottery used for cooking food. This pottery was used for communal cooking and sharing food on a fire. This became common practice for Chinese nobility in the Zhou and Qing Dynasties.
What goes in Chinese hot pot?
There are a wide variety of ingredients that are traditionally used in Chinese hot pot. They are either part of the stock, raw ingredients which are cooked in the stock, or ingredients used in the sauces.
Stock
The liquid used to cook the raw ingredients is typically made up of water, seasoning and spices. Seasonings, spices and other flavorings may include salt, peppercorns, soy sauce, chili paste, bean sprouts, garlic, onions and star anise.
Raw Meats/Protein
The animal protein that is cooked in the hot pot is typically thin slices of lamb, beef or goat. However, chicken and pork are also sometimes included. Tofu is a common vegetarian and vegan option.
Seafood commonly used includes fish, prawns, shrimp, squid, scallops, mussels, clams, crawfish, crab, lobster, octopus, sea cucumber, cuttlefish and geoduck.
Raw Vegetables
The types of raw vegetables that are often included in a spread for making hot pot include bok choy, broccoli, spinach, carrots, lettuce, cabbage, cilantro, bean sprouts, potatoes/sweet potatoes, mushrooms (enoki, shiitake, oyster, straw, etc.), pumpkin, watercress.
Sauce
There is a wide variety of dipping sauces that can be used after cooking the raw ingredients. These sauces often include soy sauce, hoisin sauce, douchi (fermented black soybean), sesame oil, chili oil, chili powder, cilantro, garlic, scallions and/or vinegar.
How long does hot pot take to cook?
When the broth is boiling it can take anywhere between several seconds to several minutes to cook various ingredients. Use this guide to know how long to cook different raw foods.
beef hot pot cooking times
raw beef & pork: 20-30 seconds (if tripe: 30-40 seconds)
raw chicken: 1 minute (if meatball: 2 minutes)
raw noodles & dumplings: 7-9 minutes
seafood hot pot cooking times
fish: 50 seconds-1 minute (if cuttlefish: 20-30 seconds)
shrimp: 30-40 seconds (if shrimp ball: 1-1.5 minutes)
imitation crab: 50 seconds-1 minute
vegetable hot pot cooking times
a-choy: 40-50 seconds
bean curd: 20-30 seconds
taro: 5-6 minutes (if thread 1.5-2 minutes)
fresh tofu: 90 seconds (if fried: 1-1.5 minutes, if frozen: 1.5-2 minutes)
mushroom: 50-60 seconds (if shiitake: 60-70 seconds)
Napa cabbage: 3-4 minutes
romaine heart: 20-30 seconds
spinach: 60-90 seconds
Is Chinese hot pot healthy?
In America, many Chinese restaurants offer non-authentic dishes that tend to be greasy. Chinese hot pot is a traditional style of cooking that uses a water-based broth. The raw ingredients are boiled in the broth which yields healthy grease-free food.
Different Types of Hot Pot
fondue: Fondue is a European style of hot pot that typically uses broth, cooking oil or wine to cook the raw ingredients. However cheese fondue and chocolate fondue simply add melted cheese or chocolate to the dipped ingredients.
Jeongol: Jeongol is the term for Korean hot pot. This Korean-style hot pot uses similar ingredients to other types of hot pot as well as Korean ingredients and sauces like Korean radishes, dangmyeon and gochujang.
Mongolian hot pot: This is the origin of the hot pot. It has a variety of different ingredients for cooking and often has a split pot with spicy and mild broths.
shabu-shabu: Shabu-shabu is a type of Japanese hot pot that uses thinner slices of meat. This name and style of hotpot has also been adopted in Taiwan.
sukiyaki: Sukiyaki is another type of Japanese hot pot that uses heartier ingredients.
Where can I find Chinese hot pot?
Most areas with a high density of Chinese eateries tend to have Chinese hot pot restaurants. Use this map to find Chinese and other types of hot pot restaurants near you.
How can I make it?
You can make traditional Chinese hot pot as long as you have the right tools and proper raw ingredients. Because your guests do the cooking, all you have to do is set everything up. Here's a Chinese hot pot recipe you can easily follow to have your own hot pot dinner at home.
Chinese hot pot
Ingredients
Broth
2 cups chicken stock
2 cups water
2 1/2 tablespoons rice vinegar
2 tablespoons soy sauce
1/2 tablespoon sesame oil
2 garlic cloves (chopped)
2 slices ginger
Meat
1/3 pound fatty beef or ribeye (sliced thin); can replace with any other thinly sliced protein
Starch & Vegetables
1 ounce bean thread noodles or rice noodles
1/2 cup mung bean sprouts
1/3 bunch green onions (chopped)
3 ounces mushrooms (your favorite types - chopped)
2 baby bok choy (chopped)
Sauce
chili garlic sauce (or your favorite Chinese dipping sauces)
Instructions
In a hot pot, mix all broth ingredients and bring to a boil.
Place the raw beef and vegetables separate bowls. Put chili garlic sauce in a small dipping container.
Use chopsticks or long forks to dip the raw ingredients in the hot broth 1-5 minutes or until cooked. Then dip in the chili garlic sauce. Enjoy!
Notes
Cook any starches last to keep the broth clear for the other ingredents.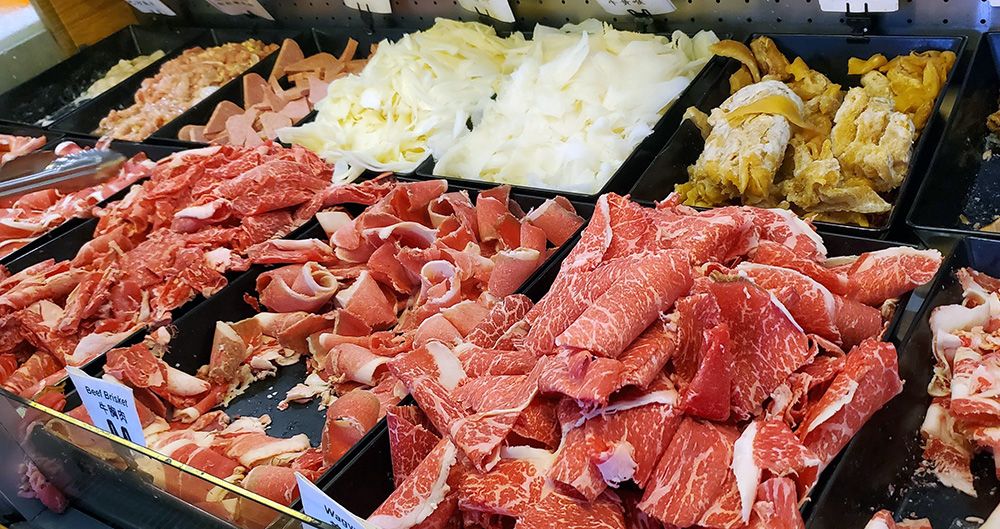 Malatang (a.k.a. ma la tang or mala tang) is a create-your-own Sichuan variation of traditional…