Want to know more about Filipino food culture? Then you'll have to get familiar with some Filipino food terms. But first, here's a brief background on the Philippines.
The Philippines, which is a group of appromixately 7,640 islands in southeast Asia, was colonized by Spain in the 16th century and named after King Philip II. The Spanish influence can still be seen in many areas of Filipino culture. Most Filipinos are Catholic due to Spanish colonization. Its national language, Tagalog (pronounced ta-GA-log), has many words that are similar to Spanish. Many last names of Filipinos are also Spanish, like Lopez or Rodriguez. Even traditional Filipino dishes show the great influence left by Spain.
Japan and the United States also colonized the Philippines and left their mark in Filipino culture and cuisine.
Filipino cuisine
Filipino cuisine is the original fusion cuisine. It not only reflects the influence of the Spaniards, Japanese and Americans; but also neighboring Asian countries like China and India.
Filipino food tends to lean towards salty, sour, bitter or sweet flavors. The Philippine national dish, adobo, epitomizes the salty and sour flavors with its generous use of soy sauce and vinegar.
Rice is a staple to any Filipino meal, even for breakfast (like silogs), and is often topped with a flavored, saucy protein like adobo.
Filipinos are known to eat at all times of the day. Besides breakfast, lunch and dinner, there are in-between meals or snacks enjoyed at all times of the day called "merienda."
Filipino food terms (Tagalog)
Expand your international dining vocabulary with these basic food-related words translated from English to Tagalog.
meat – karne
poultry – manok
turkey – pabo
duck – pato
chicken – manok
seafood – pagkaing-dagat
fish – isda
shrimp – hipon
oyster – talaba
shellfish – "shellpish"
meatless/no meat – walang karne
vegetables – gulay
fruits – prutas
eggs – itlog
tofu – tofu
nuts – mani
vegetarian – vegatarian
vegan – vegan
drinks – inumin
water – tubig
alcohol – alak
beer – serbesa
wine – alak
other eating/dining-related terms
yes – oo
no – hindi
good – mabuti
yummy – masarap
eat – kumain
cook – magluto
I'm hungry – gutom na ako
I'm full – busog na ako
more – higit pa
less – mas kaunti
only – lamang
please – paki
thank you – salamat
baked – nagluto
fried – pinirito
grilled – inihaw
roasted – inihaw
steamed – sumingáw
hot – mainit
warm – mainit
cold – malamig
bitter – mapait
salty – maalat
spicy – maanghang
sweet – matamis
allergic – alerdyik
bathroom – banyo
Filipino food to try
adobo – meat (usually chicken or pork) cooked in vinegar and soy sauce
lechon – roasted pig with crispy skin
pancit – Filipino noodles
sisig – sizzling grilled meat in lemon guice or viengar
tapsilog – meat, garlic rice and a fried egg
pan de sal – Filipino bread rolls
halo-halo – Filipino ice cream sundae
ube – purple yam
Interested in learning about other cuisines around the world? Discover food terms from other countries here.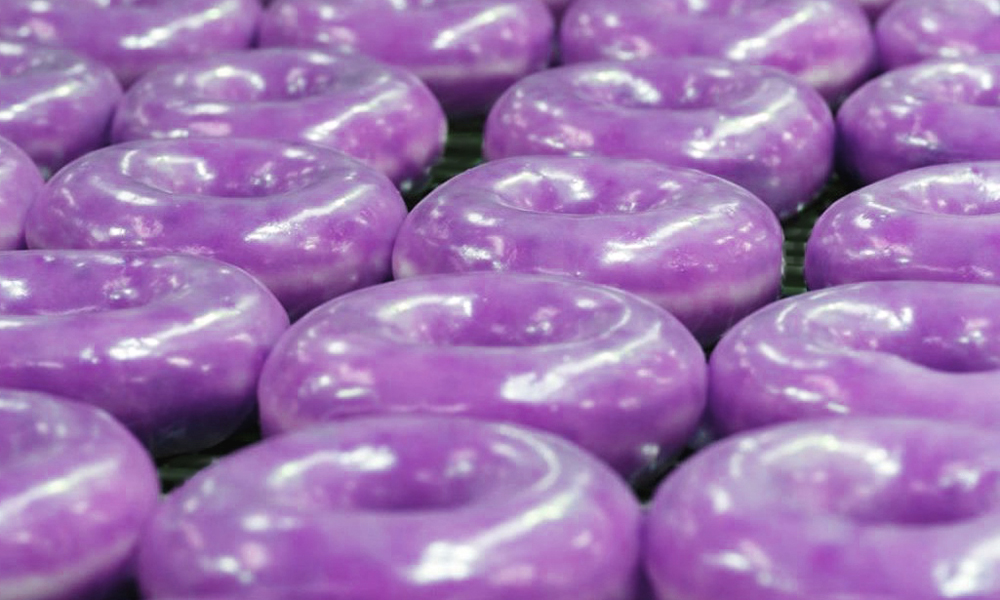 Ube donuts (also ube doughnuts) have gained prominence as international flavors became more sought after…