Discover where to find the best authentic Filipino pancit including pancit canton, sotanghon guisado, palabok and miki bihon. Also, learn how to easily make and cook this rice noodle dish panlasang pinoy (to Filipino tastes) with an easy pancit recipe.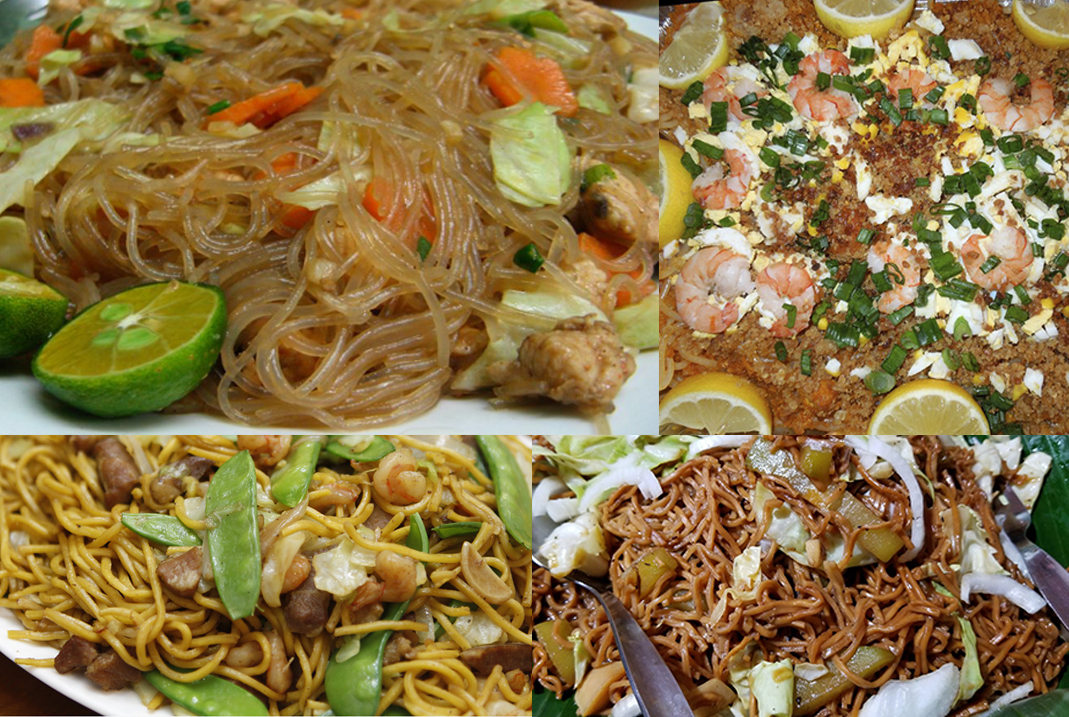 Where Can I Get it? | How Can I Make It?
What is pancit?
Pancit (alternatively spelled pansit) is a broad term that encompasses the wide variety of traditional savory Filipino noodle dishes. The word "pancit" is derived from the term pian i sit, which is Hokkien for "conveniently cooked." Although the noodle-based dishes originated from Chinese merchants back during the 10th-12th centuries, Filipinos indelibly put their fingerprint on the dish evolving it into the many types that exist today.
There are dozens of different variations of pancit with many interpretations, each originating from certain regions of the Philippines. Most include thin and/or thick noodles and a mix of pork, chicken, shrimp and vegetables. Here is a list of the different types of Filipino noodles dishes that are commonly served:
pancit bihon (or pancit bihon guisado) – a staple of Filipino cuisine often served at Filipino gatherings; it uses thin rice noodles (bihon) and is usually topped with pork, chicken and vegetables
pancit sotanghon guisado (or pancit sotanghon) – very similar to pancit bihon since it uses thin clear noodles (sotanghon in Tagalog); the vermicelli or mung bean noodles are sauteed (guisado) with chicken, shrimp and vegetables
pancit palabok – one of the most popular types of pancit served in many restaurants throughout the Philippines; it has thin rice noodles often topped with shrimp sauce, shrimp, fried garlic, fried tofu, tinapa flakes, sliced hard boiled eggs, and scallions
pancit luglug (or luglog) – practically the same as pancit palabok, but with thicker rice noodles
pancit malabon – similar to pancit luglug, but primairly has seafood since it was first made in the coastal city of Malabon
pancit canton – similar to Chinese chow mein and is commonly seen at family gatherings and celebrations to celebrate long life; it is made of thick canton noodles topped with pork, Chinese sausage, shrimp chicken and vegetables
pancit miki-bihon – also very common in the Philippines; it has both thick egg noodles (miki) and thin rice noodles (bihon) with an assortment of seafood, meat and vegetables
pancit habhab (or pancit lucban) – created in the Philippine province of Quezon; similar to pancit canton but uses dried flour noodles and is traditionally served on a banana leaf
pancit chami – originated in Lucena City and was derived from the Chinese words chaocai (stir fry) and miantao (noodles); known for its thick miki noodles, chicken, shrimp, vegetables and oyster sauce
Take note that Filipino spaghetti, although a Filipino noodle dish, is not considered pancit. This dish is much sweeter than the Italian spaghetti and the fact that it has sliced hot dogs puts it in a category all its own.
Where can I get it?
The great majority of Filipino restaurants serve traditional versions of pancit and some even have their own unique pancit recipes. Pancit is so prevalent that Filipino supermarkets like Island Pacific Market and Seafood City serve it. If you're looking to taste the various types of the Filipino noodle dishes listed above, here are some places you should check out.
New York, NY:

Grill 21


—pancit bihon, canton, sotanghon, palabok—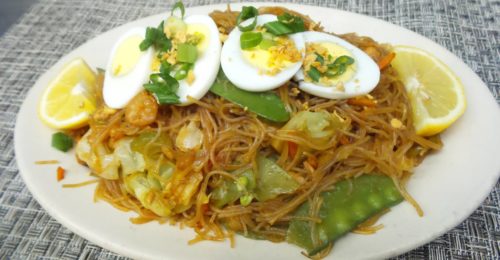 San Diego, CA:

Mama Cinia's


—pancit bihon, canton, palabok, sotanghon—
Los Angeles, CA:

Little Ong Pin Eagle Rock


—pancit miki, miki bihon, bihon, canton sotanghon—
San Francisco Bay Area, CA (Daly City):


Fil-Am Cuisine


—pancit bihon, canton, palabok—
Looking for more places that serve pancit? You can find them on Glutto right here.
How can I make it?
You can make your own pancit at home with this quick and easy pancit recipe which is highly modifiable. Simply adjust the ingredients to match your preferences.
Special Tools
Ingredients
12 oz pancit canton, bihon, and/or vermicelli (based on what type of pancit you prefer)
2 cups pork (sliced), chicken (sliced) and/or shrimp (peeled) <– 1 lb is the total amount
1 cup carrots (sliced)
2 cups cabbage (chopped)
4-6 garlic cloves (minced) <–add/reduce garlic to taste
1 onion (chopped)
1/4 cup soy sauce
1 teaspoon vegetable oil
1 lemon or lime (sliced into wedges)
Directions
First, soften the noodles in a large bowl of warm water. Drain and set aside.
Add vegetable oil to the skilled (or wok) and place on medium high heat. Saute the garlic and onion until golden brown.
Include all the remaining ingredients minus the noodles and stir consistently until cabbage has softened.
Finally mix in the noodles and stir until all ingredients are evenly cooked.
Serve with lemon wedges and enjoy!
Want to know more about Filipino food culture? Then you'll have to get familiar with…